2023 five-stars Arch Manning, Keon Keeley, Lebbeus Overton, shine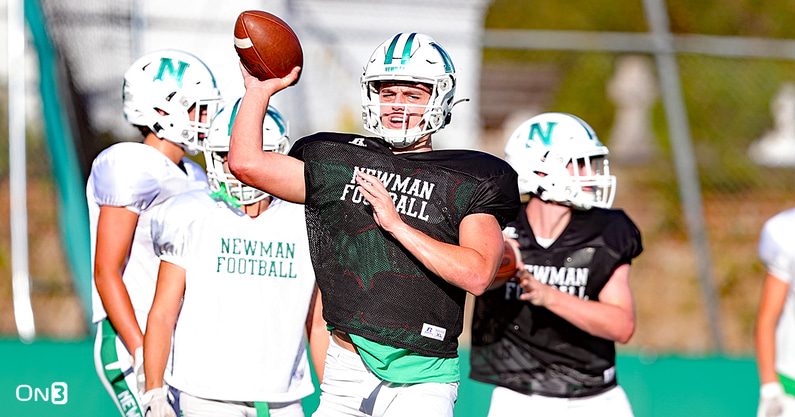 The class of 2023's best was on the big stages this week around the country. Here are a few prospects that had big days that helped validate their rankings.
The legend of Arch Manning continues to grow
Georgia head coach Kirby Smart, as well as ESPN, were in New Orleans with eyes on the top-ranked player in On3's top 300 for the class of 2023, Isadore Newman (La.) star Arch Manning.
Isadore Newman was beaten by Berkely Prep 40-24. Manning showcased his versatile toolkit despite the loss. His uncle Peyton Manning is third all-time in passing yards and passing touchdowns in the NFL.
Much of that success was had without a threat attacking the defense with his legs. The younger Manning put that to bed in his skillset on Friday when scampered for a 68-yard touchdown run.
Manning was 18-for-35 passing the ball with 213 yards, a touchdown and two interceptions. The numbers weren't world-popping, but Manning showed that he can be a playmaker, not just a quarterback.
Five-star Keon Keeley shines in his primetime debut
In the same game featured on ESPN, Tampa Bay (Fla.) Berkely Prep's junior edge Keon Keeley proved to be a worrisome force off the edge for Isadore Newman.
The Notre Dame commit's presence was felt early on Friday with a tipped pass in the first quarter. He intercepted a pass later in the game.
Keeley's 6-foot-5 frame chased around Manning for much of the night. He picked up a sack in the second quarter.
Lebbeus Overton physical presence for Milton
The seventh-ranked player in the class of 2023, Alpharetta (Ga.) Milton defensive lineman Lebbeus Overton came out engaged on Friday night.
Milton's bested their rivals, Roswell, on Friday night with Georgia's defensive coordinator Dan Lanning in attendance. Overton made his presence known before kickoff as he chirped with Roswell players prior to the game.
Throughout the game, Overton chased around Roswell quarterback Robbie Roper. Even when the quarterback broke contain and scrambled toward the sidelines, he was escorted by Overton who a few times closed the gap on the much smaller and athletic Roper.
Overton's motor, explosiveness and attitude rang loudly on Friday night.
Jordan McDonald has big game before commitment
New UCF commit Alpharetta (Ga.) Milton senior running back Jordan McDonald scored five touchdowns. He had three rushing, one receiving, and a passing touchdown.
The 6-foot-1, 220-pound running back showcased his power, scoring a few short-yardage touchdowns. McDonald showed explosiveness as he broke a long run that he nearly turned into a touchdown.
There is versatility in the big running back as he ran a nice route in the red zone that resulted in a score.
Ethan Nation a spark plug playmaker, talented defender
Roswell (Ga.) junior defensive back Ethan Nation has offers from many of the country's elite programs including Alabama, Auburn, Arkansas, Clemson, Georgia, Florida, and a long list of others.
He matched with a talented 2024 receiver in Milton's Debron Gatling who also has a growing list of offers. The two battled in coverage all night.
Nation rarely came off the field until late when he was injured. He sparked some momentum on the opening kickoff when he scooted for a nice gain.
Milton avoided kicking off to Nation for much of the night after that which provided Roswell with decent field position a few times.