2023 four-star Brandon Gardner announces top schools, includes Overtime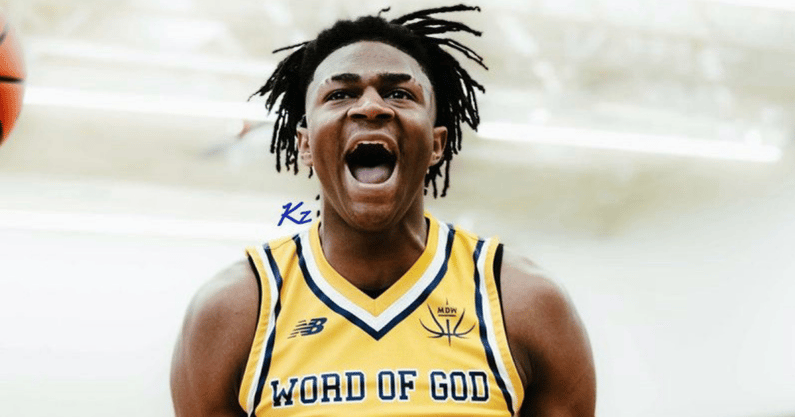 Raleigh (N.C.) Word of God power forward Brandon Gardner has cut his once 25 scholarship offers down to ten. Moving forward, the 6-foot-7 junior will consider the following programs: Alabama, Auburn, Florida, Georgetown, Georgia Tech, Kansas, LSU, Memphis, St. John's, and the Overtime Elite league.
Gardner is ranked as the No. 59 overall prospect in the 2023 class, according to the On3 Consensus, a complete and equally weighted industry-generated average that utilizes all four major recruiting media companies. 
Gardner talks visits
Taking a look at his finalists, Gardner has visited four of the ten programs. He's unofficially visited Georgetown and made official trips to Auburn, LSU, and St. John's. The junior forward discussed each school with On3.
Georgetown: "A player like me, I feel like I could change the whole program around, if I can get a point guard to go with me, and a good wing… I'm definitely going back.
"We have a great relationship," Gardner said of Georgetown's staff. "They love me, they love my mom. Coach (Patrick) Ewing and coach (Robert) Kirby even came to my crib once." 
On3's Jamie Shaw recently caught up with Gardner to discuss each of his official visits.
St. John's: "They are saying they love my game. They play at a fast pace, and I am a fast-paced player. They think I would change their program all around with my high-flying. New York is crazy. They get to play in Madison Square Garden; not many people get to play there. There will be NBA teams there every game you play, so it is just on you to show out."
Auburn: "I love Jabari Smith, Jr. He asked me if I felt like I would become a better player if I came to Auburn. I told him that I did, and that has stuck with me. If I go to Auburn, I feel like I could be a great player. I didn't know it was a small town. I am from a small town, my mom loves small towns, and they are a small little college town. Everything about it is good."
LSU: "I love the way they play. It is Baton Rouge, Louisiana, so the food is a little different down there, but it's good. It's the little things like that that have stuck with me.
"We talk all the time," Gardner said of the LSU coaching staff. "They love my game and they came to my practices twice."
What is Gardner looking for in a school?
"At the end of the day, everywhere is different, so location doesn't really matter," he said. "As long as I feel like there is a family vibe on the team and I got to have a point guard with me. I am looking at how the coaches treat the players. I am talking with the players to get the real; coaches can tell you anything, but the players are going, to be honest with you."
Scouting Report
Here is what On3's National Recruiting Analyst Jamie Shaw had to say about Brandon Gardner:
Brandon Gardner is a long and explosive forward prospect. He has a quick lift, possibly as much as anyone in high school basketball. He uses his vertical explosion and 7-foot wingspan to be a factor around the basket. His ball skills have improved this season; he can face up and attack off two dribbles. Gardner has touch, you see it from the free-throw line, and he has become a more consistent shooter when asked to take jump shots. However, Gardner can be fierce around the basket, and as he continues to put on strength, his game will only continue to become more productive.