2023 NFL Draft: Former five-star recruits that went undrafted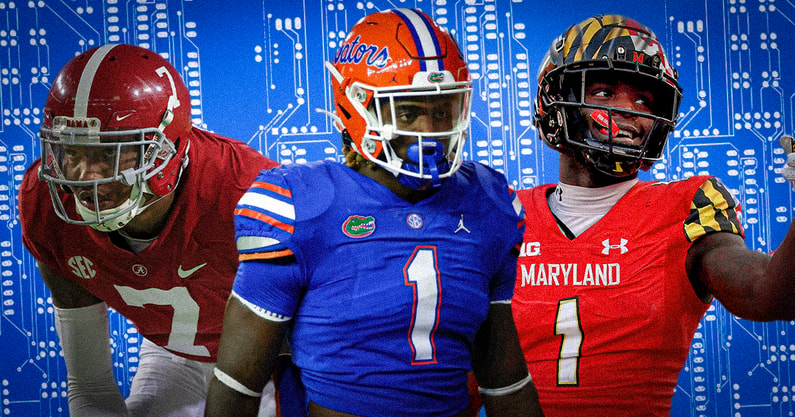 The 2023 NFL Draft is complete. Plenty of talent went off the board throughout the weekend. 259 players heard their name called when it was all said and done, including 26 former five-star recruits, according to the On3 Industry Rankings, a weighted average that utilizes all four major recruiting media companies. Other former five-stars went undrafted in 2023.
While some former five-star recruits heard their names called during the seven rounds of the draft, some others weren't as fortunate. Specifically from the 2023 NFL Draft, there were nine former five-stars that went undrafted.
Those nine undrafted former five-stars came from the 2017, 2018, 2019 and 2020 recruiting classes. Two were part of the 2020 class, one was from 2019, four were from 2018 and two came from 2017.
2020 class
Eli Ricks was very highly touted as part of the 2020 cycle, joining LSU as the No. 2 cornerback and No. 18 overall player in the class. He saw some success as a freshman in 2020, reeling in five pass breakups and four interceptions, two of which were returned for touchdowns. After the 2021 season where Ricks had just one interception and one pass breakup in six games, he entered the transfer portal and stayed in the SEC by joining Alabama. In his lone season in Tuscaloosa, Ricks had four pass breakups with zero interceptions. Ricks is expected to sign an undrafted free agent deal with the Philadelphia Eagles.
"Eli Ricks was a long, ball-hawking corner in the 2020 cycle," On3's National Director of Scouting Charles Power said. "Was tabbed as a five-star very early in the process. He started his career at Mater Dei and had a big junior season. I believe he had seven or eight interceptions and had some huge playoff games playing for Mater Dei with Bryce Young. As a player, he was long, aggressive, very physical, but the long speed was a question. He ran mainly in the 4.6s, and I think we saw that show up a little bit in college and that seriously affected his draft stock."
Jarrett played his college football at Maryland, and he came to College Park as the No. 5 wide receiver and No. 30 overall player in the 2020 class. He played in just four games as a freshman in 2020, hauling in 17 receptions for 252 yards and two touchdowns. The best year of his collegiate career came in 2021, where he had 62 catches for 829 yards and five touchdowns in 13 games. In 2022, Jarrett had 40 receptions for 471 yards and three touchdowns. Jarrett quickly found a home as an undrafted free agent, signing with the Tampa Bay Buccaneers.
"I saw Rakim Jarrett at the Under Armour All-American Game in 2020, and he left that week as a bit of a stock down performer for us," Power said. "Struggled with ball skills and catching the ball. I went back in anticipation of this draft and read the reports that I wrote at the time, and I actually wrote that that year. He got off to a good start in his career at Maryland. Did not have the best year his junior year and was an early entry.
"So I think with Eli Ricks and Rakim Jarrett, they're guys that came out early and didn't have their best junior season before they came out."
2019 class
Just two players were rated higher than Haselwood in the 2019 class. He camed to Oklahoma as the No. 3 overall player and the top wide receiver. Unfortunately for Haselwood, he wasn't ever able to produce at quite the level everyone expected him to. In three years at Oklahoma from 2019-2021, he had 62 receptions for 736 yards and seven touchdowns.
He then entered the portal and went to the SEC, transferring to Arkansas for his final season. With the Razorbacks, Haselwood had his most productive season yet. In 2022, he totaled 59 receptions for 702 yards and three touchdowns. Haselwood will also be joining the Philadelphia Eagles as an undrafted free agent.
"I think Jadon Haselwood showed some promise over the course of his career," said Power. "Battled injuries a lot. Also a theme you'll notice with this group, a lot of transfers and injuries and hurdles essentially to clear. I think he probably was not the same type of athlete after some of the injuries he had. Seeing him in person that year in the All-American Bowl, I thought he was a good player, but a guy who probably was not the No. 1 or No. 2 receiver in that cycle.
"He entered the final rankings as the No. 1 receiver, finished as the No. 1 receiver, but the gap between him and a guy like Garrett Wilson who was seen as more of an ascending player at the time was shortened. This is a guy who had some serious – I think he had a torn ACL at one point. He couldn't catch on at Oklahoma when there, and I think rebounded pretty well at Arkansas. But I think some of the athletic juice he had was affected. Already probably wasn't the twitchiest athlete, but there was definitely a wear-and-tear element there in addtion to not being able to catch on at Oklahoma and then transferring to Arkansas."
2018 class
Brenton Cox is one of the most interesting cases from the 2018 recruiting class. He began his career at Georgia, joining the Bulldogs as the No. 3 EDGE and the No. 16 overall player in the class. Cox had 20 tackles and a sack as a freshman in 2018, and then transferred to Florida midway through the 2019 season. There, Cox turned into a productive player on the defensive front.
Cox's best season with the Gators came in 2021, totaling 41 tackles with 14.5 tackles for loss, eight sacks, four pass breakups and one forced fumble. He then had 35 tackles, eight tackels for loss and two sacks through eight games in 2022 before being dismissed from the Florida program during the middle of the season. Even as a former five-star, though, Cox going undrafted in 2023 didn't have nearly as much to do with his play on the field.
"Brenton Cox, I don't think it was too much of an ability thing," Power said. "Was dismissed from the team at Florida and I think that was a serious factor."
B.J. Foster, meanwhile, spent four years at Texas after joining the Longhorns as the top safety and No. 17 player overall in the 2018 cycle. He had 168 tackles, 17.5 tackles for loss, five sacks, five interceptions, two forced fumbles and 11 pass breakups in four seasons with the Longhorns, and then transferred to Sam Houston State for the 2022 season. He played in six games during his final year, totaling 29 tackles, three tackles for loss, one sack, one interception and one pass breakup.
Palaie Gaoteote IV had high expectations at USC as the No. 2 linebacker and No. 18 player in the 2018 class. He started off his career with a freshman campaign where he totaled 38 tackles, 4.5 tackles for loss and two sacks, before finishing his sophomore season with 58 tackles and three tackles for loss. He played in just two games in 2020, and then hit the portal and transferred to Ohio State. Gaoteote didn't have a lot of production with the Buckeyes, finishing his two years there with 18 tackles, 1.5 tackles for loss and 0.5 sacks with three fumble recoveries.
"Palaie Gaoteote had a lot of injuries at USC," added Power. "Seemed like he could never really get healthy."
Taron Vincent went to Ohio State as the No. 2 defensive lineman and the No. 23 player nationally in 2018. He played sparingly as a freshman in 2018, and then missed 2019 with an injury and redshirted, and then played in four games in 2020. When he returned, Vincent didn't do a whole lot on the Buckeyes defense. Overall, he finished his career with 58 tackles, eight tackles for loss, 2.5 sacks and one fumble recovery. Vincent, like a few other former five-stars that were undrafted in 2023, has not yet latched on as a free agent.
2017 class
Hunter Johnson, the lone former five-star quarterback to go undrafted in 2023, was one of the most heralded players in the 2017 cycle, coming in as the No. 2 quarterback and No. 23 player overall. He attempted just 27 passes as a freshman in 2017, and then sat out in 2018 after transferring to Northwestern. He also saw limited action from 2019-2021 at Northwestern, attempting 183 passes and tossing five touchdowns with eight interceptions. He then transferred back to Clemson for his final season in 2022, throwing six passes in total.
"Hunter Johnson I think is an interesting one," said Power. "A guy who you would see in the camp circuit, really exceptional thrower of the football. Physically, everything you want in a quarterback. Big, athletic, ball comes out of his hand hot. But he was never really a great quarterback in high school in terms of production. A guy who I think the game didn't really slow down for him much.
"He came into Clemson a year ahead of Trevor Lawrence, obviously Trevor Lawrence took that job, so Hunter Johnson transferred to Northwestern. He just did not play well at Northwestern. Could never really get it going. I think he had some adversity in his personal life that's been documented publicly, and he just wasn't able to perform at a high level when he was given the chance and then transferred back to Clemson as a backup-type sixth-year senior."
Khalan Laborn began his career at Florida State, redshirting in 2017 and missing all but two games in 2018 due to injury. In 2019, he saw 63 carries, rushing for 297 yards and four touchdowns. Laborn then didn't play again until he ended up at Marshall in 2022, where he broke out as an offensive star. With the Thundering Herd, Laborn saw 302 carries, averaging 5.0 yards per rush with 1,513 yards and 16 touchdowns. Laborn will join the San Francisco 49ers as an undrafted free agent, and he is one of the most interesting former five-stars to be part of the undrafted class in 2023.
"Khalan Laborn was a guy, that really out of this group, probably had the best rebound to his career," said Power. "He had a good career at Marshall, a guy who was really one of the best Group of 5 running backs in the country. He ran for 1,500 yards this year. So I think he rebounded as well as anybody of these five-stars that had some adversity and ups-and-downs in their career and he finished on a strong suit.
"I think if you're looking at a guy from this group that has a trajectory that you feel good about, I think I would tab Khalan Laborn as that guy."
What we can learn from 2023's undrafted five-star prospects
This group of undrafted former five-stars is an interesting one. And while some of the exclusions from this year's draft were surprising when looking at their status coming into college, it provides the entire industry some valuable lessons to learn from moving forward.
"In looking at this group, aside from just unplanned circumstances like injuries, I think there are some general themes and things we can learn from in doing recruiting rankings and just how we approach the process moving forward," Power added. "First off, a good portion of these undrafted five-stars are ones that were ranked as five-stars early. I think it stresses the importance of being fluid in rankings and not feeling a holding to an early five-star ranking.
"And I think it stresses the senior year evaluation, the importance of the all-star evaluation. Very few of this group are ones that really impressed down the stretch of their high school career and into the all-star season. So I think that's really important. There's very few that I would tab as an ascending prospect late in their recruitment at least in our evaluation process of them."