2023 NFL Draft: SEC quarterbacks, playmakers and defensive standouts to monitor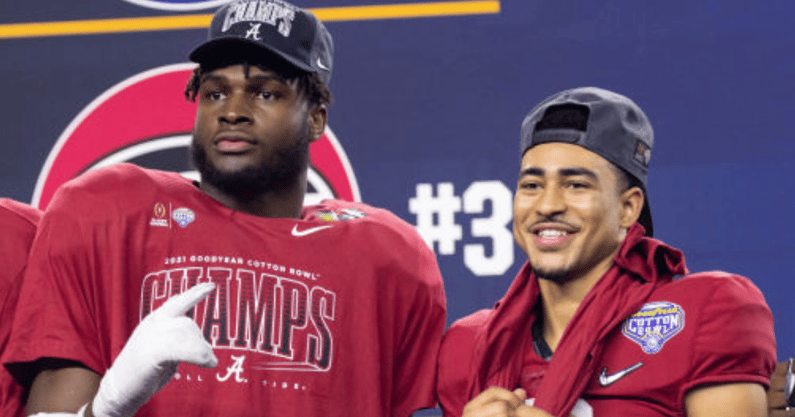 For the 16th consecutive year, the SEC flexed its collective might during the 2022 NFL Draft, sending more talent to the league than any other conference. The SEC tied its own record with 65 picks, including Georgia Bulldogs defensive lineman Travon Walker going to the Jacksonville Jaguars with the No. 1 overall selection. 
The conference stands a decent chance at producing back-to-back No. 1 top picks with the two stud teammates in Tuscaloosa. Overall, the league is flush with talented skill-players and more defensive standouts, and there are also a number of intriguing SEC quarterbacks who will be draft-eligible after next fall. 
So here's an early look at SEC players to monitor for the 2023 NFL Draft.
The SEC Quarterbacks
Bryce Young is the obvious headliner, and the Heisman Trophy winner will be in the conversation for the top pick alongside his Alabama teammate defensive end Will Anderson and Ohio State quarterback CJ Stroud.
Then there's a quartet of SEC quarterbacks who all have eligibility remaining after 2023 — but could jump to the league with an impressive fall. It's the "traits" guys: South Carolina's Spencer Rattler, Kentucky's Will Levis, Florida's Anthony Richardson and Arkansas' KJ Jefferson. None are currently ready for the league, but it's not hard to see the NFL falling in love with one or two of them nine months from now. 
Lastly, Tennessee's Hendon Hooker returned to school for his final season this fall and will be on scouts' radar. Hooker was extremely productive in 2021, but quarterbacks hailing from the Baylor-tree offense have typically been underdrafted.
The Playmakers
A year out, Alabama's recent wide receiver factory looks unlikely to produce a first round pick in 2023, but the Tide still have an offensive playmaker who could hear his name called very early next year: Tailback Jahmyr Gibbs. The Georgia Tech transfer is exactly the type of versatile talent who could buck the NFL's trend of devaluing of running backs with his capability to make plays as a runner, receiver and returner. Texas A&M's Devon Achane, Ole Miss' Zach Evans, Georgia's Kenny McIntosh, Auburn's Tank Bigsby and Kentucky's Chris Rodriguez Jr. are several other SEC tailbacks very likely to get drafted next year, too. 
At receiver, LSU's Kayshon Boutte has a chance to be a Day 1 pick with a big 2022 season. The former five-star flashed as a freshman in Baton Rouge but battled injuries for much of last season. Alabama junior Jermaine Burton bet on himself leaving Georgia for more targets in Tuscaloosa. Cedric Tillman exploded in Josh Heupel's Tennessee offense in 2021, and the SEC's leading returning receiver could improve his stock with another big year. Ainias Smith of Texas A&M and AD Mitchell at Georgia are two other names to watch. 
Finally, the SEC is loaded at tight end, with Georgia featuring a pair of former five-stars at the position (Darnell Washington and Arik Gilbert). Alabama's Cameron Latu and South Carolina's Austin Stogner are also seen as tight ends with NFL futures. 
The Big Uglies 
In recent years, the SEC has routinely churned out Day 1 offensive linemen, including three in the 2022 NFL Draft (Evan Neal, Charles Cross and Kenyon Green), and while the conference doesn't have any no-doubter first round linemen right now, Georgia's bookend tackles Broderick Jones and Warren McClendon will definitely merit draft discussion throughout the season. Same for guards Emil Ekioyr at Alabama, O'Cyrus Torrence at Florida and center Ricky Stromberg from Arkansas, among others. 
Vanderbilt transfer Tyler Steen will be a guy scouts watch at Alabama this fall, especially if he locks down the Tide's void at left tackle. Similarly, WKU transfer Mason Brooks is a guy making the jump to the Power 5 at Ole Miss, and projects to start at right tackle for Lane Kiffin and the Rebels. 
The Defensive Heavyweights at Alabama and Georgia
The two schools featured in the 2021 National Championship sent plenty of players to the pros in the 2022 NFL Draft, with the Bulldogs setting a record with five 1st Round picks off their historic defense.
But the cupboard isn't bare for either program in 2022, especially on defense. As mentioned, the Tide's Will Anderson is potentially the best player in America and a surefire Top 5 pick in the 2023 NFL Draft. Alabama safety Jordan Battle is another potential 1st Rounder, especially a year after three safeties including UGA's Lewis Cine went off the board on Day 1. Other Alabama players on scouts' radars include LSU transfer corner Eli Ricks, linebacker Henry To'o To'o, nickel-back Malachi Moore and lineman Byron Young. 
Meanwhile, Georgia saw a trio of defensive linemen get drafted in the 1st Round last weekend but the most talented player on the unit remains in Athens for one more season. Tackle Jalen Carter has been a projected Top 15 pick since his freshman season and he's lived up to the billing. The Bulldogs also have potential early picks in cornerback Kelee Ringo and outside linebacker Nolan Smith.
The SEC's Top Returning Front-Seven Veterans 
The beef is always what's separated the SEC from the other Power 5 conferences, and even if you take away the monsters at Alabama and Georgia, the league is still flooded with big, scary bodies who can move — fast. 
At pass rusher, Auburn's Derick Hall, LSU's BJ Ojulari and Ali Gaye and Florida's Brenton Cox are all draft-eligible in 2023. South Carolina tackle Zacch Pickens, Auburn end Colby Wooden, LSU tackle Jaquelin Roy and Missouri's Trajan Jeffcoat are a few other lineman to monitor. 
Linebacker doesn't project as a major strength for the conference re: 2023 NFL Draft picks, but several guys will still come off the board in Kansas City next April. Guys who are looking to improve their potential draft position include Florida's Ventrell Miller, Auburn's Owen Pappoe, Arkansas' Bumper Pool and Tennessee's Jeremy Banks. 
The DBs
South Carolina's Cam Smith might be among the most underrated defensive players in the country, and the Gamecocks' corner could be one of the first DBs drafted in 2023. Missouri's Kris Abrams-Draine is another corner high on scouts' early boards and a big fall could vault his stock even higher. 
The SEC has a number of other defensive backs with NFL potential too, including Nehemiah Pritchett of Auburn, Jalen Catalon at Arkansas and Rashad Torrence at Florida. LSU's overhauled secondary has at least three guys scouts will watch closely this fall: Greg Brooks Jr., Joe Foucha and Sevyn Banks. 
A few others names to keep an eye on who could really blow up this fall: Alabama safety, Demarcco Hellams, Georgia safety/star Tykee Smith, a former All-American at West Virginia who missed the 2021 season with a torn ACL and Texas A&M safety Antonio Johnson.