Busy summer prompts 2023 On300 rankings update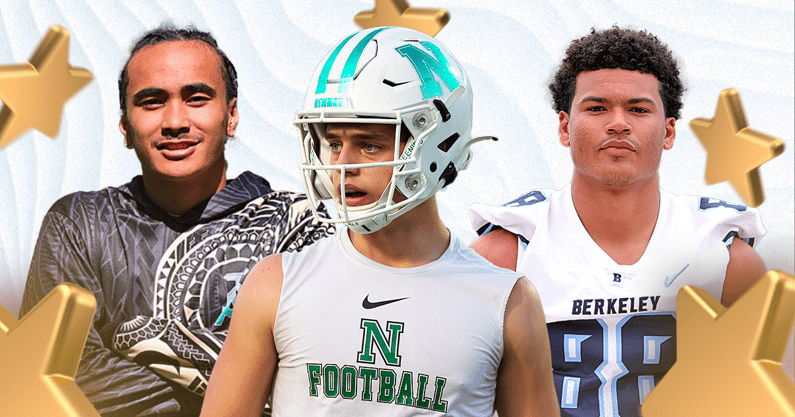 On3 has updated the On300 football prospect rankings for the 2023 cycle. This rankings release marks the third update this year and is primarily driven by 1) in-person evaluations at three major national events over the last month and 2) acquisition of new verified data on hundreds of prospects from this summer.
The On3 national team was at all three major events this summer: Overtime's OT7 7-on-7 tournament, the Elite 11 Finals and Under Armour Future 50. Having the same set of eyes at those three events allowed for maximum exposure and comparison between many of the cycle's top prospects, particularly skill players.
We've also made an effort to gather loads of verified information (measurements, athletic testing data) from various sources. Simply put, there was a staggering amount of new data to sort through in formulating this update. This is the most verified information we've had at this stage in the cycle for any ranking we've been involved with. We've compiled official measurements (some combination if not all of height, weight, arm length, hand size) on over 95% of the five-stars, 85% of the top 100 prospects and over 80% of the On300. Much of this new data is actionable and helps paint a current picture as the 2023 cycle enters the senior season.
The fact high school rankings are formulated in real time presents inherent challenges. Prospects often drastically change over the two to three years of a recruiting cycle's life-span. That reality calls for continual updates and necessary changes in an effort to reflect the most accurate and current representation of the recruiting cycle.
With that said, it's critical to recognize that the most important evaluation points for the majority of prospects — the senior season and all-star games (for some) — have not yet occurred. This is still very much a work-in-progress ranking that sets the table for those key evaluation points.
It is also important to understand that the nature of recruiting rankings lends to residual movement of prospects whose ratings remain unchanged. While there are many prospects who actively rose or fell, the majority of On300 members did not see their rating change.
Our goal is to assess a prospect's long-term potential in college football, as manifested by the NFL draft. We now have 21 prospects rated as five-stars and will finish with 32 five-stars every cycle. 
Let's get into some of the storylines surrounding this update.
Movement within the top five
There is some movement within the top five of the On300. Texas quarterback commit Arch Manning hangs on to the top spot with Tennessee quarterback pledge Nico Iamaleava rising from No. 5 to No. 2. Both prospects have remaining questions, but we currently view the pair as the top two quarterbacks heading into the fall. As is the case in most cycles, the top spot will more than likely be settled on the field.
Arch Manning has had a quiet off-season in terms of on-field exposure, sticking to practicing and play 7-on-7 with his high school team. Contrary to what some may think, Manning does not have a vice grip on the top spot. We're obviously still quite high on Manning's talent and skills as a prospect, but he's not an easy evaluation due to the competition level and lack of participation in neutral settings.
Iamaleava makes the move to No. 2 after turning in a stellar showing at Overtime's OT7. The 6-foot-6, 190-pounder looked like the top prospect in attendance at the most loaded off-season event of the past few recruiting cycles. Iamaleava's combination of arm talent, twitchy athleticism and creative playmaking ability points to a very high ceiling. However, he has a limited high school football resume compared to Manning and most other highly-rated quarterbacks. Iamaleava has started just 13 varsity games to this point. A strong senior season of high school football would make the Volunteers commit a main contender for the No. 1 overall spot.
Notre Dame EDGE commit Keon Keeley remains at No. 3 and is the top-rated non-quarterback in the cycle. The 6-foot-6, 250-pounder was highly impressive in person at his spring game.
USC wide receiver commit Zachariah Branch moves up to No. 5. Branch is one of the surest bets in the 2023 recruiting cycle. To this point, he has a case as the best wide receiver prospect in a few cycles. The 5-foot-10, 175-pounder dominates in every setting, whether it's on Friday nights, in camps or on the track. We saw him in action last weekend at Future 50, where turned in a stellar showing and was named On3 MVP.
Two Five-Star Plus+ prospects – USC quarterback commit Malachi Nelson and cornerback Cormani McClain – move out of the top five and slide down within the five-star ranks. This comes on the heels of multiple in-person evaluations of each over the past month. We'll touch on Nelson and the quarterback order below. McClain has put together a strong play on Friday nights, but his showings against top receivers at OT7 and Future 50 leads to questions as to who is the top cornerback prospect in the cycle.
Six new 5-stars
This update adds six new five-star prospects, bringing the total to 21 heading into the senior season. As noted above, we will finish every cycle with 32 five-stars. No prospect lost a fifth star in this update.
EDGE Damon Wilson vaults up to (No. 4) after being on the cusp of five-star status for some time. Wilson may have the best combination of bend and first step quickness among pass rushers in the 2023 cycle. The Venice (Fla.) High standout is a clean prospect. He is a verified 6-foot-3.5, 235 pounds with 34-inch arms. Wilson is very productive in Florida's highest classification. He's also extremely athletic and strong with a 420-pound bench press. That resume at a premium position leads to Wilson's rise.
Similar to Wilson, Oklahoma EDGE Adepoju Adebawore commit (No. 7) has been close to adding his fifth star since the last update. The North Kansas City pass rusher is one of the twitchiest defenders in the cycle at over 6-foot-4, 225 pounds with a wing-span over 7-feet. Adebawore has turned in multiple strong showings on the camp circuit, most recently at Under Armour Future 50 to supplement his strong junior video. His movement skills and frame make for a unique, high upside EDGE prospect.
Zalance Heard (No. 13) moves up a few spots to his fifth star after an in-person evaluation at LSU's elite camp in June. The Monroe (La.) Neville trenchman is a lean 6-foot-6, 308 pounds with 36.5-inch arms. Heard was a dominant run blocker in his first season as an offensive lineman in 2021 and has shown considerable long-term upside both on video and in person.
Oregon commit Jurrion Dickey (No. 15) was On3's top receiver at Overtime's OT7 – an event that featured many of the top-ranked pass catchers in the cycle. The 6-foot-2, 210-pounder pairs readymade size with excellent burst in his routes. We saw Dickey separate from defensive backs at all levels. The NorCal native has been the top receiver at every event he's attended dating back to last summer. This carries over to Friday nights, where Dickey is a dominant receiver for San Jose Valley Christian. He's physical and productive in pads, totaling 1,304 yards and 19 touchdowns on 78 catches in 2021.
Like Dickey, Ohio State wide receiver commit Noah Rogers (No. 17) has put together a strong resume to this point, most recently showing his big-play ability at OT7. The Buckeyes and wide receivers coach Brian Hartline have assembled another strong class of pass-catchers, with Rogers as the headliner in our opinion. The 6-foot-2, 195-pounder has excellent play speed, backed by strong testing numbers. He got vertical against talented defensive backs with regularity at OT7. This jives with what he shows on Friday nights as well. Rogers accounted for 1,432 yards and 22 touchdowns on 70 catches as a junior at Rolesville (N.C.) High.
Notre Dame safety commit Peyton Bowen (No. 18) backed up a sterling on-field resume at Denton (Texas) Guyer with best showing among defensive backs at Under Armour Future 50 last weekend. Bowen checks in at around 6-feet, 185 pounds with plus length for the position. He's a big-time playmaker on the back end at Denton Guyer with 12 pass breakups and six interceptions as a junior, while playing in Texas' highest classification. He's also a top athlete and flashed his speed at Future 50, finishing second in the Fastest Man competition, beating out some very fast prospects. Additionally, Bowen was a standout in drills and 7-on-7 play.
Parsing the quarterbacks
Five quarterbacks follow Arch Manning and Nico Iamaleava within the top 50. As noted above, much the future movement among the quarterbacks will be sorted out in the fall and potentially all-star settings.
USC pledge Malachi Nelson (No. 14) keeps his fifth star but moves down a bit in the five-star ranks after in-person evaluations at OT7, the Elite 11 Finals and Future 50. Nelson's play ranged over the three events. While he turned in some good and perhaps not-so-good performances, others ranked behind him turned in better showings (in our opinion) when competing head-to-head. It's a deep quarterback cycle at the top and there are a number of signal callers who could challenge Nelson as potential five-stars.

Clemson commit Christopher Vizzina (No. 22) is the highest-rated four-star prospect in this update. Vizzina was On3's No. 2 overall performer at the Elite 11 Finals and has showed well in every setting dating back to his junior season. Vizzina has shown what is arguably the best pocket presence and functional on-field movement of the group to this point. He's shown projectable traits and skills and is knocking on the door of five-star status heading into his senior season.
Iowa State commit JJ Kohl (No. 36) is the biggest riser of quarterbacks within the On300. The 6-foot-6.5, 231-pounder had a stellar showing at the Elite 11 Finals en route to being named On3 MVP at the event. Kohl showed considerable arm talent in live situations with the ability to drive and layer throws to all levels. He was dominant in 7-on-7 at the Elite 11 Finals, going 13 for 16 for six touchdowns. Kohl confirmed what we saw at the Elite 11 over the weekend at Future 50. The Cyclone commit's ability to process in these live settings is the best we've seen from quarterbacks throughout the summer.
Oregon commit Dante Moore (No. 43) is one of the more refined and polished pocket passers in the cycle. Moore turned in strong showings as one of the top quarterbacks at both OT7 and the Elite 11 Finals. The 6-foot-2, 210-pounder excels in structure and is highly accurate. He picked apart defenses in live settings in the short to intermediate areas. As was the case before the summer, we're looking to hone in on Moore's athleticism and individual playmaking ability in the fall and all-star games.
Oklahoma commit Jackson Arnold (No. 48) moves up into the top 50 after flashing some considerable arm talent at both the Elite 11 Finals and Future 50. Arnold is a tough, productive quarterback on Friday nights at Denton (Texas) Guyer and helped his team to a state title appearance as a junior in his first year as a starter. Arnold owns a compact build at a shade under 6-foot-1 and around 200 pounds. He uses his strong base to generate significant velocity on throws. Arnold tended to fare better in drills than live action relative to others in the top 50 we saw this summer. Things sped up a bit for the Sooner commit when defensive backs were added to the equation at both events.
Dozens of On300 newcomers
This update sees 31 prospects make their debut into the On300, with some big jumps.
No. 68 CB Jermaine Mathews – Ohio State
No. 86 LB Samuel Omosigho – Oklahoma
No. 88 S King Mack – Penn State
No. 103 DL Edric Hill
No. 108 EDGE Rueben Bain
No. 146 ATH Jelani McDonald – Oklahoma State
No. 157 RB Michael Mitchell – Utah
No. 188 QB Austin Novosad – Baylor
No. 191 WR Taeshaun Lyons
No. 199 ATH Kenyon Sadiq
No. 201 WR Noble Johnson – Clemson
No. 203 S Conrad Hussey – Penn State
No. 225 DL Gabriel Harris – Georgia
No. 226 DL Sydir Mitchell – Texas
No. 233 EDGE Keviyan Huddleston – TCU
No. 244 QB Avery Johnson – Kansas
No. 246 OT Daniel Sill – Texas Tech
No. 249 WR Alex Mota – Iowa
No. 251 LB Whit Weeks – LSU
No. 253 TE Joey Schlaffer – Penn State
No. 254 LB Daymion Sanford – Texas A&M
No. 256 RB Cole Cabana – Michigan
No. 262 LB Semaj Bridgeman – Michigan
No. 263 EDGE Collins Acheampong – Michigan
No. 266 CB Avieon Terrell – Clemson
No. 274 EDGE Ashley Williams – Nebraska
No. 276 QB Kenny Minchey – Pitt
No. 286 WR Demitrius Bell – Michigan State
No. 287 WR Ja'Kobi Lane
No. 292 WR Christopher Johnson
No. 300 EDGE DeeJay Holmes