2023 Post-Spring Big Ten Power Rankings: Michigan, Ohio State and Penn State are a well-defined Top 3 but who's next?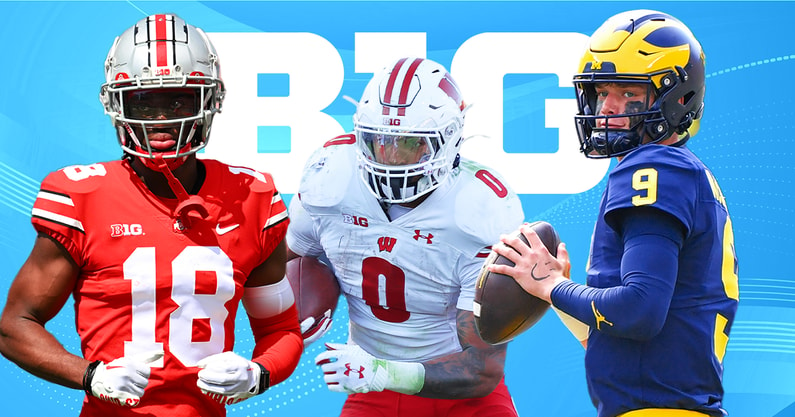 With spring football in the rearview mirror, the transfer portal activity slowly — albeit not totally — starting to slow down, and coaches on the road out recruiting their next wave of future signees, now is a great time to assess where teams stand entering the summer before the 2023 season. 
Yesterday we debuted the series with the 2023 SEC post-spring power rankings, and today we continue the series with the nation's second-best conference in the Big Ten. 
The league has a clearly-defined Top 3 in reigning two-time league champ Michigan, Ohio State and Penn State, but who should be the favorite in the Big Ten West?
Here's how I see the league stacking up in the 2023 Big Ten post-spring power rankings.
Is this the year the Wolverines can break through the class ceiling and win their first national championship since 1997? After consecutive Big Ten titles, Jim Harbaugh looks to have his best team since coming to Ann Arbor, with 13 starters back including QB J.J. McCarthy and dynamic tailbacks Blake Corum and Donovan Edwards. 
Michigan also added several impact transfers like pass rusher Josaiah Stewart, Nebraska linebacker Ernest Hausmann and a couple of Stanford o-linemen ready to fill what few holes they had on the depth chart, too. 
Michigan hosts Ohio State this season, and Harbaugh said earlier this spring, "Now is the time to strike while the iron is hot."
The Buckeyes may have as many as five 2024 1st Round picks on the roster, led by the nation's best non-QB prospect in wideout Marvin Harrison Jr., as well as a slew of former 5-star recruits on the DL. 
OSU's receiver and running back rooms are an embarrassment of riches, and a leaky secondary has been potentially patched with the emergence of a couple of former blue-chip recruits looking to make a leap. 
The Buckeyes' OL is a work in progress, though, and Ryan Day still has to sort out who QB1 is. But regardless of whether it's Kyle McCord (the likely favorite) or Devin Brown, beating The Team Up North is a must for Day in 2023. 
James Franklin's team enters the summer with as much hype as any program in the country. The Nittany Lions could have the best defense in the Big Ten, with all-conference talent at all three levels. 
Former 5-star prospect Drew Allar is seen as a rising star in Happy Valley, and he'll be aided by one of the best tailback duos in the country in sophomores Nick Singleton and Kaytron Allen. 
Penn State's receiving core should be improved this fall with the continued development of a guy like KeAndre Lambert-Smith and the addition of transfer Dante Cephas. Can the Nittany Lions break through and return to the Big Ten Championship for the first time since 2016?
The Big Ten has a strongly defined Top 3, and then it's a pick-your-poison deal (or favorite flavor) between several Big Ten West programs. 
Under new head coach Luke Fickell, the Badgers enter the summer optimistic that they have a deep and experienced team that can win the Big Ten West after a down 2022 season. They return 15 starters, while adding 13 transfers to the roster — completely retooling the QB and WR rooms as the program transitions to the Air Raid offense. 
Star tailback Braelon Allen is back, and former SMU standout Tanner Mordecai projects to be Wisconsin's starting QB. The defense is good up the middle, particularly at linebacker and safety. 
The Hawkeyes had two more players get drafted in the 1st Round last month, and yet their defense is still expected to be one of the top units in the country this fall. 
Everything hinges on Iowa's much-maligned offense. After historic woes in 2022, can embattled OC Brian Ferentz average at least 25 points per game?
The Hawkeyes have done a nice job in the transfer portal, adding key pieces at quarterback (Cade McNamara), tight end (Erick All) and receiver (Kaleb Brown). 
Coming off consecutive 9-4 seasons, P.J. Fleck spent the spring replacing longtime quarterback Tanner Morgan and star tailback Mohamed Ibrahim. Athan Kaliakmanis projects as the Gophers' next-man-up at QB, and Fleck brought in speedy Western Michigan tailback Sean Tyler (2,100 yards and 16 touchdowns the last two seasons, plus three KO return scores) to share carries with Bryce Williams. 
The Gophers lost a lot off of a defense that allowed just 13.8 points per game in 2022, but star safety Tyler Nubin opted to return to school and could play his way into the 1st Round with another strong fall. 
Bret Bielema nearly won the Big Ten West in his second season in Champaign, but the Fighting Illini lost three of four late to squander that opportunity. 
Illinois spent the spring breaking in transfer QB Luke Altmyer, as well as sorting out a defense that was awesome in 2022 but no longer has its coordinator (Ryan Walters is now the head coach at Purdue) or ball-hawking secondary (top draft picks Devon Witherspoon and Sydney Brown).
The Fighting Illini do return one of the more fearsome interior defensive lines in the nation, and overall, with seven starters at back there's hope the unit can avoid a major transition this fall.   
Taulia Tagovailoa is back as one of the better quarterbacks in the Big Ten, but Maryland's offense will look different in 2023 with a new OC, several key losses at receiver and a re-tooled OL looking to replace four starters. 
Mike Locksley dipped into the portal for a couple of transfer receivers, including DMV native Kaden Prather from West Virginia. The Terps also signed a trio of OL — all of whom could start in the fall. 
Defensively, Maryland must replace as many as six starters, with star corner Deonte Banks the most notable departure. The Terps' front four, a group that was decent against the run in 2022, will be totally new this fall.
Ryan Walters takes over a Boilermakers' program in transition, as the reigning Big Ten West champs will feature totally new schemes on both sides of the ball in 2023. 
Walters was the engineer of one of the best defenses in the nation at Illinois last fall, but he'll be hard-pressed to come close to even replicating such a feat in Year 1 in West Lafayette considering the team's lack of personnel. 
Offensively, Purdue has a new OC in Graham Harrell paired with Texas transfer QB Hudson Card. The Boilermakers also infused the receiving core with more weapons, adding FAU wideout Jamal Edrine and Marshal's Corey Gammage.
In a single offseason, Matt Rhule has totally changed the tenor around Nebraska's program, as the Big Red faithful believe they finally have the right head coach to lead the program out of wandering through the cornfields. 
The Cornhuskers brought in 13 transfers this offseason — a dozen from Power 5 programs including three additions each from Georgia and Florida. 
Former Georgia Tech QB Jeff Sims won the team's starting QB competition this spring, while the defense, with eight starters back off a group that ranked No. 119 against the run in 2022, is transitioning to a 3-3-5 scheme — atypical for a Big Ten program. 
After a 5-7 season with all sorts of negative headlines, Mel Tucker opted to make no major staff moves, but that doesn't mean it hasn't been an offseason with all sorts of change in East Lancing. 
Close to 20 players have transferred out of the program, including two-year starting QB Payton Thorne and star receiver Keon Coleman. Michigan State added 17 transfers to the roster, with defensive linemen Tunmise Adeleye, Deandre Butler and Ken Talley among the more notable additions. 
Tucker hopes the new pieces help fix a defense that ranked 13th in the Big Ten in yards per play and passing, and last in getting off the field on 3rd downs.
The Scarlet Knights were pitiful offensively in 2022, averaging under 12 points per game in Big Ten play — getting shutout twice — so Greg Schiano brought back OC Kirk Ciarrocca to develop quarterback Gavin Wimsatt, who averaged just 5.2 yards per attempt last season in five starts but showed enough promise to give the program a modicum hope this fall. 
The Knights project to be deeper up front offensively, but defensively, the unit looks like it's still a bit of a black hole. They allowed a 34.3 points per game in Big Ten play in 2022, and Schiano had to dip into the portal to replace three starters in the secondary — adding two G5 transfers and a backup from Minnesota.
Tom Allen's program has trended in the wrong direction since the outlier COVID season in 2020 (6-18 the last two seasons), but perhaps a new-look roster will deliver improved results this fall.
Allen signed 10 transfers on defense alone, hoping to infuse a unit that allowed the most points in the Big Ten last season with more talent. He also brought in Tennessee transfer QB Tayven Jackson, a former blue-chip prospect who was over-recruited by the Vols when they signed 5-star Nico Iamaleava. 
But if the Hoosiers aren't better up front it won't matter that they have a QB with a higher ceiling this fall. Last season, Indiana averaged just 3.2 yards per carry and allowed 38 sacks — second-most in the Big Ten. 
The Wildcats infamously won their opener in Ireland last season, only to lose 11 straight games the rest of the way. Pat Fitzgerald's situation doesn't look any easier this fall though either, as an offense that has been ghastly the last two seasons (last in the Big Ten in scoring) returns just two starters. 
Northwestern will enter the fall with a QB competition between 2022 backup Brendan Sullivan and recent Cincy transfer Ben Bryant. 
Fitzgerald shook up his coaching staff, including bringing in new DC David Braun, who is tasked with bettering a group that ranked near the bottom of the Big Ten in a slew of categories.