2023 Safety Unit Rankings: Why Miami, Michigan tout two of the best groups in the country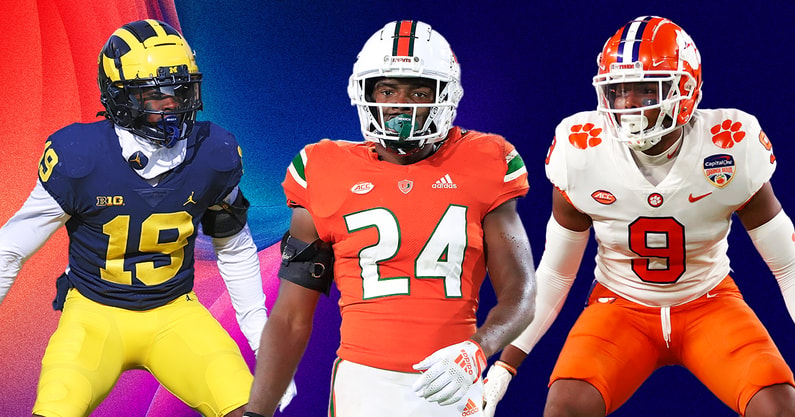 With spring practice in the books and the second transfer portal window closing, it's the perfect time to evaluate some pre-summer 2023 positional unit rankings. 
We kickstarted the series on offense, opening with quarterbacks,examining the Top 10 QB rooms in the country in the fall. We've also looked at the 2023 running back unit rankings, as well as the 2023 top receiver depth charts and 2023 tight end rooms.
We rounded out the offensive unit rankings looking at the best 10 OL units. 
This week, we looked at the other side of the football, examining the top 10 defensive line/edge units in college football as well as the best linebacker units this fall.
Yesterday we released the Top 10 cornerback units, and today we compete the series with the best safety rooms in 2023. 
The top 10 safety depth charts in 2023…
The Hurricanes' defense had all sorts of problems in 2022, but safety play was not among them, as Kam Kinchens earned first-team All-American honors as a sophomore. 
The 5-11, 200-pound Miami native had six interceptions — tied for the most among all Power 5 safeties. He added another six PBUs and 59 tackles. Kinchens was paired with former 5-star recruit James Williams, a rangy 6-5, 225-pound playmaker who also had six PBUs and 59 tackles. If Williams plays with more consistency, Miami's duo might be the best in the country in 2023. 
Redshirt freshman Markeith Williams, a former 4-star recruit, is probably the next man up, and the Canes are reportedly mining the portal for an additional body at safety post-spring.
In senior Rod Moore, the Wolverines have one of the most complete safeties in the country in 2023. Moore had four interceptions, while also providing excellent support as a run defender. 
During the spring, Michigan had an ongoing battle for its second-safety spot, with senior Makari Page leapfrogging junior R.J. Moten on the depth chart late last season. Both had one pick and around 35 tackles in 2022, but Moten ultimately choose to transfer to Florida in the second window.
The Wolverines have a nice set of options behind their starters, with senior Quinten Johnson in the mix, as well as redshirt freshmen Keon Sabb and Zeke Berry.
The Bulldogs' safety situation is a bit up in the air entering the post-spring offseason — but not in any sort of worrisome way. 
We just don't know who is going to start alongside Malaki Starks. The 5-star recruit shined as a freshman, picking off a pass in UGA's opener against Oregon and finishing the season with 68 tackles, two interceptions and a team-high seven PBUs. 
Javon Bullard, perhaps the nation's top nickel-back, spent time at safety during the spring, but it remains to be seen if the cross-training was an experiment or a full-time position change. 
If Bullard mainly stays inside for UGA, then it's a battle between David Daniel-Sisavanh, former walk-on Dan Jackson, who's made plenty of plays for Georgia the last two seasons, and Top-50 freshman Joenel Aguero, who has quickly impressed those in Athens. 
R.J. Mickens is one of the best coverage safeties in college football, per grade analysis at PFF. As a junior, Mickens had three interceptions and multiple PBUs.  
He's teamed with Andrew Mukuba, a junior with 1st Round talent who struggled with consistency in last season, and senior Jalyn Phillips, who had 74 tackles and a pick in 2022. 
Mukuba was fantastic as a freshman in 2021, both filling the gap in the run game (48 tackles) and covering slot receivers and tight ends (10 PBUs). But as a sophomore, Mukuba battled a variety of injuries that limited his overall impact. 
Look for a bounce-back season from Mukuba this fall. 
The Utes must replace R.J. Hubert at one safety spot, but thankfully for Kyle Whittingham & Co., they also happen to return one of the best strong safeties in 2023. 
Cole Bishop led Utah in tackles as a sophomore with 83 stops, and the 6-2, 210-pound draft-eligible junior is considered one of the top downhill thumpers. In two seasons in Salt Lake City, Bishop has 15 TFLs and five sacks. 
He'll be paired with Sione Vaki, who played extensively as a freshman in 2022. Vaki had 41 tackles — 34 of them solo stops. He chipped in 3.5 TFLs and five PBUs. 
For depth, Utah also has sophomore Nate Ritchie, who did not play the last two seasons after going on a church mission, but started all five games for the Utes in during the shortened 2020-COVID season. 
The Trojans have a playmaker at one safety spot in All-Pac 12 standout Calen Bullock, who was second in the conference with five interceptions in 2022. The 6-3, 180-pound junior also had 48 tackles and another five PBUs. 
Max Williams was the second safety in 2022, but looks to be running third behind former Ohio State transfer Bryan Shaw. Williams, who could end up starting at nickel if he does get beat out by Shaw, led the Trojans in tackles last season with 79 stops, two picks and five pass breakups, while Shaw added 50 tackles and an interception. 
The wild card for the Trojans is former Top 100 recruit Zion Branch, who has the physicality and talent that may be too tantalizing to keep off the field.
The Buckeyes return both starting safeties from 2022, with senior Lanthan Ransom leading OSU's defensive backfield unit. 
The Arizona native had 74 stops, a couple blocked kicks, multiple PBUs and an interception last season. He's paired with fifth-year senior Josh Proctor, who had an up-and-down 2022 season. 
Waiting in the wings is former 5-star recruit Sonny Styles, a 6-4, 225-pound thumper who is pushing for a bigger role in Jim Knowles' defense. In all likelihood, Styles will see snaps in situational spots as a third safety or extra hybrid linebacker in the box. 
Ohio State also has depth pieces in Kye Stokes and Syracuse star transfer Ja'Had Carter, who can play both safety and nickel. 
Fifth-year senior Demani Richardson is back after making two of the biggest plays in the Aggies' lone two SEC wins in 2022. A three-year starter, Richardson had two clutch scoop-and-score touchdowns that keyed victories against both Arkansas and LSU. The veteran was also a great box run-stopper, finishing with 74 tackles.
The Aggies have several options to start opposite Richardson, starting with sophomores Bryce Anderson and Jardin Gilbert. Anderson, who was Texas A&M's spring MVP, could be the No. 1 option at nickel, which would open the door for Gilbert to assume a full-time role in the Aggies' defense. Gilbert was solid as a coverage safety in situational spots in 2022, intercepting two passes — a team-high. 
Jacoby Mathews and Jared Kerr are recent 4-star recruits who provide added depth. 
While the Tigers have overhauled their cornerback unit for the second-straight season, they at least return some continuity at safety with Greg Brooks Jr. and Major Burns. 
Both missed time this spring with injuries, but the two former SEC transfers — Brooks from Arkansas and Burns from Georgia — look to start for LSU this fall. Brooks had 65 tackles and two picks, while Burns had 38 tackles and three PBUs. 
Former 5-star recruit Sage Ryan could factor into the safety rotation if he doesn't start at nickel, but LSU isn't crazy about its depth behind Brooks Jr. and Burns — which is why the Tigers have explored potential options in the transfer portal. 
They do have a couple of interesting freshmen in Ryan Yaites, Jordan Allen and Kylin Jackson but those guys may be a year or two away from actually contributing. 
The Crimson Tide have one of the more interesting safety situations in 2023 — but much like Georgia — mostly with upside. 
Malachi Moore is back and can play either STAR or safety, and despite a down 2022 season, the senior figures to fit into the starting lineup at one of the two spots because of his experience and potential. 
The second safety spot is already accounted for, as 5-star freshman signee Caleb Downs looks to be one of the most impactful newcomers in the country this fall. Downs quickly emerged as a capitol-D -DUDE this spring, and he's going to play a lot for Alabama in 2023. 
Kristian Story is a backup option, and the Tide are also still in pursuit of UAB safety Jaylen Key for added depth.  
Honorable Mention: TCU, Florida State, Oklahoma State, Minnesota