Handicapping the race for 2023's No. 1 prospect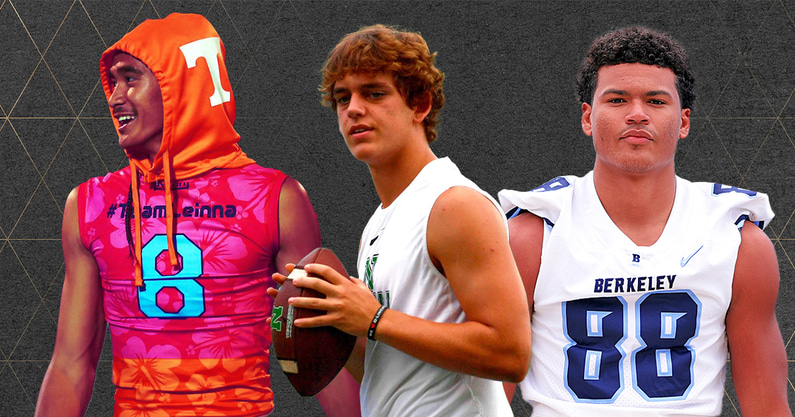 On3 released an update to the On300 football prospect rankings for the 2023 cycle on Monday, primarily driven by early senior season evaluations. This release marks the beginning of a pivotal stretch in the rankings process. The senior season and national all-star games typically are the key evaluation points in sorting out the final rankings, which are released in January.
With the fall under way and the Early Signing Period just a few months out, eyes are have turned to the race for the No. 1 overall prospect in the 2023 cycle. Arch Manning has held the top spot both in the On300 and On3 Consensus for the majority of the cycle. The Five-Star Plus+ Texas commit is a polarizing prospect, with a wild variance of public opinions and discourse. While the the truth is Manning likely falls somewhere in that wide range, it is safe to say the race for the No. 1 prospect in the cycle is unsettled.
With that said, let's take a look at some contenders, dark horses and potential scenarios in the race for 2023's top overall prospect.
Arch Manning vs. Nico Iamaleava
This discussion has to start with quarterbacks. On3's rankings process and philosophy seeks to project ability as a college player as manifested by NFL Draft status. Hence, positional value is weighed within On3's rankings to reflect that of the NFL Draft.
Arch Manning and Tennessee quarterback commit Nico Iamaleava remain as the top two prospects in the On300. Both have to be considered among the favorites to end up as the top overall prospect.
Each has shown projectable ability to this point. Manning has ready-made size at 6-foot-4, 215 pounds with a lightning-quick release. He's technically polished and advanced as a ball-handler. Manning was the most productive underclassman of the top 2023 prospects and has continued to look like one of the top quarterbacks in what is a murky, but deep cycle at the position. Iamaleava looks to be the most physically gifted of the group. He's 6-foot-5.5, 190-pounds with a whippy arm and the ability to drive the ball downfield with ease. Iamaleava pairs his considerable arm talent with twitchy movement skills – he doubles as a national-level volley ball star.
To this point, both Manning and Iamaleava are more of a projection than some top quarterbacks from prior cycles. Neither plays top level competition and have not shown to be a truly dominant level player on Friday nights – to this point. This differs a bit from what we saw from former No. 1 overall prospects like Bryce Young (2020 cycle) and Trevor Lawrence (2018). Young was playing at a college level as a senior at SoCal powerhouse Mater Dei. Lawrence paired his considerable physical gifts with a record-breaking high school career, winning mulitiple state titles at Cartersville (Ga.) High. Current USC quarterback Caleb Williams was On3's No. 1 overall prospect in the 2021 cycle, and while he wasn't hyper-productive like Young or Lawrence, he did lead his team to a championship in one of the nation's toughest leagues, prior to missing his senior season due to COVID cancellations.
That's all to point out Manning and Iamaleava are both non-traditional evaluations as potential No. 1 overall prospects, thus far. With that said, there's a bunch of football left to be played.
Both have showed some encouraging signs early on, as well. Manning is off to a strong start, leading his New Orleans Isidore Newman team to a 3-0 record. He's playing efficiently and stuffing the stat sheet through three games, including two against 5A programs. Manning has completed 66% of his passes for 780 yards (10.5 yards per attempt) for 12 touchdowns and zero interceptions with two more rushing touchdowns. He faces a stiff test this week against a Many (La.) program that features some blue-chip prospects on a defense that has given up just 13 points in three games.
Iamaleava has flashed his tantalizing physical ability and has largely played well to this point. He's more inexperienced than Manning on Friday nights, entering the season with less than 15 varsity starts under his belt. Iamaleava's continued progression as a player in 11-on-11 settings will go a long way in determining where he finishes in the final rankings.
Potential risers at quarterback
While there's a gap between Manning and Iamaleava and the next group of quarterbacks, it's too early to rule out the possibility of another signal caller making a big push.
Oklahoma commit Jackson Arnold (No. 25) is knocking on five-star status for On3 after a hot start to his senior season. The 6-foot-1, 200-pounder showed some of the cycle's best arm talent on the camp circuit with a quick release and a strong downfield arm. So far as a senior, Arnold is showing continued progression as a player. He's in his second year as a varsity starter and game looks to be slowing down for him a bit. Arnold will have plenty of opportunities to impress while playing for a nationally-ranked team against top competition in Texas' highest classification.
Clemson commit Christopher Vizzina (No. 29) has projectable physical tools that probably line up most similarly with Manning among the top quarterbacks. Vizzina is 6-foot-4, 205 pounds and has some of the best functional movement skills among 2023 quarterbacks. He's also similar to Manning and Iamaleava in that he does not have a loaded supporting cast, despite playing in Alabama's second-highest classification. Vizzina has put forth some gutsy performances so far as a senior, including two game-winning drives. He could push for a fifth star and perhaps become a contender with a strong finish to his senior year along with a standout all-star showing.
Five-Star Plus+ USC commit Malachi Nelson has to be in the conversation as a contender as well, even though his ranking has fallen a bit in the five-star ranks for On3. Similar to Manning, Nelson emerged early on in the cycle and debuted as No. 2 in the initial On3 rankings. While Nelson has always looked the part of a blue-chip quarterback in the cycle, he hasn't shown quite the level of physical or on-field progression as some others over the past year. With that said, the potential is there for Nelson to make a push, even though it may be less likely than initially perceived.
Top pass rushers
After quarterback, we view pass rushers – primarily comprised of the EDGE prospects – as the next most valuable position. This is reflected in On3's current rankings, with EDGE prospects Keon Keeley (No. 3), Damon Wilson (No. 4) and Adepoju Adebawore (No. 7) ranking inside the top ten.
Keeley is turning in a dominant senior season thus far. The Tampa Berkeley Prep star has proven unblockable, registering eight tackles for loss and 6.5 sacks in his first three games. The 6-foot-6, 245-pounder is big, quick and powerful. He's continued to progress from a technical aspect and plays hard on a snap-to-snap basis.
Wilson has faced considerably tougher competition than Keeley thus far, so his stats aren't going to pop out, at least yet. With that said, the five-star turned in an eye-catching showing on national television last week against Baltimore powerhouse St. Frances Academy. Wilson has arguably the best bend among top pass rushers in the 2023 cycle and is a strong, twitchy athlete.
Adebawore is the most physically-gifted of the group. The North Kansas City star has a freakish length (7-foot wing-span) and athleticism at 6-foot-4, 225 pounds. He's been a bit banged up to start his senior season and is just getting up to speed.
The 2014 cycle provided the classic example of an EDGE prospect taking the No. 1 spot. Myles Garrett entered the week at the Under Armour All-America Game as a five-star prospect, who was not in the discussion as the top overall prospect. The future No. 1 overall pick was utterly dominant throughout practices, making future NFL offensive linemen look helpless on nearly every rep. We walked away from that week convinced Garrett was the top prospect in the cycle.
Could Keeley, Wilson, Adebawore or another EDGE prospect make a Myles Garrett leap? Stranger things have happened.
The off-chance of an offensive tackle
While it's unlikely given the depth at quarterback and EDGE, we still need to mention the off-chance an offensive lineman throws their name into the mix. On3 views this offensive line class to be particularly strong relative to recent cycles.
A number of offensive linemen currently rank as five-stars or within striking distance. Even more so than the EDGE group, an offensive lineman throwing his name into the mix as the No. 1 overall prospect is most likely to originate from a dominant all-star showing. While senior film is the basis for these evaluations, a strong performance against top defensive line prospects in a padded setting provides the opportunity for an offensive lineman to separate from the pack.
Notre Dame commit Charles Jagusah (No. 6) Miami commit Francis Mauigoa (No. 11) and LSU commit Zalance Heard (No. 13) are the top three offensive tackles for On3, all rating as five-star prospects. Jagusah has a projectable frame and functional athleticism, at 6-foot-6, 300 pounds, doubling as one of the Midwest's best heavyweight wrestlers. Mauigoa is a standout at powerhouse IMG Academy and has rare movement skills at 6-foot-5, 325 pounds. Heard is in his second year as an offensive lineman and has freaky length with 36-inch arms along with physicality and play strength at 6-foot-5.5, 305 pounds.
Penn State commit Jven Williams (No. 10) is ranked as an interior offensive lineman, but has outstanding athletic markers as one of the top shot put throwers nationally along with some of the best second level movement skills we've seen in recent cycles.
Georgia commit Monroe Freeling (No. 27) is a darkhorse to land as the top offensive tackle prospect. Freeling pairs a massive frame (6-foot-7.5, 285 pounds with a 7-foot-plus wing-span and 11-inch hands) with some of the best bend and flexibility we've seen from a lineman in this cycle. Ohio State commit Luke Montgomery (No. 24) ranks as an interior offensive lineman, but could play tackle in college and has put together some of the best early senior video we've seen among the offensive linemen.
Moving forward
As mentioned above, much of the most important stretch of the evaluation process remains. We're just a handful games into the senior season for most prospects. What happens over the next few months on Friday nights – and potentially in all-star settings – will ultimately decide who finishes as On3's No. 1 overall prospect, in what has been an interesting cycle thus far.