2024 Top 25 Cam Scott talks UNC, South Carolina, Clemson, etc.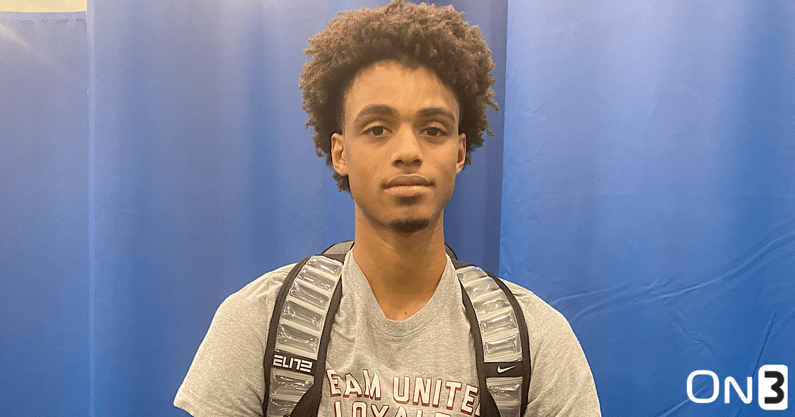 Cam Scott is the No. 18 ranked player in the 2024 On3 Consensus. The 6-foot-5 shooting guard was named first-team 5A South Carolina All-State for the second time this year.
"I am starting to become more of a two-way player; that is big for me personally," Scott told On3. "I'm very good at running the floor, getting up and down, communicating with my teammates, and knocking down jump shots. I watch a lot of Jimmy Butler these days. I am watching how he is that leader-type on the floor and has that dog mentality."
Playing with Team United 15u on the EYBL circuit, he was a featured player leading them to the Peach Jam Finals last year. On3 caught up with Cam Scott at The Circuit's Battle of North Carolina to talk about the latest in his recruitment.
"Right now, we hear from Tennessee a lot; I've enjoyed communicating with them these last few weeks," Scott said. "We have heard a lot from Chuck (Martin) over at Oregon. Florida State stays in contact with us; UNC was at a few of my games in April. I saw Florida State at a few games. I saw Clemson, and I believe the LSU coach was at one of my games.
"We are in the process of planning visits right now," Cam Scott said. "I know that I can start taking officials starting my junior year, and I want to get a couple of those quickly. I'd like to see Oregon and get out on the West Coast. I want to see Tennessee; I haven't been to see them yet, but a couple of my teammates have, and they liked it. I'm looking forward to getting back down to Clemson, back up to North Carolina, Florida State and South Carolina, and potentially Georgia."
Scott talks recruitment
Tennessee: "Whenever I talk with them, I come away antsy about their program. I am not sure what exactly it is, but it is something I want to see about them. They're guard heavy there, but they are a team I am looking forward to looking into."
Florida State: "They're capable of producing big guards and big wings; they have one of the tallest teams in the NCAA. We play the exact same way with the same type of size, so coming in and being able to play in the type of environment I am used to makes sense."
South Carolina: "I have not heard from the new staff yet, but I have been over there a lot with the old coaches. Frank Martin was kind of like family to us, but I believe through South Carolina's preparation, and what they have going through the whole school, they are still going to have that same grit and grind within the program."
Clemson: "Clemson is a hometown team for me. Their grit and grind stick out. Josh Beadle and PJ Hall are both from South Carolina; when I went up there, they both talked about how they love it there. They both love how they play and how they work. I watched a practice when I was up there, and they get after it; that is big for me.
North Carolina: "The blue everywhere when I went up there stood out; it was pretty unique. Walking into the stadium and just feeling the energy, knowing you will get that every night, every game. They all play for each other, and they all play as one. Family is a big thing for me; playing on a team that you know has your back is big for me."
"We hear from Oregon a good bit, but they haven't offered. That is about it," Scott said.
On UNC recruiting AAU teammate Jarin Stevenson
"Of course, Jarin (Stevenson) and I talk about playing together," Scott said. "I talk about it before each game with him, but we say, 'there go the UNC coaches.' We talk about it all the time."
Scott's take
"I want to go somewhere I can feel safe and comfortable," Scott said. "Go play for a coach in an environment where I can get better. I'm looking forward to getting somewhere I can put in my work, get work out of it, and put it on a big display."
On3's take
Cam Scott is a lengthy wing prospect with a lot of pop. The natural tools are very impressive all the way around. Scott has a mature game, plays within the flow of the offense, and rarely forces things. The jump shot release can be cleaned up slightly, but the pull-up is smooth. Since the summer, Scott has developed his footwork and handle in the half-court, creating space to elevate into his jumper. Scott can take over a game and carry his team. I would like to see him develop the comfort to take a more aggressive, alpha role on his teams. He is very efficient in his game, and his ability to score with a less is more approach is mature. Strength will come, and he is tracking as one of the top players in the 2024 class.