2024 Top-50 recruit Kam Pringle names his top 10 schools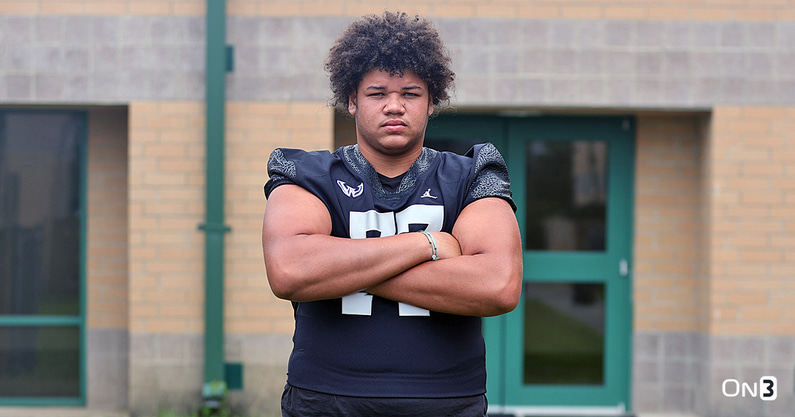 Kam Pringle is one of the top recruits in the 2024 class. The 6-foot-8, 340-pound offensive tackle out of Woodland (S.C.) has the offers he needs and he is ready to make his first cut.
After taking visits to double-digit schools, the No. 43 prospect in the On3 Consensus has narrowed his list to 10 schools.
"Auburn, Clemson, Florida, Georgia, LSU, NC State, Ohio State, South Carolina, Tennessee, and Virginia are my top schools," Pringle told On3.
Out of the top 10 schools, Pringle has visited each at least once outside of LSU. All of the schools have done a great job getting to know the No. 1 offensive tackle in the country and that played a role in them being on his list.
"I have met a coach or multiple coaches from each school and all of them have made me feel comfortable. It really came down to which schools I feel most comfortable with.
"All the schools on the list have done a great job keeping in touch and getting to know me. It was pretty difficult towards the end of the list. I was set on eight, but those last two were pretty tough.
"These 10 schools are the main schools that kept it going since Sept. 1 too. I solidified the list on Sept. 7 after giving schools a week to communicate. Each school on this list did a great job and I was able to get it down to 10 on my birthday."
The next step for Pringle is to trim his list to eight. That should happen before the end of 2022.
"After eight, I will keep chopping it down and get it to a top five," Pringle said. "Then, when I feel the time is right, I will commit to one of those schools."
Kam Pringle breaks down his top schools
AUBURN: "I visited the first time over the summer and I got to meet coach Friend, coach Harsin, and I really enjoyed it. It is a beautiful campus and I really liked it. I got to tour the campus, see the facilities, and I really liked it there. Spending time with the coaches and building on my relationships has helped Auburn make the list."
CLEMSON: "I camped there early and they made me a top priority early. With their philosophy, they didn't offer until this past summer, but they told me early that it was coming. Coach Caldwell recruited me first, then coach Austin came in and he never missed a beat. I like my visits up there and how the coaches have gotten to know me."
FLORIDA: "Florida was my dream school growing up. Jawaan Taylor is my cousin and he played at Florida. I have always liked them and followed them. Growing up, I always thought I would commit on the spot if I got the offer. I got the offer after camping there my freshman year. They showed me a lot of attention. The old staff was great and the new staff has not missed a beat. The new staff has been to see me a couple of times and they have made sure I know I am a priority."
GEORGIA: "Georgia was first to offer me. I know coach Gordon a lot and I have a strong relationship with coach Searels. As soon as coach Searels went to Georgia from North Carolina, he made me a top priority. Coach Searels is great, coach Smart does a great job, and I think almost my entire family has visited there. They have been solid with me from the beginning."
LSU: "LSU is the only school I have not visited yet. I have talked to coach Davis over the phone a good bit and he has been to my school a couple of times. He is a really good offensive line coach and he as is big on recruiting his guys. For him to come check on me all the way from Baton Rouge is telling. Coach Kelly has hit me up too and I could see myself taking a visit there."
NC STATE: "I have visited NC State once and my grandma and sister were with me. Coach Doeren does a really good job of being a family man. My grandma really liked him. I got to spend a day there and get to meet with the coaches. I sat in on meetings and I like it there. NC State is like a big underdog in my recruitment because they don't get a lot of four-star and five-star recruits. It is a school I really like though."
OHIO STATE: "With Ohio State, it really started with coach Sollenne, a graduate assistant. He was at Florida when they started recruiting me and he saw me when I camped there. Coach Frye got there and I went up there and spent time with him and coach Day. I spent a couple of days around Ohio State when I visited and I really enjoyed it. The atmosphere is good and I really like the people."
SOUTH CAROLINA: "South Carolina was one of the first schools to offer me. They got on me early and they are close to home. They have done a great job recruiting me and my family. The fan base is really strong and loyal, so that stands out. I have been there a lot and I will be back this weekend. The coaches are great men and keep their word."
TENNESSEE: "I have visited Tennessee twice. I really like the staff. They have been down to check on me and the coaches hit me three to four times each week. It is a cool place and I like coach Ellerbe, coach Heupel, and some other coaches. It is another school I am considering big-time."
VIRGINIA: "Coach Tony Elliott got to know me when he was at Clemson, so that relationship carried over to him being the coach at Virginia. I got to visit up there this summer it was nice up there. The campus was one of the best I have visited. They are a program coming up and I see coach Elliott doing good things there."