2025 twins Cameron and Cayden Boozer on track to living up to pedigree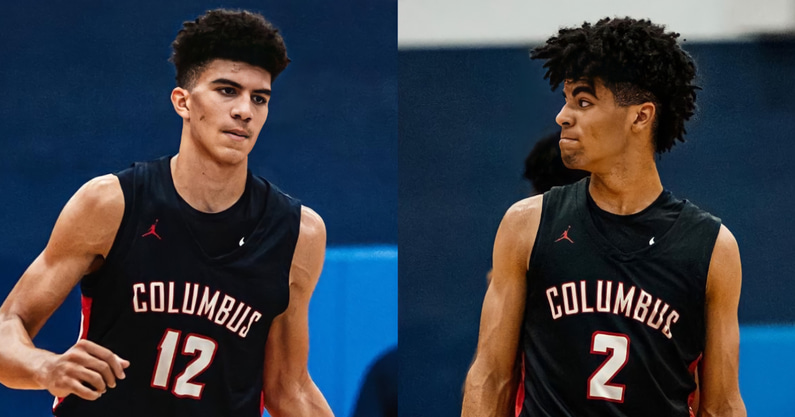 Cameron and Cayden Boozer might only be freshmen in high school, but you'd never know it. The pair play a much more experienced game, despite being so young. Of course, they make mistakes like every other player, but they're on track to becoming stars. The two, however, are very different. Cayden is a point guard and stands about 6-foot-3. His twin brother, Cameron, is several inches taller at 6-foot-8 and plays more of the wing/forward position. 
The two attend Christopher Columbus High in Miami, Florida.
If you're a basketball fan, the Boozer last name should sound familiar. Cameron and Cayden are the sons of 13-year pro, two-time NBA All-Star, and former Duke Blue Devil Carlos Boozer. The twins say a Duke assistant was at one of their games this past summer, playing on the Made Hoops circuit.
On3 was able to watch the twins play last week at the City of Palms. Cameron struggled to get things going offensively but he oozes potential. He's light on his feet and shows tremendous upside. Cayden, on the other hand, put on a show for the fans. He controlled the tempo of the game and couldn't be stopped when he put his head down to the rim. He played both sides of the ball, tirelessly. I was impressed by his ability to lead his team offensively, and then come down on the other end and then play tough, consistent on-ball defense. Cayden finished with 21 points on an impressive 10-of-13 from the field.
The freshmen have already scored early offers from both Miami and FIU. They've also been hearing from Florida State, Memphis, Michigan, and Kansas. Since it's so early, the two aren't really worried about their recruitment, considering they still have several years of high school left.