'23 Jamie Kaiser is fastest-rising prospect on Eastern Seaboard; 4 visits set, but who gets the 5th?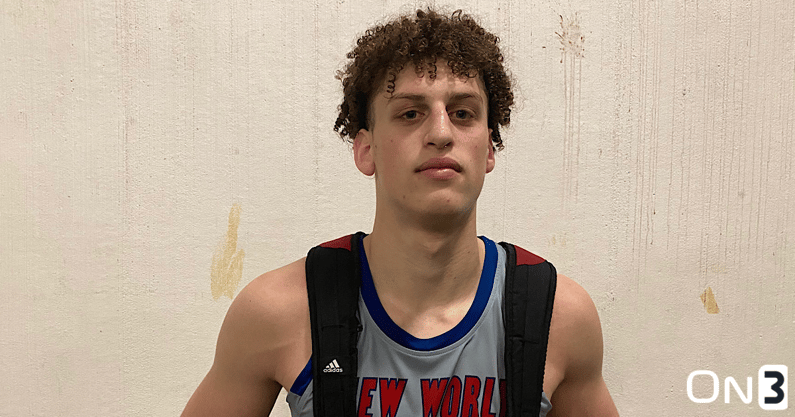 Jamie Kaiser was On3's MVP of the Southern Jam Fest. The 6-foot-5 wing from Alexandria (VA) Bishop Ireton averaged over 20 points per game, leading his New World 3SSB team to the 17u championship game.
"I'm a big guard who can really shoot it," Kaiser told On3. "I get after it on the defensive end and try to use my size to take advantage of matchups. I'm now playing more confidently in my ball handling, taking guys off the bounce, and finishing at the rim. I watch a lot of Devin Booker, how he puts it on the floor and gets to his mid-range."
It has only been a couple of weeks since Jamie Kaiser announced he would put the football away and put his entire focus on basketball.
"I had offers from Maryland and Pittsburgh," Kaiser said. "I mean, I love football, but I found myself playing basketball more often; it made me happier."
Since his announcement, college programs have been in heavy contact. Multiple offers have come through, and he has started his official visits. On3 caught up with Jamie Kaiser this weekend to see exactly where things stood in his recruitment.
"I went on an official visit to Harvard and Wisconsin last week," Kaiser said. "We've got dates set to take official visits to George Mason and Virginia in June."
Kaiser talks recruitment
Wisconsin: "It was way nicer than I thought. I thought it would be really cold and small, but it wasn't. The people there are really nice. I like Coach (Greg) Gard a lot and his coaching staff. I just felt really comfortable over there. They love how I make shots and how intense I play. If I keep improving my athleticism, they talk about me in a Johnny Davis-type role by my second year there."
Harvard: "It's Harvard; I mean, you cannot beat that prestige. If you are a father or have kids, you want them to go to Harvard; you're set for life. I love Coach (Tommy) Amaker; he is from near where I stay; he went to W.T. Woodson High. I know he is a big name in the area, and he has prioritized me, so I am prioritizing them.
George Mason: "They are like family over there. Coach (Kim) English was like my first scholarship offer. Coach (Duane) Simpkins, I've known him since like sixth grade. I feel really comfortable over there; it is only like ten minutes from my house. Everyone will be able to come to see me play."
Virginia: "They have pros, and they win national championships. Every night they play the best of the best being in the ACC. They like that I can shoot it and how I can use my size and length in their pack-line system."
Kaiser's fifth visit
"I like Rhode Island," Kaiser said. "Coach Kenny Johnson, I have known him for a while. Kind of like George Mason, he feels like family. I know Coach (Archie) Miller is trying to get things going up there. He has coached at a high level for years."
Kaiser's take
"I hear from Vanderbilt, Florida, Stanford, Illinois, and Wake Forest, too," Kaiser said. "I'm going to take a little bit of time. I'm looking to take my senior year officials too, but I will try and get those out of the way in a hurry so I don't get caught up with the transfer portal. So probably before my school year starts.
"My relationship with the coaches will be a big factor. How long of a leash they will give me when I'm there and how they will use me. I want to go somewhere I feel comfortable."
On3's take
Jamie Kaiser is a long-armed, strong frame wing. His jump shot is textbook, and he takes it with deep range and confidence. The lateral mobility will be a question, but his strength and motor allow him to be a good defender. Kaiser knows his game and his spots and plays an efficient basketball brand. He was a high major football player with multiple P6 offers. Recently has said he will focus on basketball solely. Kaiser's dad played football at Slippery Rock, and his cousin, Eric Hicks, played in the NFL for 13 years. Simply put, Kaiser produces.