'24 Drake Powell was the big winner of Day 1 of the NCAA Live Evaluation Period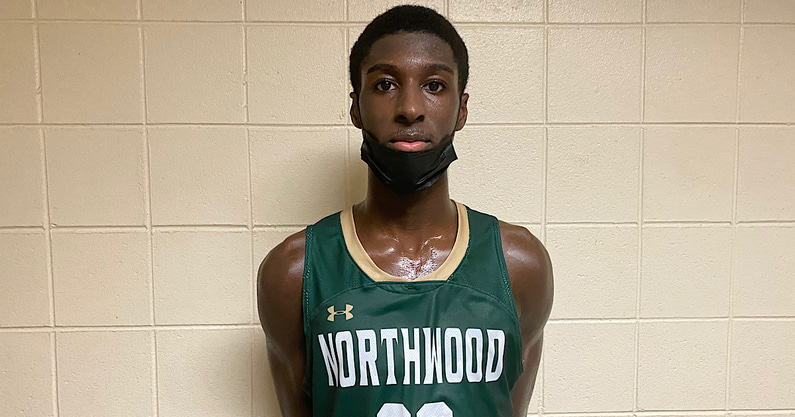 Anytime you have college coaches sitting courtside, it is a proving grounds. Today's matchups seemed more like a pecking order for 2024 guard Drake Powell.
The 6-foot-6 Powell started off against four-star Isaiah Evans. A player ranked highly by some and carrying offers from the likes of Tennessee, Illinois, and others. Powell finished with a game-high 21 points, going three of five from three. He held Evans to nine.
Powell's second matchup of the day was against four-star Paul McNeil. The 6-foot-5 shooting guard at Rockingham (NC) Richmond Senior is the 2024 On3 Consensus No. 23 ranked player. Powell finished with another game-high 22 points, showcasing significant defensive prowess and play-making ability.
Powell was offered on June 15 by Miami, Virginia Tech, and Texas A&M. All three schools were present on the first day of the live period. Powell's play today also earned an offer from Wake Forest head coach Steve Forbes.
Drake Powell plays high school at Carrboro (NC) Northwood High and travel ball with Team CP3 16s. No one did more for their stock in the Carolina's than Powell.
Jordan Butler's upside turning into production
The 6-foot-10 forward finished the Day 1 nightcap with a 26-point, 12 rebound explosion. The big was a constant on the boards and finished five of seven from beyond the arc.
Jordan Butler is the younger brother of Florida State one-and-done big John Butler, Jr. The older BUtler was a late bloomer, and Jordan will graduate high school at 17. The upside is clear, and the production is becoming consistent.
Butler plays high school for Greenville (SC) Christ Church and travel ball with Lamelo Ball's team, Team 1 of 1.
South Carolina was four deep for Butler. Oregon and Tennessee were also watching.
Cam Scott developing the 'it-factor'
Cam Scott is the No. 16 player in the 2024 class. He has always had the tools, great length, smooth shooting stroke, and significant pop. Now, Scott is starting to develop an alpha-mentality.
The 6-foot-5 shooting guard was in his bag today—multiple dunks, defending in the passing lanes, rebounding for his position, and knocking down shots. Scott's game has a smooth nature, something that has been called casual in the past. Things seem to be turning the corner with a possible trend toward five-star status.
South Carolina had all four coaches watching Scott. Oregon, Tennessee, Florida State, Clemson, and Georgia were baseline as well.