4-star Chris Johnson is setting four official visits; Kentucky, Auburn are in contact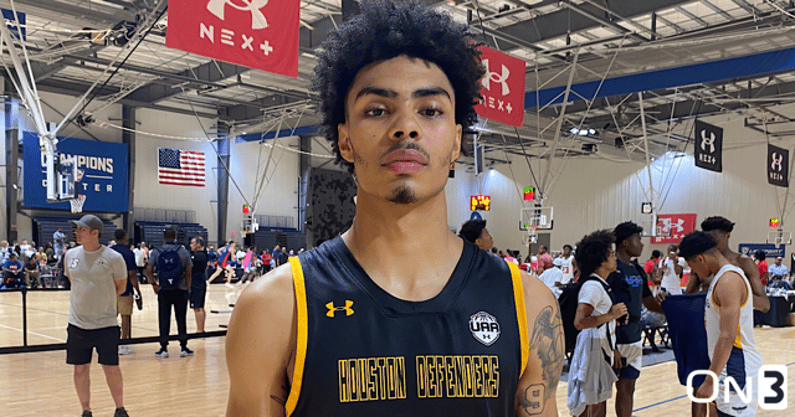 Chris Johnson is the 2023 On3 Consensus No. 38 ranked player. The 6-foot-4 point guard led his Houston Defenders program to a UAA Circuit Session 3 championship this weekend.
"I play hard, and I compete," Johnson told On3. "I've worked on my shooting a lot and made myself a better three-level scorer. I'm a good defender. I try to have fun and win; I love winning. I'll watch a lot of Bradley Beal and Ja Morant, how they use their athleticism, and they get to their spots."
The quick-twitch lead guard announced in May he would be transferring to Montverde (FL) Academy has a handful of schools prioritizing him in recruitment. On3 caught up with Chris Johnson during UAA Circuit Session 3 to go in-depth about each of these schools.
"At the end of this month and into the first part of August," Johnson said, "I'm going to get pretty hectic with visits. I'm setting with Kansas, Arkansas, Ole Miss, and Alabama."
Johnson talks recruitment
Arkansas: "They got three McDonald's All-Americans this year, and I know each of them. I like coach (Eric) Musselman. He has been recruiting me hard for the past year, and I just really like their program and what they are doing."
Alabama: "It's the guard play. I like what they do with their guards and push the ball in transition. They do a lot of things that fit what I can bring to the table for them."
Ole Miss: "I have not watched them a lot, but one of my best friends, Amare Abram, is there. He has been telling me how much he likes it there and that I have to go check it out."
Kansas: "It's Kansas. They have created the blueprint. Knowing they want me that bad, it stands out. I was supposed to go on an official visit there the first week we could get out, but we couldn't make the dates work. Knowing how much they want me there is a blessing."
"Of the schools who haven't offered, I've talked to Kentucky a little," Johnson said. "Auburn has been around some too."
In his words
"I'm going to be looking for a brotherhood," Johnson said. "I want to into a program that will allow me to come in and compete. The location won't matter, as long as they will let me get out there and play; that is all I can ask for."