4-star DJ Jefferson setting PAC 12 visit; adds SEC, ACC offers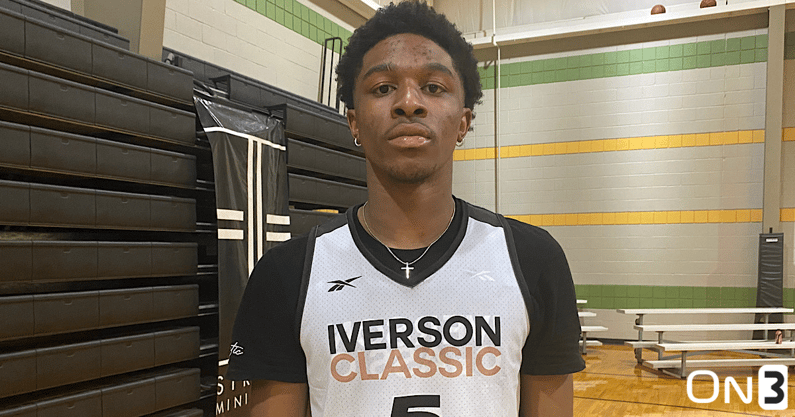 DJ Jefferson is the No. 45 player in On3's updated 2022 rankings. The Minneapolis (MN) Minnesota Prep shooting guard stood out at last week's Iverson Classic, playing among the nation's top seniors.
"I get to the rim with ease," Jefferson told On3. "I can get to any spot on the floor, get my teammates involved, and be a real good defender. I've been watching a lot of Anthony Edwards since he was in high school, picking up a lot of how he scores the ball."
Previously committed to Tulsa, Jefferson decided to re-open his recruitment soon after the program parted ways with head coach Frank Haith.
"It was a family decision," Jefferson said. "I didn't want to do it, but the relationship I had with coach (Frank Haith) when he left it kind of did something to me. My family and I sat down and decided to open back up my recruitment."
Since re-opening things, high major programs have stepped up. On3 caught up with DJ Jefferson at the Iverson Classic to discuss which programs were standing out and a commitment time frame.
"I got a Washington State offer a couple of weeks ago," Jefferson said. "Wake Forest and Tennessee just offered me this week. Louisville and Texas contacted me and have been keeping in touch, but they haven't offered. I have a visit set with Tennessee for next weekend. I am going to set my visit with Wake Forest for after that and I believe I am going to take my visit to Washington State in the next couple of weeks."
Jefferson talks recruitment
Washington State: "I just got on a Zoom call with them, and they really talked a lot about character- how you want to carry yourself in a certain way. They like to get up and down, play in transition, and have a lot of quick-hitters in the half-court. I think it fits my style."
Wake Forest: "They explained to me they see me playing 20-plus minutes as a freshman. They say they like my motor and my love for the game."
Tennessee: "They kept it real with me. If I'm going to come there, I have to be willing to put the work in, and I could compete for minutes."
Louisville: "They have produced pros; Donovan Mitchell and Montrezl Harrell went there. I would like to continue learning more about them, their new coach, and his vision."
Texas: "I am from Texas, so playing back home would be cool. I want to play in front of my friends and family and give back to the community."
Jefferson's take
"I plan on making my decision pretty soon," Jefferson said. "That is why I want to come to this (Iverson) Classic; I wanted to prove to everyone what I am capable of and put my name out there after I de-committed.
"I want to go to play for a coach where I can receive guidance—teaching me things on and off the court, preparing me for the future. It will all be about relationships for me."
On3's take
DJ Jefferson has a smooth floor game. Lefty with a compact frame with burst at the rim. A shot-maker. Has a smooth shot from three. Attacks closeouts right and left. Can get up on the rim. Consistent effort has been his main question mark. Upside to be an adequate defender both on and off the ball. Is comfortable handling the ball in the half-court. Good balance when attacking the basket. Can finish at the rim from multiple angles. Has a lot of tools in his bag—a top-50 type talent.