4-star Jarin Stevenson talks North Carolina, Virginia, and more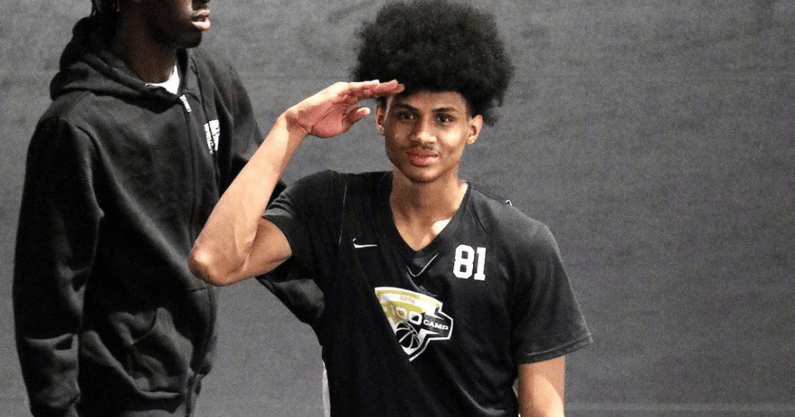 Class of 2024 four-star forward Jarin Stevenson is beginning to emerge as one of the top big men in the country. The 6-foot-8, 200-pound power forward from Pittsboro (NC) Seaforth currently ranks as the No. 16 overall prospect in the 2024 class according to the On3 Consensus, and No. 1 overall prospect in the state of North Carolina.
Stevenson is only just beginning to scratch the surface of his enormous upside, and the same can be said of his college recruitment.
Stevenson talks early recruitment, unofficial visits
Beginning on June 15th, college coaches were able to make direct contact for the first time with their class of 2024 recruits. It's a sign for basketball recruiting fans to see which players their school is prioritizing, as well as a clear sign of the program's top targets. Which schools are in consistent contact with Stevenson?
"It's been crazy. Ever since that moment at midnight on June 15th, I've been getting lots of calls and lots of texts," Stevenson said. "The main schools I've been getting texts from are UNC, Virginia, Missouri, NC State, Georgetown, and a couple of others."
Stevenson has already taken three unofficial visits to college campuses – North Carolina, Virginia, and NC State. He broke down each of those trips with On3 and went further in-depth on each of the programs.
NC State: "I got to meet coach (Kevin) Keatts there. They took me around the campus and I saw the practice gym and their old main gym. I didn't go into the main arena but I saw around the campus and stuff and it was very nice. (NC State) is like the underdogs, but they will do whatever they can to win. They're underrated but they're always known to get it done somehow. I like that about them."
Virginia: "I met the coaching staff. They have new facilities with their 2019 championship, so they have lots of nice stuff there. The main gym is very nice and they have a great community over there. (Virginia) values defense a lot. With their five pillars, they are very disciplined, and they will do whatever they can to win."
North Carolina: "The campus was very nice. We just went around. The feel is very campus-like, not too much city but it's a great campus. Again, we met the coaching staff. They were very nice to me. They showed me around. We went on a golf cart, and it was all very nice. (UNC) is very prestigious. Michael Jordan, Vince Carter, and lots of NBA greats came from that school. It's a great school and a great program."
Background information on Stevenson
Jarin Stevenson grew up in Korea, before moving to the United States "in the fifth or sixth grade." He comes from a basketball family. His mother played at North Carolina, and his father was a 1,400-point scorer at the University of Richmond before playing professionally overseas for over 10 years. Jarin's parents are both coaches and have coached him his entire life.
Stevenson attends Seaforth High School in Chatham County, located just 20 minutes from UNC's campus. While the Tar Heels might be the perceived favorite, Stevenson is open to other schools.
"I'm just seeing the options and making the best decision from there," he says.
As mentioned before, Stevenson's mother played for the North Carolina Tar Heels, so of course she's a fan of the program. However, she will remain as unbiased as possible when it comes time for Jarin to make his college decision.
"She is a big fan of UNC but it ultimately comes down to whatever is best for me," Stevenson says. "Whatever I want, is what I should do and not follow in her footsteps per se, but do what I want to do."
Scouting Summary
Jarin Stevenson is skilled; with good size, he can push the break or shoot the three. While he is still growing into his frame and athleticism, he has good wiggle and excellent hand-eye coordination. He is a good athlete, and he has a natural nose for the ball. Stevenson can take over games; the next step in his progression will be consistently doing it every quarter, every night. – On3's Jamie Shaw, National Recruiting Analyst