4-star Robert Wright, III has a handful of schools he hears from regularly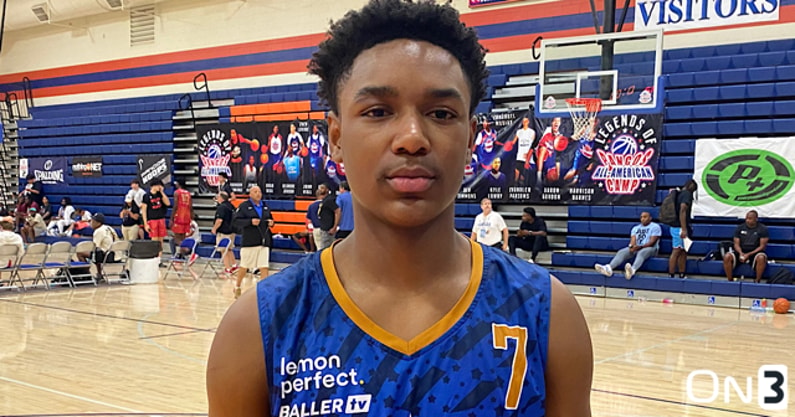 Robert Wright, III was a central figure in Team Final's run to the 16u Final Four of Nike's Peach Jam. The 6-foot-0 guard is the No. 32 player in On3's 2024 rankings.
"I'm a playmaking point guard," Wright told On3. "I can get my teammates the ball at any time and also score the ball from all three levels."
In front of dozens of coaches, the four-star averaged 12.0 points, and 4.2 assists in his Peach Jam run each game. On3 caught up with Robert Wright, III to talk about which schools are prioritizing him.
"I hear most from Maryland, Baylor, Louisville, Kansas State, Syracuse, Miami, Georgetown, and Wake Forest," Wright said. "There is not one school I have the best relationship with. I don't have any visits set yet, and I've only been on one unofficial; to Maryland."
Wright talks recruitment
Maryland: "At Maryland, they let their guards play. I learned a lot about the history of their program. It was crazy and interesting."
Baylor: "Coach (Scott) Drew, and Coach Nu (Jared Nuness) are the coaches I talk to most at Baylor. They let their guards play. They won a title and have been in the top four the last couple of years."
Louisville: "Coach Nolan (Smith) and Coach Danny Manning are the two I talk with most at Louisville. They have a pro coaching staff and are building up a brand new style of Louisville with the changes of coaches and everything."
Kansas State: "Coach (Jerome) Tang and Coach Jareem (Dowling) are the coaches I talk with most. They have a brand new coaching staff and are telling me they let the guards run the show."
Syracuse: "Coach GMAC (Gerry McNamara) is the coach I talk to over there. They let their guards play and have a history of guards benefitting from playing there."
Miami: "Coach DJ (Irving) is the main coach I talk to at Miami. They run the team through guard play, and they play a tough style. They just had a good run in the tournament last season."
Georgetown: "Coach (Patrick) Ewing and Coach (Kevin) Nickelberry are the coaches I talk to at Georgetown. They are big on guard play as a central piece in building Georgetown back up."
Wake Forest: "Coach (Jason) Shay is the coach I talk to at Wake. They play a similar style to my school on offense. They give the guards the ball and let them go make plays."
Wright's take
I will most likely start taking visits in the Fall," Wright said.
"I'm looking for a program that believes in what I can do and a coach who will let me lead the team. Location won't really matter in my decision. I am most comfortable playing in a system where they run the team through the point guard."
On3's take
Robert Wright, III is a compact and confident guard. While not blessed with great length or size, his feel is off the charts. Wright can get to his spots off the bounce and plays with outstanding balance with the ball in his hands. He is a good shooter, with deep range on his shot. He can pull up off the bounce or knock it down off the catch. Wright has good vision and distributes passes on target and on time. During Peach Jam, Wright averaged 4.8 assists.
His size will be a question mark for some coaches. He also just has average burst. The lead guard is also tough, rebounding the ball well for his position. He has quick hands and great anticipation on defense. Wright averaged 5.0 rebounds and 1.4 steals during Peach Jam. He is a shot maker and a shot creator, and there is a lot of value in that.