4-star running back Trevonte Citizen down to 8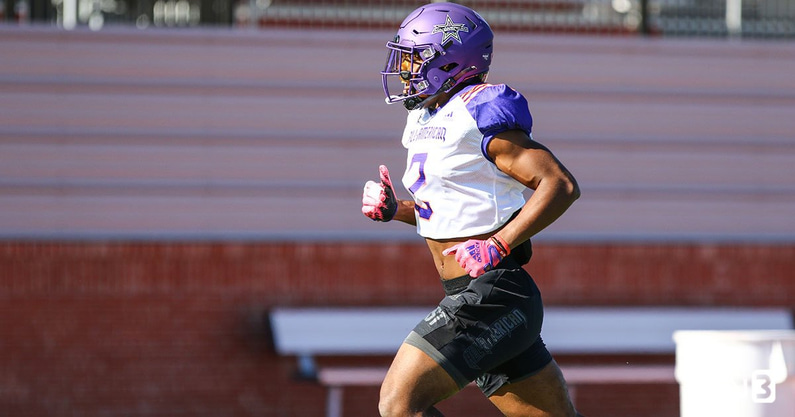 Four-star running back Trevonte Citizen of Lake Charles (La.) has narrowed his list to eight schools. 
The 5-foot-11, 218 pounder is the No. 67 prospect in the 2022 class according to the On3 Consensus, a complete and equally weighted industry-generated average that utilizes all four major recruiting media companies. He ranks as the country's No. 4 running back and the No.5 player in Louisiana.
Trevonte Citizen had this to say about these eight schools.
Florida
"I've been having a connection with Coach (Billy) Napier and Coach (Jabbar) Jaluke, it's that boot connection," Citizen said. "With them going to the SEC, I know it would be a good move for me if I end up going there. I've been in contact with them for a while so I know how their system operates when it comes to running the ball."
Miami
"You can't go wrong with the ACC," Citizen said. "There's not a lot of bruising or licking going on in that conference, and you have someone like Coach (Mario) Cristobal who had a good season at Oregon. Him changing up Miami, I'm all for it."
Auburn
"Auburn has been in contact with me since I was committed to LSU," Citizen said. "They've shown a lot of love to me and my family since they've been recruiting me."
Nebraska
"I have a good relationship with Coach (Mickey) Joseph and they produce a lot of good, big-time running backs," Citizen said. "I feel like I could fit well in the way they use their running backs."
LSU
"I've always had love for LSU," Citizen said. "I was committed there for about six months. Even though I decommitted, I still have love for LSU and still feel the same for them."
"Since the coaching staff changed I had to open up my options and look around again. Since they got a new coaching staff, I'm getting familiar with the staff and the players."
Michigan State
"They sold me on the way that they use Kenneth Walker," Citizen said. "My run style matches their offense and him as well. The way that he dominated everyone, I feel like I can do the same in that conference."
USC
"I've always liked USC," Citizen said. "They were recruiting me before all of the new coaching staff came in. I really like the new staff and am looking forward to getting closer with them."
Grambling
"I feel like the SWAC is making moves right now," Citizen said. "A lot of big time players are starting to go there now, and I feel like Grambling is the best you can get."
"You got Coach (Hue) Jackson who coached in the league and I feel like he can get me where I want to be at. He was a head coach in the league and Grambling has produced a lot of big-time players who had great seasons in the NFL."
Scouting Trevonte Citizen:
"Citizen has a near perfect body type for a running back," Charles Power wrote. "Stands close to 6-feet and carries 215-220-pounds perfectly proportioned. Has a developed lower body which works as a power base on the field. Put together a strong start to his senior season, averaging 11.4 yards per carry and scoring a touchdown on every six carries, prior to missing time with a broken finger. Out-played fellow top 2022 running back Branson Robinson head-to-head as a senior. Plays with the feel to drop his pads and runs with a low center of gravity. Shows strong balance with the ability to both absorb and dish out contact. Displays the ability to stop-start with excellent feet in the hole. Flashes the ability to get small to rip to the second level. Quicker than fast. A tackle breaker with forward lean to finish runs at a high rate. Possesses cut-back peripheral vision and runs with a slashing style. Most comfortable running to his left as a left-hander at this stage."