4-star safety Boo Carter breaks down his top five schools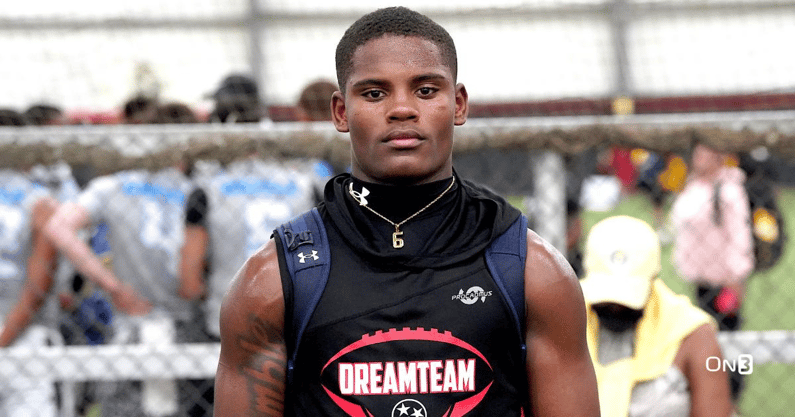 Chattanooga (Tenn.) Brainerd safety Boo Carter has over three dozen offers. The 6-foot, 180-pound playmaker burst onto the scene as a freshman. He put up big numbers as a running back, and he has the option of playing running back or safety on the next level.
Over three dozen schools have offered the four-star and five have pushed their way to the top of his list.
"Tennessee, Colorado, Oregon, Ohio State and Michigan are my top schools," Carter told On3. "I have around 38 offers and a lot of schools have been showing interest in me, but these five really stand out.
"The coaches are getting to know me, I like how they are recruiting me and I have the most interest in these right now."
The list could still change. Nothing is final for Carter. The No. 257 prospect in On3 Consensus knows what he is looking for in a school and he has a timeline in mind.
"I am planning to commit next summer. It will be after I take my five official visits. I am open to playing running back or safety, so I am looking for a school that shows me how I can be successful after football.
"My biggest goal is to get to the NFL, so that is important too, but I am looking for that father figure, who can help me with life and who can help me prepare for life after football."
Carter has visited Tennessee half a dozen times and he is set to return on Jan. 14 for another visit. He has visited Michigan and Ohio State as well. He is still working to lock in visits to Colorado and Oregon.
Carter dives deeper into each of his top schools
COLORADO: "It started with Deion Sanders. As soon as he got there, he changed things. Some of his staff had offered me at their previous school, so I have some relationships there. It would be cool to go there and help Deion Sanders build something. I already see something different and I plan to take an official visit there."
MICHIGAN: "Me and coach Clinkscale have a strong relationship, so that is where it starts with Michigan. They offered as a defensive back, so being tight with coach Clink is important. Michigan is winning big right now, they aren't scared to play true freshmen and I love how the team works together. There is a lot I like about Michigan."
OHIO STATE: "I have taken two visits to Ohio State and I have felt at home. Me and coach Alford have already had some great talks and he makes me feel comfortable. Ohio State likes me as a running back and they have had some great players come through there. I really liked the game-day atmosphere, the fans and the love the fans show the players. There is something about the feeling I had when I visited Ohio State. It is different."
OREGON: "Coach Meat (Demetrice Martin) is my guy at Oregon. I have a good relationship with him and they like me at defensive back, so we will keep building on that. Coach Meat and I connect because he likes me for me. He doesn't care about size at defensive back, he wants that dog, guys that have heart and he believes in me. That means a lot. I also am close to his son (Cole Martin), who is going there, so that is also cool."
TENNESSEE: "I like how coach Heupel has already changed the program at Tennessee. They went from bad to good quickly. A lot of people weren't messing with Tennessee, but Heupel changed that. The team has great chemistry and they are building something. Coach Martinez and I talk a good bit. They like me in the secondary and I will spend more time with coach Martinez soon. I like the changes, how Tennessee is close to home and they have good things going."