4-star SG Rayvon Griffith announces top 10 schools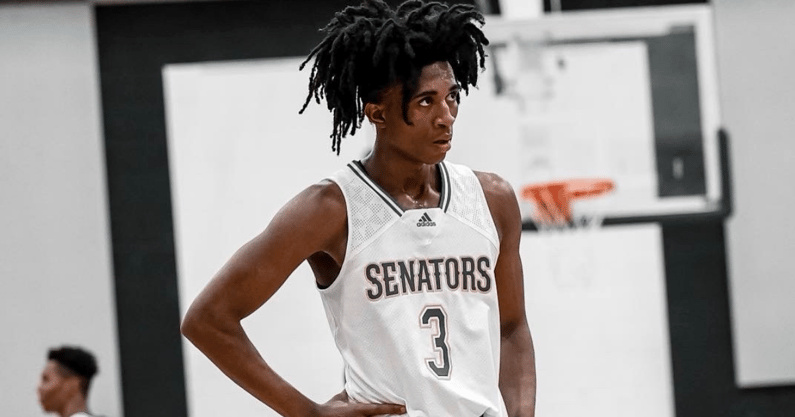 Rayvon Griffith, a 6-foot-4 shooting guard out of Cincinnati (Ohio) Taft tells On3 he's down to 10 schools – Alabama, Arizona State, Cincinnati, Kansas, Louisville, Ohio State, Oklahoma State, Penn State, South Carolina, and UCLA. 
Griffith is the No. 35 prospect in the 2023 class, according to the On3 Consensus, a complete and equally weighted industry-generated average that utilizes all four major recruiting media companies. 
The Ohio native has taken unofficial visits to Cincinnati, Ohio State, and Louisville. He says he would like to visit a few more schools, but is uncertain as to where he will make trips.
Griffith doesn't plan on making a decision until sometime during his senior year, but says he will release a commitment date "pretty soon".
He discussed his three college visits with On3.
Cincinnati
Rayvon Griffith was born and raised in Cincinnati and it's been home his entire life, so you might imagine the Bearcats have made him a priority recruit.
"It's a great program," Griffith said. "They've been riding me real hard, people in the city and stuff because I'm from Cincinnati. And you know, I'm like a top-level kid so they definitely want to do everything they can to try to keep me in the city."
With that being said, does Griffith feel any pressure to stay home and attend Cincy? "I don't think there is any pressure," Griffith responded. "Whatever decision I end up making, I think my family, friends, and people in the city will respect my decision."
Cincinnati's coaching staff had a complete change once Wes Miller was hired as head coach in April of 2021. Obviously, the staff is new to Griffith as well. So, what's their relationship like now that they've gotten to know each other over the last several months? "It's great," Griffith said. "They came in and told me I was the one. Ever since then, they've been recruiting me hard just trying to build a relationship."
Ohio State
Ohio State is the other in-state program on Griffith's list.
"Growing up I was an Ohio State fan," Griffith said. "My dad is a Buckeye fan so just growing up watching them…it's just a great program overall with all the things they got going and they've been pretty successful. So just having the opportunity to one day play for them and them just recruiting me means a lot."
Louisville
Louisville isn't far from home either, only about a two-hour drive.
"My old AAU coach, Thomas Blair, went to Louisville. He always rides me every time I see him and says like 'go play for Louisville' or something like that. They've always shown me mad love ever since my freshman year when they started recruiting me. Just coming down to practices, games, having me for an unofficial visit, and stuff like that."
What's Griffith looking for in a college?
"A brotherhood," he says. "Somewhere that fits my style of play…consistency of recruiting me, showing what they have to offer me, what they can do for me in the future, and how they will support my future of what I'm trying to do…if I'm going to be a one-and-done or a four-year player at that program. Just showing me the plan they have for me if I go to that school."

What will Griffith contribute to his team at the next level?
"100% my motor and my energy. Anywhere I go I feel like even if I'm having an off night, I'll still bring the energy, whether it's a block or a steal or whatever. I can shoot the ball, I can get downhill, I'm pretty good in transition. I can handle the ball, and guard one through five if I need to."