4-star teammates Pierce Clarkson, R.J. Jones to visit Louisville next month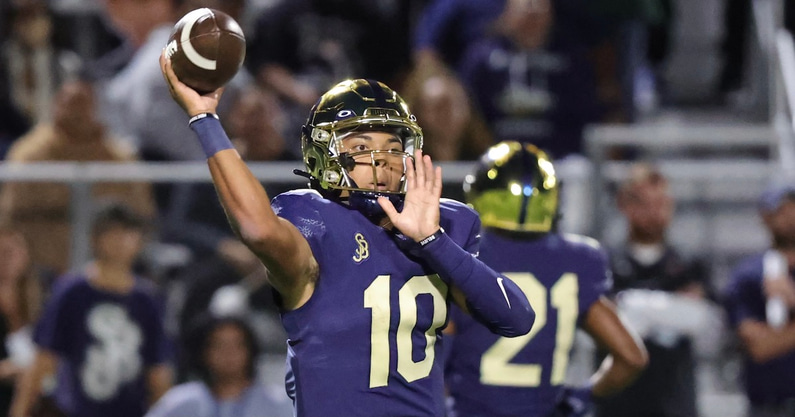 Bellflower (Calif.) St. John Bosco 2023 teammates R.J. Jones and Pierce Clarkson will both visit Louisville during the weekend of Nov. 5.
Both players announced the news Tuesday on Twitter.
Clarkson is a consensus four-star quarterback who can move the ball efficiently and effectively with both his arm and his legs. Jones is a consensus four-star safety who is in his first year in the program.
Fellow 2023 teammates Jshawn Frausto-Ramos, who transferred with Jones to Bellflower (Calif.) St. John Bosco over the summer, and Jahlil McClain also hold offers from Lousiville.
The two players are close, and it appears that they would consider both going to the same school.
Pierce Clarkson is a big-time quarterback
Pierce Clarkson rotates reps at quarterback with Michigan State commit Katin Houser at the high school level. But that hasn't impacted his recruiting.
Arizona, Arizona State, Arkansas, Indiana, Kentucky, Michigan State, Ole Miss, Oregon, Oregon State, Purdue and Wake Forest are among the programs that have offered the 6-foot quarterback
Clarkson went on a visit to Oregon for the Ducks game against Arizona on Sept. 25. He told ScoopDuck that he really enjoyed his trip to Eugene, Ore., and hopes to be back this season.
"The atmosphere was amazing," Pierce Clarkson said. "The fans were welcoming; the fans were very active during the game."
Clarkson also said he is looking for a place where he can be successful as a football player and as a person.
"Opportunity to succeed on and off the field," he said. "Culture, academics and an environment I can thrive in."
R.J. Jones is a top-tier defensive back
R.J. Jones is a great prospect as well. He is one of the many elite defenders currently playing on the St. John Bosco defense.
Jones has offers from nearly 20 schools, including Arizona State, Arkansas, Colorado, Michigan, Minnesota, Ohio State, Oregon, USC and Washington.