4-star TJ Power sets official visits with UNC, Duke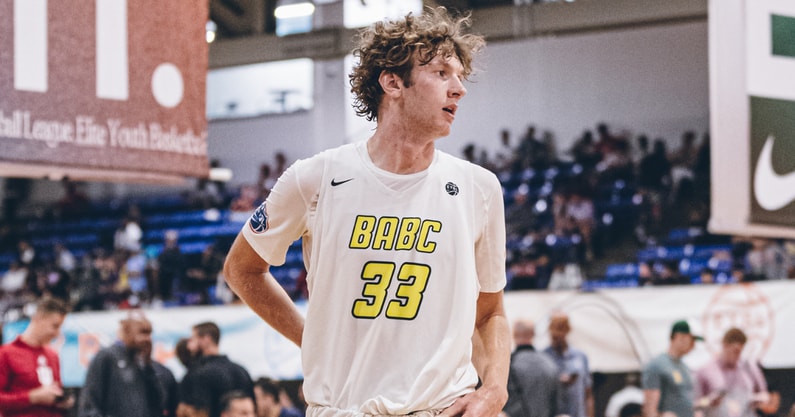 Class of 2023 four-star recruit TJ Power will officially visit North Carolina today, July 25th followed by an official visit to Duke tomorrow, July 26th, a source told On3.
Power, a 6-foot-8 skilled forward out of Shrewsbury (Mass.) Worcester Academy has seen his recruitment explode in the last month, scoring offers from Duke, North Carolina, UCLA, and Kansas.
The fast-rising prospect is currently ranked as the 64th best player in the On3 Consensus, but expect to see his name rise in the next update.
In a recent interview with On3, Power discussed both the Tar Heels and the Blue Devils.
Power talks 'exciting' offer from North Carolina & his conversation with Hubert Davis
"That was super exciting," Power said of his offer from North Carolina. "I have a lot of UNC fans in my extended family so that was a crazy time for all of us."
Power's personal conversation with head coach Hubert Davis was 'refreshing.'
"My call with (Hubert) Davis is what stood out to me. We probably talked for half an hour, and the first 15 minutes were not even about basketball. We were just talking about family and how I was raised and how he was raised and his journey of becoming the head coach there and how it was his dream job. That was really cool and refreshing."
The way North Carolina played Brady Manek caught Power's eye. 
"Once he got onto the topic of basketball, it just got even better because of what they've done this year and as a first year head coach. To get to the championship game is unbelievable. He just said how they are going to come back with that same fire. So it's going to be really fun to watch them. The way they can utilize skilled bigs stands out. He showed that last year with Brady Manek and this year they kind of planned to do the same thing. So that's obviously super appealing for a place that historically. You know, there might not be a more historic place than UNC basketball."
A 'surreal' moment when Duke offered
"This whole week has been a whirlwind, so it just added to it," Power said of getting an offer from Duke. "Coach (Jon) Scheyer FaceTimed me and to even be on FaceTime with the head coach at Duke was surreal to me. When he extended the offer to me, I tried to keep it cool on the camera, but when I hung up, I had a smile on my face and was hugging my parents and stuff like that. It was definitely an unreal moment for me."
How does Power potentially envision himself at Duke?
"I think I could be a core guy at Duke. A guy that can be plugged into any lineup there, and be super versatile and add some scoring and play making. They've had guys like that have success there. And with the classes they have coming in, like, you know, you'd be in the mix to win a national championship right away. That's definitely super intriguing. I think coach Scheyer is bringing a young approach to it as far as having versatile wings who can handle the ball and make plays. So that's something that I'm looking for."
Power enjoyed watching future Blue Devils while they were still in high school.
"Growing up, I was one of these kids that would follow all of the best high school players and try to watch their games on TV or try to go to the Hoophall Classic. A lot of my favorite players to watch while they were in high school ended up going to Duke. I was always loved watching them as a fan and watching those players go off to the NBA."
Which players in particular did Power enjoy watching?
"I liked Cam Reddish and Marvin Bagley a lot," he says. "They were kind of the two I followed throughout their high school. And I like DeAndre Hunter a lot at UVA."
Additional links to TJ Power News:
TJ Power reacts to offers from Duke, UNC, UCLA, & Kansas
4-star TJ Power zeroed in on 5 schools before blue blood offers
TJ Power talks growing up a fan of Duke and Virginia
Power Scouting Summary
TJ Power has a toughness about him. At 6-foot-8, that is one of the first things you notice in his game. As the game progresses, you see the full skill set. He is an excellent passer, able to initiate off the rebound or line up across multiple areas on the floor and make plays. The footspeed will be a question, but he understands angles and help-defense. We would like to see Power more aggressively look to score at times, but his ability to fill a stat sheet makes everyone on the floor better. Power is also an MLB pitching prospect. – On3's Jamie Shaw, National Recruiting Analyst