4-star Tyler McKinley eyes visits; goes in-depth on which schools he hears from the most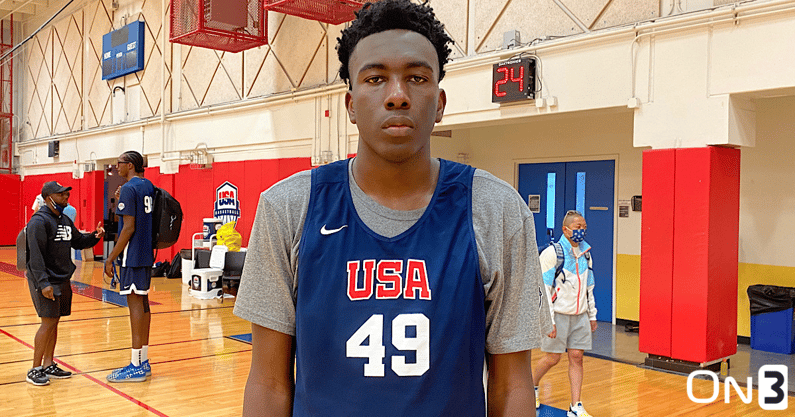 Tyler McKinley is the No. 27 ranked player in On3's 2024 class. The 6-foot-9 power forward had a big summer as a finalist for the u17 USA team and then played up on 17u Nike's EYBL Circuit.
"Playing up at 17u this summer will only make me better," McKinley told On3. "I think it will only advance my game for next year. I'll be more competitive and able to control my pace better. I watch a lot of Jayson Tatum with his footwork and his shooting; he can do it all."
The four-star averaged 17.2-points, 7.4-rebounds and shot 69 percent from the field, helping lead his Cincinnati (OH) Walnut Hills High to a 23-3 record. On3 caught up recently with Tyler McKinley to talk about which schools are prioritizing him.
"I'm talking to UCLA, Ohio State, Xavier, Cincinnati, Virginia Tech," McKinley said. "I don't have any visits set yet, but I would like to go see all of them."
McKinley talks recruitment
UCLA: "I saw coach (Mick) Cronin while he was at Cincinnati. I know how he recruits and develops players, what he does."
Virginia Tech: "I don't really know a lot about them yet, but we are building a relationship. I like what they are saying and want to find out more about them."
"I would say I've developed the best relationship, so far, with my state schools, Ohio State, Xavier, and Cincinnati. Any time of the week, I know I can call them or come by, and we talk and just have great conversations. They all came to all my games in July; I really feel the love from all of them. They are all just good people."
"Missouri is a school talking to me a lot, and they haven't offered," McKinley said. "Butler too."
McKinley's take
"I want to look at a school that will develop me as a player and a person," McKinley said. "I want to go to the pros, so I'll want to go to a school that will develop me for that. I'm going to make the best choice for me and my family overall."
On3's take
Tyler McKinley is a strong-framed power forward. He is not afraid to mix it up and has an understanding of what his game is. At 6-foot-9, McKinley has soft hands and is an active rebounder. While he is a below-the-rim defender, he understands angles and has good footwork and a motor. McKinley finishes well around the basket and knocks down his free throws. He plays with a lot of energy and does not shy away from contact. There is a throwback nature to his game, and while he is still developing the range on his jump shot, there are a lot of tools to carry into the highest level of the college game.