5 leadership and success books for student-athletes aiming to sign NIL deals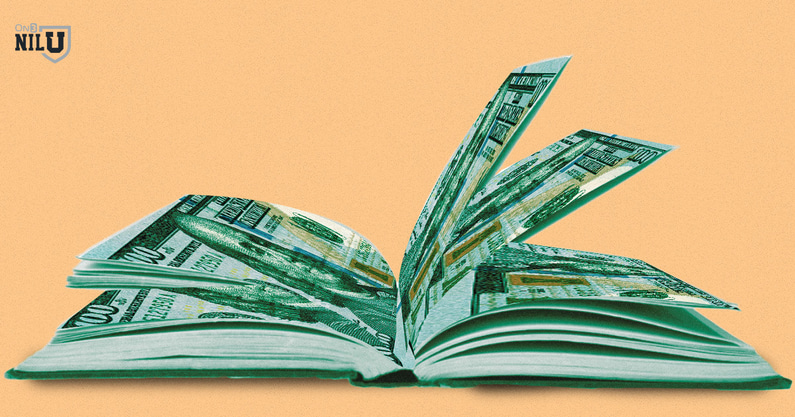 In the inaugural Invest in U show with Grant Frerking, Dr. Josh Axe, the founder of Ancient Nutrition and Leaders.com spoke on a student athlete's need to feed themselves the best. Yes, he meant fueling your body in order to perform as well as possible on the field, track, or court. But he also meant feeding yourself with the correct media: books, podcasts, music, television.
"I am always feeding myself in what I listen to, what I watch," Axe said.
He continues: "So I am reading leadership books written by people like John Maxwell or Simon Sinek or Tony Dungy, right, some of these amazing coaches. Tim Tebow."
Wooden: A Lifetime of Observations and Reflections On and Off the Court by Coach John Wooden
A legendary coach and leader, John Wooden lays out his advice in an easy to digest, relatable way in this book. 201 pages full of insight; not one page or paragraph could have been cut because each plays a crucial role.
Plus, some chapters are less than a page long, so it's easy to pick up during a lunch break or between classes.
I recommend reading it all, but for the sake of time, here is one quote perfectly applicable to name, image, and likeness.
While the book was first published in 1997, nearly 25 years before NIL went into legislation and became a reality for student athletes, Wooden's insight on what he refers to as "cashing in on fame" is still relevant today.
"Many, many people advertise products simply because they are paid to do so," he writes. "That's their business. I just would not feel comfortable telling someone to use something siimply because I am being paid to say it."
He continues, with the most important part of this chapter: "It doesn't seem to be an appropriate way to use one's recognition. If I don't feel comfortable doing it then I'm not going to do it, regardless of how much money they want to pay me… I may not have their money, but I do have my peace of mind."
So, no, he wasn't thinking 25 years ahead and foreseeing the battle between peace of mind and a hefty check that some student-athletes may face today. He wasn't delivering NIL advice, but it is exacyly what athletes should be considering today: you've built your own personal brand, you stand strong in your morals… so how will you use the potential deals to further your growth? Cashing a quick check or partnering with companies that align with you and that you feel proud to have your name attached to?
The Infinite Game by Simon Sinek
This book begins: "It's surprising that this book even needs to exist."
Immediately hooked. Tell me more.
Sinek goes on to explain in his introduction that the book exists to promote the innovation and infinite change that has built our society. The people who look past the short term to the unending potential that is available if we only try.
The first chapter quickly explains his idea in terms we can understand: games. sports. football. (Thank goodness)
"Finite games are played by known players. They have fixed rules. And there is an agreed-upon objective that, when reached, end the game. Football, for example, is a finitte game."
In contrast, infinite games star known and unknown players. There are no rules – or none agreed upon, at least. There is no finish line. No buzzer to signal. No overtime nor penalty kicks. Businesses, personal growth, companies are all infinite games. Yes, life itself is an infinite game.
"We are the finite players in the infinite game of life," Sinek says.
This book explains how to "win" those infinite games. Sinek has also written Start With Why and Leaders Eat Last.
The Score Takes Care of Itself: My Philosophy of Leadership by Bill Walsh
"It all comes down to intelligently and relentlessly seeking solutions that will increase your chance of prevailing. When you do that, the score will take care of itself."
He coached the San Francisco 49ers, transforming them from a failing franchise to a dynasty that won three Super Bowls. He's talking about the grid iron, but this is applicable to much more than just football.
Other quotes from The Score Takes Care of Itself to inspire you to read it:
"Others follow you based on the quality of your actions rather than the magnitude of your declarations."
"Your enthusiasm becomes their enthusiasm; your lukewarm presentation becomes their lukewarm interest in what you're offering….When the audience is bored, it's not their fault."
"Champions act like champions before they're champions; they have a winning standard of performance before they are winners."
The 21 Irrefutable Laws of Leadership by John Maxwell
John Maxwell has many books on leadership. This one though is a reflection of what he has learned in the 40 years he has led and breaks it down into 21 digestible points.
Quick tip: Listen to this one on tape. Make it a 21 day challenge and listen to one rule a day, focusing on that rule throughout your day. Each rule is a short chapter than can be taken in on your walk to class or to begin your workout (I promise this motivation works almost as well as pre-workout).
"Never forget that leadership is about people."
Maxwell emphasizes the power of servant leadership. Do you lead through actions of commitment, duty and sacrifice? Servant leaders are trusting and trustworthy. Servant leaders "believe in their people before their people believe in them and serve others before they are served."
Outliers by Malcolm Gladwell
Malcolm Gladwell makes points in this book are pivotal for anyone aiming to grow as a leader, whether that be on a team, company or classroom. He is a gifted writer, drawing examples to make his teaching relatable. He is also a sports fan.
Gladwell spoke with ESPN in 2008, shortly after Outliers was released about the biggest successes in sports.
"It's not just that Tiger Woods or Michael Jordan tend to work more than their peers—which is true," he said. "It's that when they work hard they work in a different way."
"It's more than just practice, it's doing it in a very specific, focused way…zeroing in on what you're weak at and trying to correct it, rather than repeating what you've mastered."
Of course, you can feed yourself and your mind with the #investinU podcast, as well. Dr. Josh Axe recommended it first when speaking of the media student athletes take in each day:
"Subscribe and listen to this podcast, and listen to every episode. When you're working out, you can listen to music and I think that's fine to have that going, but maybe listen to the podcast first."
The things we listen to and read make a difference in how we live our lives and continue to develop and succeed. Make sure you are feeding yourself to grow, not just to injest.