5-star Alabama TE commit Jaleel Skinner to visit Texas this weekend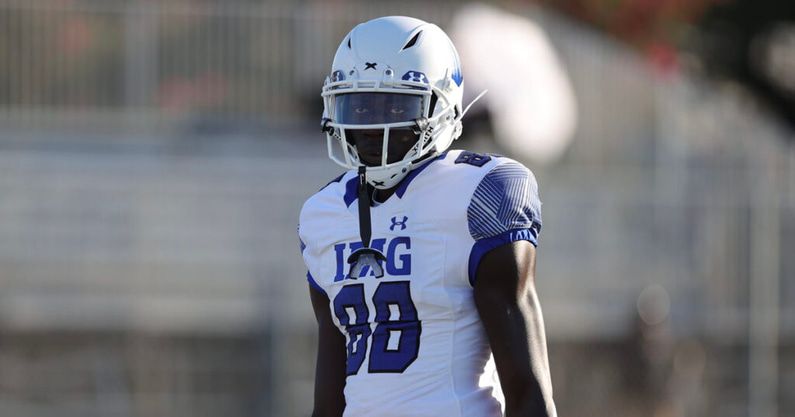 Less than a week after committing to Alabama, five-star tight end Jaleel Skinner of IMG Academy will be on campus this weekend at Texas.
On3's Gerry Hamilton confirmed with Skinner's mother Thursday morning the unofficial visit is scheduled to take place. Skinner will be accompanied by his father, Hamilton reported.
"Texas has been working hard to get him back on campus, even after he committed," Hamilton said. "This is Jaleel and his family following through with that commitment. Jeff Banks has done a very good job with the father in this recruitment and obviously isn't giving up."
Jaleel Skinner, the nation's No. 17 player overall and top tight end in the country, took an official visit to Austin earlier this summer. He also visited Alabama, Florida, Florida State and Miami before announcing his commitment to the Crimson Tide last Friday.
Nick Saban personally recruited Jaleel Skinner
There was not a lot of chatter around Alabama for the No. 1 tight end in the country, but after an official visit to Tuscaloosa in June, the Crimson Tide was a top team on Jaleel Skinner's list more than most realized.
"My interest in Alabama really started when coach Saban called me and offered me himself," Skinner said. "That was back in the spring, and when he called me personally, that meant something to me.
"That was special to me. Then I went on my official visit and it opened my eyes. I saw Alabama, I saw what it was about, and I started to really think about them."
Jaleel Skinner was not one that talked too much about his top schools, and he was very guarded when asked about his interest in schools, so not many knew how high his interest was.
"Everyone thought I was going to Clemson early on, then it was Florida State or Miami," he said. "Nobody was ever talking about Alabama, but I knew how much I liked them after my official visit.
"Alabama is a great school, I always had them higher on my list than most thought. I know Alabama is the best school for me."
Skinner picked Alabama over Florida
When he committed, Jaleel Skinner told On3's Chad Simmons he picked the Crimson Tide over the Gators.
"I made the decision a while back that I was going to play in the SEC, and it was between Alabama and Florida," Jaleel Skinner said. "I am a big competitor, and I feel the best play in the SEC, so I wanted to play with the best, and compete against the best."
Will Texas get back in it?
It remains to be seen what the trip does with Jaleel Skinner's final decision – if anything at all.
But Skinner will be joined by an elite group of visitors, including the nation's No. 1 junior Arch Manning and other five stars like Evan Stewart and Denver Harris.
It's a massive recruiting weekend for the Longhorns, as they attempt to turn around the recruiting momentum that was lost after last week's gut-wrenching loss to rival Oklahoma and Texas A&M's upset over then No. 1 Alabama.