5-star Asa Newell talks summer breakout and possible visits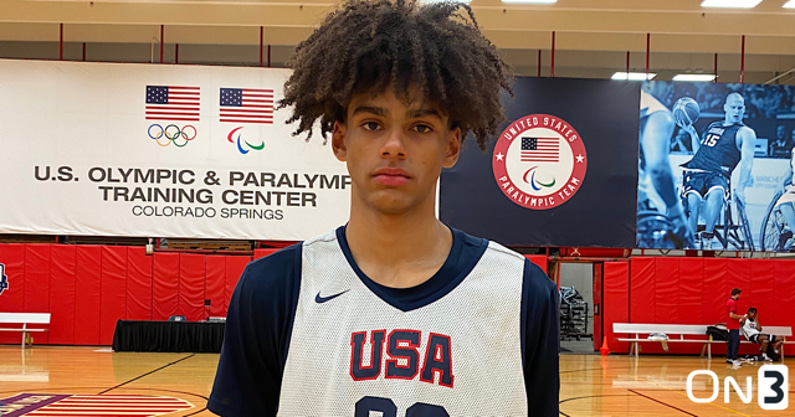 It's been a statement summer for Asa Newell, a Summer that has culminated in the 6-foot-9 forward shooting up to No. 4 in On3's 2024 rankings.
"I can guard the two through five," Newell told On3. "So, I'm asserting myself better on defense now. I've been trying to focus on my footwork, switching screens, and everything, so you don't have to worry about that with me. I'm big and can knock down threes, and if you let me go left, I'll put you in the rim. I watch a lot of Cade Cunningham and how he dominates his time in the game. When he is on the floor, you know Cade will go make a play."
Newell has always been a noted player; he entered the summer ranked among On3's top 25 in his class. However, his big breakout was during the process of winning gold with the u17 USA men's basketball team.
"Playing for Team USA has been a blessing," Newell said. "It was an amazing opportunity to play with these guys. Basketball is a blessing and can take you to so many places. It's an incredible experience."
This summer, the five-star also announced he would be transferring to Montverde (FL) Academy next season. On3 caught up with Asa Newell recently to talk about his recruitment.
"I've taken unofficial visits to Alabama, Florida, and Georgia," Newell said. "I want to set up an official visit to Arkansas."
Newell talks schools
Arkansas: "Coach (Eric) Musselman is so energetic. I feel like he really loves the game and cares for the players. They made a run in March Madness and are recruiting at a high level. They are a program on the come up, and I want to get over there and see what they have to offer."
Georgia: "I'm originally from Atlanta, so being my hometown, I had to go back and see what was going on with the Bulldogs. I'm really excited to see what Coach Mike (White) and Coach Erik (Pastrana) have going on this season."
Alabama: "I like they have long shooters. Their style of play, how they play, pick and pop, resembles my game. Alabama is cool too."
Florida: "When the old staff was there, me and Coach Erik (Pastrana), with the old staff, had a good relationship. Living in Florida, I wanted to go check it out. I love their weight facility and coach; he is well-respected, and I just like Florida."
"I hear from Virginia a good bit, but they haven't offered yet," Newell said. "They don't like to offer just to offer; they like to build relationships with the guys they recruit. I really li
G-League and Overtime Elite
"Overtime Elite (OTE) has been in contact with me," Newell said. "I decided that going to Montverde would be better for me right now. Academics are really important to me, so I will probably go the college route. Everyone's recruitment and path are different, and you have to choose what is best for yourself. Everyone who goes to those programs are still elite players."
Newell's take
"In my process, I'm really looking at loyalty and commitment to me being on your team. I want to play for a coach who will be real with me.
"My end goal is to be in the NBA, so I want to look at who can get me there. I know I need to get my body stronger and go to a situation where I can shine and help my teammates shine too."
On3's take
Asa Newell is a lengthy forward with a projectable frame. The frame is what you notice from the second he walks on the floor. The lefty has soft touch with range that extends beyond the three-point line, especially off the catch. He is comfortable driving left aggressively. He is an instinctive offensive rebounder, and he is not afraid to mix it up in traffic and hunt put-back dunks. Newell will need to continue developing the right hand and progressing with his middle game. Strength will also be a thing with the 6-foot-9 forward. However, with his size, skill set, and quick-twitch athleticism, when his motor runs hot, there is a lot of production he brings to the court.