5-star athlete Nyckoles Harbor on why he joined Prospex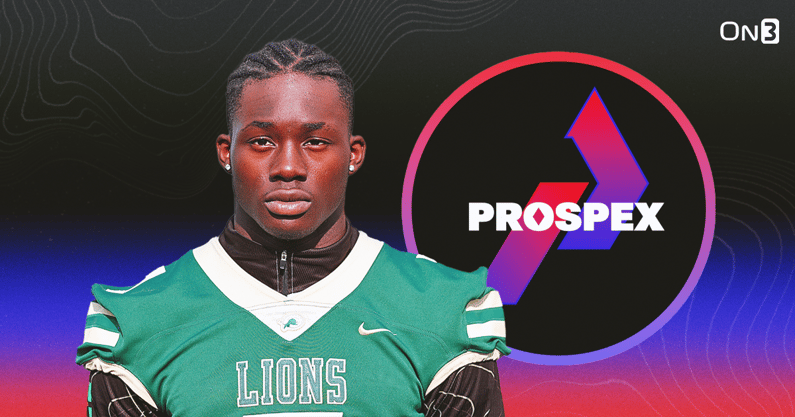 Five-star athlete Nyckoles Harbor is one of the biggest names on the 2023 recruiting trail. He said it was an easy decision to sign an NIL deal with Prospex to create and distribute his own trading card.
"It just gives me a chance to interact with the fans, just see what fan bases are giving me the most love because with these new digital trading cards, you can really see who really wants you," Harbor said.
Prospex's NIL platform connects fans and players through the digital sale of a playing card. Players name up to 10 different colleges, and fans are able to buy a card of a player on a team.
When a player makes a decision and enrolls at their chosen school, fans will receive either a physical or web3 collectable version of the card. Players receive 85% of the sales revenues from the cards sold to fans of the program they decided to enroll in and attend.
For fans who invested in cards of teams that a player does not end up choose, they can turn in that card and receive 90% of their money back.
Harbor is a smart student — he has dreams of becoming a neurosurgeon after his days as an athlete — and has been really interested in the NIL and business side of sports.
"It's astounding just to see that I'm a part of this new age of NIL," Harbor said. "I just want to be a face of something that's gonna come for every little boy or girl that's gonna be after me. Just to be the first person to get it and test it out and to see it can be a well worth app with the training cards."
In addition to wanting to be a doctor, Harbor is also one of the best sprinters in the country with dreams of one day running in the Olympics.
Those two factors loom extremely large in his commitment. He is not willing to sacrifice one of his goals, whether it be football, track or academics for another.
He also wasn't able to take many visits during the fall because of his high school's football schedule, which has made his recruitment the most high profile heading into the Early Signing Period.
"I view myself as wide open," Harbor said. "Anything can happen."
He told On3's Joseph Hastings at the Under Armour All-America Game that Maryland, Michigan, Oregon, South Carolina and USC are the five schools he's mainly considering.
"There's not one low or one high," Harbor said. "Everybody's been putting in good work."
Harbor is ranked as the No. 1 athlete in the country by all four major recruiting services. Both On3 and the 2023 On3 Consensus rank him as a five-star prospect.
To whichever schools lands him, Harbor wants them to know they are going to be getting one of top available players.
"They're getting the best athlete in the nation and the No. 1 player in the nation," Harbor said. "That's what I believe am. That's what I believe people believe."