5-Star Countdown: Top prospects in the latest On3 150 rankings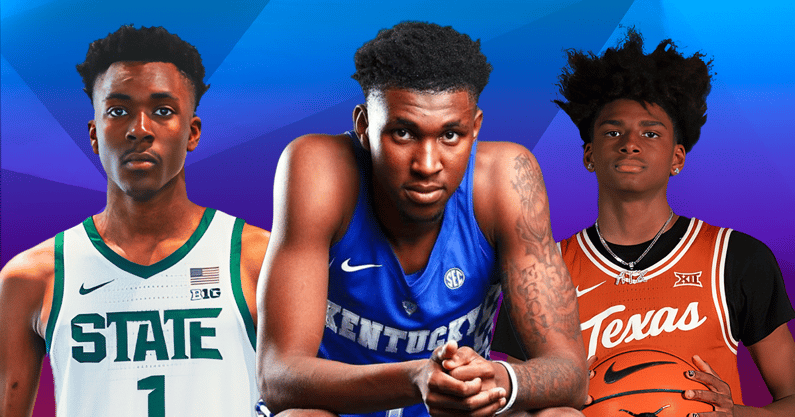 As the 2022-23 high school basketball season nears its end, On3 has released its latest On3 150 rankings. They are highlighted by a new No. 1 overall prospect and a shakeup among the top recruits in the nation.
This is the next-to-last update for this class, with the final rankings set to come this spring. To kick off the latest rankings release, On3 is counting down the 20 five-star prospects in the 2023 cycle. 
1. SF Cody Williams
School: Gilbert (Ariz.) Perry
Status: Signed with Colorado
On3 NIL Valuation: $307K
Scouting Summary: "Cody Williams has great length with broad shoulders, a very projectable frame. He has great instincts, especially on the defensive end of the floor. He is aggressive and instinctive in the passing lanes. Williams needs strength, with the added strength more explosion could come. Offensively, he has some tools across the board. A solid straight line driver in the half court. Would like to see him tighten the handle and straighten up the jump shot. With the added strength more efficiency could come. Younger brother of 2022 lottery pick Jalen Williams."
2. PG Isaiah Collier
School: Marietta (Ga.) Wheeler
Status: Signed with USC
On3 NIL Valuation: $565K
Scouting Summary: "Isaiah Collier has a strong and compact frame. He stands about 6-2 but the way he manipulates the ball is what separates him from his peers. Collier has excellent court vision. He is able to set up defenders in the pick and roll and deliver on target, on time passes in tight spaces. The jump shot is a question, especially from 3, but he is taking it more confidently and even knocked down 44% of them through 8 EYBL games. An above average athlete, with straight line burst, Collier plays with great pace. Has a fearless component to his demeanor."
3. SF Matas Buzelis
School: Wichita (Kan.) Sunrise Christian
Status: Committed to the NBA G League
On3 NIL Valuation: $548K
Scouting Summary: "Matas Buzelis has a lot of tools you look for in a modern forward. He has great positional size and good length. At 6-foot-10 you see he is very effective in transition with great balance and good burst. Buzelis has a good handle in the open floor. He is currently a perimeter-oriented player. He needs to tighten his handle in the half-court, to help get him to his spots better and more effectively. The jump shot is also a slow-release. He is better shooting off the catch than the bounce. He is a good off-ball cutter, finishing above the rim on backdoor cuts. He is at his best working with minimal dribbles from the mid-range/mid-post area. He needs strength and the motor runs hot and cold. The upside is high here."
4. SF Justin Edwards
School: Philadelphia (Penn.) Imhotep Institute
Status: Signed with Kentucky
On3 NIL Valuation: $548K
Scouting Summary: "What you first notice about Justin Edwards' game is the defense. He has long arms and really competes on that end. On the ball, in the passing lanes, he can switch up and down a line up and is not afraid to rotate over and take a charge. Offensively, there is a little more of a mixed bag. He moves well off the ball, a purposeful cutter. The jump shot is smooth, but inconsistent and you want to see more 1-2 dribble pull ups. You want to see him develop more craft off the bounce, maybe develop some counters or combo moves there. He is a good athlete, but you would like to see him employ that on the court. Edwards has a solid handle in the open floor, and is able to push the break off a change of possession. There is still some more upside with Edwards, and his confidence is growing by the game."
5. SG Stephon Castle
School: Covington (Ga.) Newton
Status: Signed with Connecticut
On3 NIL Valuation: $427K
Scouting Su:mmary "Stephon Castle plays with a great pace. Has good positional size for a wing. Comfortable on the ball, in the half-court. Hunts his spots on the floor, and attacks them. Is strong on the ball, can take a bump, and get to his spots. The shot can get a little flat, but he is able to still affect the game. Very good in passing lanes. Average to above average athlete, but has a toughness about him. Can touch the paint. Attacks rim with purpose."
6. CG DJ Wagner Jr.
School: Camden (N.J.)
Status: Signed with Kentucky
On3 NIL Valuation: $688K
Scouting Summary: "D.J. Wagner has been a big name since middle school. With that reputation also comes lofty expectations. What pops off the page immediately with Wagner is his competitiveness. His motor is always running hot, on both ends of the floor. Defensively, he wants the opposing team's best player, and he picks them up full court. Offensively, Wagner plays a fearless game. He lacks top-end burst and his average length and size can make things tough for him at the rim, but he keeps coming. Wagner has seen every junk defense a team can throw at him, and he adjusts accordingly. The jump shot can get streaky, but he is a volume scorer. He has better court vision that he is given credit for. Is young for his grade and his competitive fire runs hot."
7. C Aaron Bradshaw
School: Camden (N.J.)
Status: Signed with Kentucky
On3 NIL Valuation: $516K
Scouting Summary: "Aaron Bradshaw has a long and lean frame. A legit 7-foot-0, there is a lot of skill involved in Bradshaw's success. He is a smooth shooter off the catch with range extending out to the three-point line. He cuts hard off the ball and can knock down elbow jumpers off the catch. Bradshaw can attack in straight lines off one and two dribbles. Bradshaw is stiff in the hips, and his lower body leads to questions about his ability to open up and move laterally. He will need to add significant strength to his core and lower body. There is a lot of vertical pop; Bradshaw is a vertical spacing threat from the dunker spots and as a rim runner. Despite the thin frame, he is willing to stick his nose into the mix at the rim. He rebounds with two hands and is a natural shot blocker. Bradshaw is trending as a top three or four center in his class."
8. C Xavier Booker
School: Indianapolis (Ind.) Cathedral
Status: Signed with Michigan State
On3 NIL Valuation: $435K
Scouting Summary: "Xavier Booker is a lengthy lefty who just moves in a way most his size does not. He has a lot of pop in his step and fluidity in his movements. While he is a more perimeter-based big right now, you see the ability to alter shots and the rim and rebound in traffic. He will need to get stronger and maybe pay more attention to the rebounding, but there is upside as a switchable type defender. Booker is a good spot shooter with consistent three-point range. He can push the break and has counters when he gets cut off, but he will need to work on not getting too deep with the ball. He runs the floor well. Strength will be a big thing, which will help with his stamina. There is immense upside here."
9. CG Bronny James
School: Chatsworth (Calif.) Sierra Canyon
Status: Uncommitted
On3 RPM: Ohio State 95.5%, North Carolina A&T 1.4%, North Carolina Central 1.2%
On3 NIL Valuation: $7.2M
Scouting Summary: "Bronny James is a sturdy guard, with a strong frame, long arms, and broad shoulders. The 6-2/6-3 guard is a noted defender at the point of attack. He moves his feet well laterally and plays with a chip on his shoulder. Offensively he does not really show blow-by burst in the half-court, but he attacks closeouts well, and he is strong in the paint. James is good in transition, has a little bit of wiggle there, and can get on the rim. He is explosive in straight lines. James needs to tighten his handle in space. One of his biggest areas of improvement is from three, where he has cleaned up his mechanics – especially the release – and gathered his balance. James made 13 threes in six Peach Jam games at a 35 percent clip. He will need to finish better at the rim, especially in traffic. When playing as the primary initiator, he takes care of the ball with a better than 2.5:1 assists to turnover ratio at Peach Jam."
10. PG AJ Johnson
School: Northridge (Calif.) Southern California Academy
Status: Signed with Texas
On3 NIL Valuation: $281K
Scouting Summary: "AJ Johnson is a jet-fast point guard with elite end-to-end speed. He has great length and good size as a lead guard. Johnson will need to add weight; he is very skinny at this point. But his burst and explosion get him to his spots. Johnson is decisive getting downhill, using his dribble to attack the paint. Johnson has upside on defense with his length and quick twitch. The pull-up jump shot is a weapon in the mid-range. He is an above-average shooter that could continue to tighten. His natural tools are impressive, and as he continues to add weight, his ceiling is as high as any player in the 2023 class."
11. PF Omaha Biliew
School: Waukee (Iowa) Waukee Senior
Status: Signed with Iowa State
On3 NIL Valuation: $338K
Scouting Summary: "Omaha Biliew is a physical presence as his frame looks like that of a college upperclassman. He has great length and is a good, functional athlete. Biliew is still learning how to use his physical traits to impact a game. When he is at his best, Biliew is a switch-able defender between wings and forwards and he is rebounding at a high rate. Offensively, Biliew has touch and he can knock down a three, but he is still not all the way comfortable handling and creating on the perimeter. There is some of that in his game, and he shows flashes but that is something he will need to work on. Right now Biliew is a defensive-minded four-man. It will be interesting to see how his perimeter skills tighten over the summer to see where his game goes. He needs to have a consistent summer and continue growing in his game, the upside is there, along with the tools."
12. SF Mackenzie Mgbako
School: Roselle (N.J.) Roselle Catholic
Status: Signed with Duke
On3 NIL Valuation: $439K
Scouting Summary: "It is all about the jump shot for Mackenzie Mgbako. The release is consistent, high, and soft. Mgbako steps into it confidently off the catch and his balance is right on. Then you see the positional size at 6-foot-8/6-foot-9 and you see the attraction. Past the jump shot, Mgbako attacks closeouts in a straight line. His handle is average, his hips seem a little stiff, and he is a slightly above average athlete. Despite each of these being a concern moving forward, the shooting and the confidence are very real traits here and he rebounds his area. Mgbako has consistently performed at a high level in big settings."
13. PF Kwame Evans Jr.
School: Montverde (Fla.) Montverde Academy
Status: Signed with Oregon
On3 NIL Valuation: $322K
Scouting Summary: "It's the length with Kwame Evans Jr. His arms seemingly go forever and he continues to grow. There is so much there with his game, it is understandable how he can still be putting it all together. Evans has ball skills to re-initiate offense or grab and go off the rebounds. He has excellent vision, as teams are able to play through him from a stationary position in the half-court. Evans is a reliable spot shooter when his feet are set. While he is athletic, there is not a lot of pop in his game, but his enormous wing-span makes up for a lot of that. He is great in the passing lanes and has excellent timing as a shot-blocker. He will need to continue adding strength, but that will come as he is still young. The upside is huge and the light is coming on."
14. PF Ron Holland
School: Duncanville (Texas)
Status: Signed with Texas
On3 NIL Valuation: $450K
Scouting Summary: "It is the motor for Ron Holland; that is what you notice first. He has good positional size, but it is how hard he plays – on both ends – that gets people talking. Holland has performed at the highest levels, with Team USA, on Nike's EYBL circuit, and at Duncanville High. Coming into his junior season, the question mark was the skill set; he has shown some improvement. While the jump shot is still below average, he can use the dribble to get downhill, and he's developed confidence in his pull-up jumper. Holland is great in transition; he plays above the rim and has the upside to be an excellent defender – both on and off the ball. Production and winning, that is what he has done for a while."
15. PG Elmarko Jackson
School: South Kent (Conn.) South Kent School
Status: Signed with Kansas
On3 NIL Valuation: $215K
Scouting Summary: "Elmarko Jackson is a strong framed, long armed lead guard. Built like he's already been in a college strength and conditioning program for a couple years. Jackson is a jet-quick lead guard, one of the fastest in the country with the ball in his hands. The jump shot can get flat, but he's shooting it better off the bounce. He has upside on the defensive end and is developing his reads in the half court. At 6-4/200 with great speed one the ball is eye-opening. His dad played football at Temple and uncle played football at Michigan."
16. SG Ja'Kobe Walter
School: McKinney (Texas) Link Year Prep
Status: Signed with Baylor
On3 NIL Valuation: $223K
Scouting Summary: "Ja'Kobe Walter has a great frame, long arms with wide shoulders. What you first see in his game is his shooting ability. He has great balance and a quick, repeatable release. While not the quickest player, the 6-5 shooting guard is comfortable getting to his spots on the floor. He has a solid handle when pushing the break and is a solid team defender. With the way shooting is valued in today's game, Walter is one of the best in-game makers in the 2023 class."
17. CG Robert Dillingham
School: Charlotte (N.C.) Overtime Elite
Status: Signed with Kentucky
On3 NIL Valuation: $827K
Scouting Summary: "It's the buckets. Robert Dillingham has a microwave ability that has been unmatched, to this point, by any of his classmates. While the 6-foot-3 guard is an average athlete and has average size and length for a shooting guard, it is his craft and his confidence that allows him to get hot. Dillingham can manufacture space off the bounce and get his shot off with the slightest of room. He is a below-average defender. While it is all centered around skill, there is an electric nature to his game. He can get hot in the blink of an eye and his next shot is always the best shot. Dillingham will need strength, and with that may come more explosion."
18. SG Jared McCain
School: Corona (Calif.) Centennial
Status: Signed with Duke
On3 NIL Valuation: $1.2M
Scouting Summary: "Jared McCain is a confident and skilled scorer. His best scoring attribute is getting into the mid-range and knocking down an assortment of pull-ups and floaters. He is a good enough shooter from three and he can finish at the basket. McCain is a volume scorer and a shoot-first ball handler. He is a competitive defender and uses strong and compact frame to be a disruption. McCain has won a lot, at every level."
19. C Baye Fall
School: Denver (Colo.) Accelerated Schools
Status: Signed with Arkansas
On3 NIL Valuation: $222K
Scouting Summary: "Baye Fall plays with a great motor, and that leads to ample production. He has good size with great length and is very fluid in his movements. Fall has touch that extends out to the three-point line, but his offensive game is still very raw. Fall plays best as the roll man or in the dunker spots. He is a good offensive rebounder, a put-back dunk threat of missed shots. Fall will need to continue adding strength. He does not have much with his back to the basket, and his pick and pop or trail jump shot feels a bit mechanical. Fall moves his feet well laterally and plays with vertical explosion. He is a good shot blocker and is instinctive in the passing lanes."
20. PG Caleb Foster
School: Sherman Oaks (Calif.) Notre Dame
Status: Signed with Duke
On3 NIL Valuation: $231K
Scouting Summary: "Caleb Foster has excellent positional size. His calling card is his jump shot. It is smooth, with excellent balance off the catch. He has range and a high, repeatable release. Foster lacks blow-by speed in the half-court and is reliant on his change of pace and handle. Foster is a solid athlete. He plays poised, is never rattled, and has been on the biggest stages for a while. Smaller, quicker guards can frustrate him when they get under him, but he moves the ball well and is an excellent pitch-ahead passer."