5-star DJ Wagner talks John Calipari and Kentucky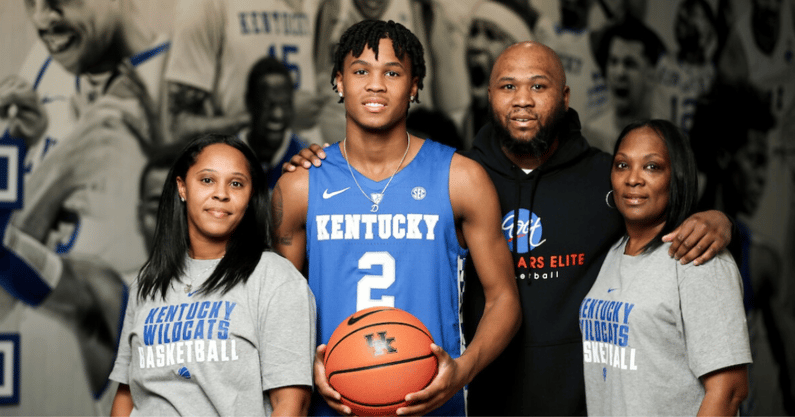 DJ Wagner told On3 and other reporters at the McDonald's All-American media availability he was impressed with how Kentucky head coach John Calipari handled this season. "Being able to face that type of criticism and turning it around, it shows how good of a coach he is," Wagner said.
DJ Wagner is the No. 3 player in the 2023 On3 Industry Ranking. He is one of four five-star prospects in Kentucky's No. 1 ranked class. The 6-foot-3 guard from Camden (NJ) High won the New Jersey state Gatorade Player of the Year this season. He became the only person in state history to win that award three times.
Wagner, the son of former NBA lottery pick Dajuan Wagner, is also a headliner of this year's 46th Annual McDonald's All-American game. His selection into the game makes the Wagners the first family to have three generations selected. Dajuan Wagner played in the 2001 McDonald's All-American game, and Milt Wagner, DJ's grandfather, played in the 1981 game.
DJ Wagner also followed in his dad's footsteps in playing for Kentucky head coach John Calipari. Dajuan Wagner was a one-and-done prospect for Calipari during the 2001-02 season. He averaged 21.1 points and was named the Conference USA Rookie of the Year at Memphis.
Wagner on Kentucky
Wagner has a long-standing relationship with Calipari, dating back to when he was a kid.
"My first memory (around Kentucky) was when I was six or seven, and I want to a practice," Wagner said. "It was my first time seeing how hard they work in college. I remember because I took a picture with Anthony Davis."
The five-star guard expanded on the season Kentucky had and how Calipari kept things moving forward after the criticism to start the year.
"Everyone is going to face some type of adversity," Wagner said. "Being able to go through that adversity and turn everything around shows how good of a coach he is."
Wagner is part of Kentucky's No.1 class in the 2023 On3 Team Rankings. He joins fellow five-star SF Justin Edwards (Imhotep Charter/PA), C Aaron Bradshaw (Camden High/NJ), CG Robert Dillingham (Overtime Elite/GA), and four-star CG Reed Sheppard (North Laurel High/KY).
"Each player has great things about our games that match with each other," Wagner said. "Having conversations and talks with them, we all just want to win as much as possible. We like to win, and we are all just winners."
Tap in with On3s Kentucky fan site KSR. Let us know your thoughts on the 2023 Kentucky recruiting class on the KSR+ message board.
Be sure to stay tuned to On3 to stay up-to-date with all the nation's top recruiting news and player information.
DJ Wagner's On3 NIL Valuation
DJ Wagner has an On3 NIL Valuation of $690k. This ranks the five-star guard as the No. 6 overall player in the On3 High School Basketball NIL Rankings.
The On3 NIL Valuation is the industry's leading index that sets the standard market NIL value for high school and college athletes. A proprietary algorithm, the On3 NIL Valuation calculates an athlete's NIL value using dynamic data points targeting three primary categories: performance, influence, and exposure.
About On3 NIL Valuation, Brand Value, Roster Value
While the algorithm includes deal data, it does not act as a tracker of the value of NIL deals athletes have completed to date, nor does it set an athlete's NIL valuation for their entire career.
The On3 NIL Valuation accounts for an athlete's roster value and brand value. Roster value is the value an athlete has by being a member of his or her team at his or her school, which factors into the role of NIL collectives. Brand value factors in an athlete's personal brand and the value it could bring to regional and national brands outside of the scope of NIL collectives.