5-star forward Julian Phillips decommits from LSU after firing of Will Wade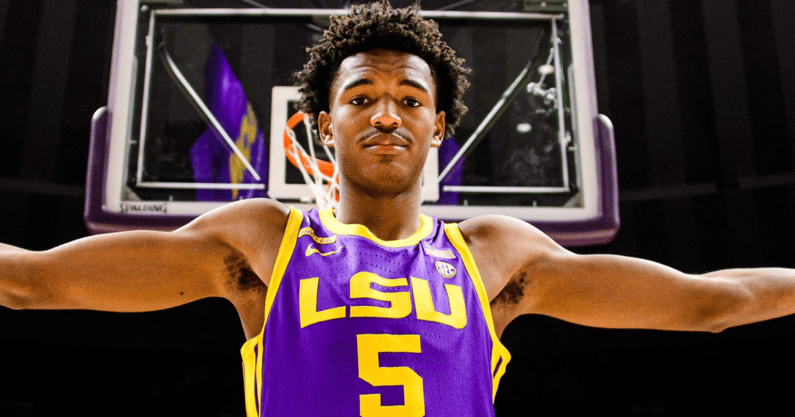 LSU suffered a huge loss on the recruiting front Friday as five-star Tigers' signee Julian Phillips announced his intentions to reopen his recruitment.
"I would first like to say thank you to Coach Wade and the staff for giving me the opportunity to play at Louisiana State University. Thank you also to the fans and everyone along the way who gave their endless support. But due to the recent changes within the staff, I have been granted my release from the university and will be re-opening my recruitment. I look forward to the journey of finding a new home," Phillips said in a statement.
Phillips is ranked as the No. 16 overall prospect in the 2022 On3 Consensus, a complete and equally weighted industry-generated average that utilizes all four major recruiting media companies.
Phillips committed to LSU in October before signing during the early period in November. The 6-foot-8 forward out of Link Year Prep ultimately chose the Tigers over Florida State, Tennessee, and Southern California.
Phillips is the second recruit in the 2022 class to decommit from LSU, after Oak Hill Academy four-star wing Devin Ree announced he'd be reopening his recruitment on Sunday. Only five-star Yohan Traore remains committed to the program for the senior class. Additionally, a top-20 guard in the 2023 class, Marvel Allen, is currently still committed to the Tigers.
South Carolina fans are closely monitoring Phillips' next move, as he's a Columbia native. However, in the first go-around, the Gamecocks didn't even make his top ten schools.
Maybe, just maybe, things will be different this time around. But first, South Carolina has to find a replacement for Frank Martin.
Phillips discusses previous finalists
Prior to choosing LSU, Phillips discussed his three other finalists with On3.
USC: "I like Coach (Andy) Enfield. I think they have a great coaching staff with Coach (Chris) Capko and Coach (Eric) Mobley. It's on the other side of the country, so me being able to take an official visit there was pretty exciting. I had a really great time out there. It was really different than what I'm accustomed to on the east coast. It's like a whole different lifestyle. Everything from the school, to the people, was really good so I enjoyed my time out there. They had a really good season last year, going to the Elite 8. I know Coach Enfield is a really good coach, and he puts guys in the league. I think they said six draft picks in the last four years."
Florida State: "I think Coach (Leonard) Hamilton and his staff have a great program down there. They do a good job of playing with players that are similar to me and how I play. Like with the versatility and the size. They do a good job of putting guys in the league as well."
Tennessee: "I think Coach (Rick) Barnes and the Tennessee program are great. Coach Barnes is a legendary coach. He's coached some really good guys and he's had a lot of success with winning. I think he's a great guy and the Tennessee program is great as well."
Phillips also previously discussed what he's looking for in a program.
"The biggest three things I'm looking at now are.. Number one, having a really good relationship with the head coach. That's something really big to me. Number two, a school that can develop me, not only in college but into the next level as well because my ultimate goal is to get to the NBA. So a school that can put me into a position where I can develop my game. Lastly, a school that feels right. A school that fits me, and I fit in very well."