5-star Ian Jackson talks Kentucky, UNC offers, NIL & pro route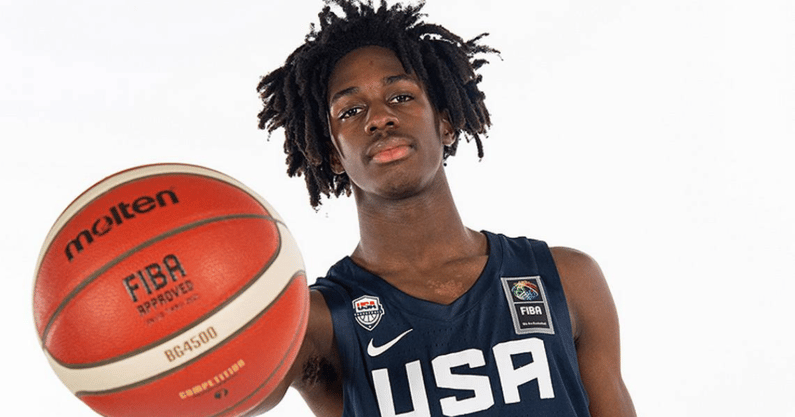 Ian Jackson has emerged as one of the top guards in high school basketball regardless of class. The elite class of 2024 shooting guard caught up with On3 at the USA Basketball U17 tryouts in Colorado Springs where Jackson made the final 12-man roster. The finalists will compete in the 2022 FIBA U17 World Cup in Málaga, Spain on July 2-10.
"It's been great," Jackson said of USA Basketball. "It's my first time here. A lot of greats have passed through here. Playing with top players from all across the country, it's been great."
Jackson has become a priority recruit for the top college programs across the country, most recently with Kentucky and North Carolina offering the New York native.
Jackson talks Kentucky offer
When Jackson received a scholarship offer from the University of Kentucky, it was "a dream come true" considering the Wildcats are a program he's referred to as one of his "dream schools" (KSR.)
"It was crazy," Jackson said. "It felt like a dream come true. Being on the phone with Coach Cal and him saying those words: 'We'd like to offer you a scholarship,' it was definitely something I dreamed about and had to been waiting to hear for awhile."
Jackson is also looking to plan a visit to Lexington soon.
"We are trying to figure out our schedule now, so we both have a good time so I can go and they can show me around campus a little bit. So we're working on a time and date now."
Future visits?
Along with Kentucky, Jackson has two other schools in mind he'd like to visit.
"I definitely want to get out to the west coast and see Oregon. I have a great relationship with the coaches recruiting me right now, so I want to get out there and talk to them and see what the campus is like, and see how everything runs."
"UNC, I want to get out there too."
Receiving an offer from North Carolina was also "very big" for Jackson.
"That was almost the same as Kentucky, really. Just watching that team as I grew up, being a fan of Michael Jordan, and just knowing the history of the school and everything that comes with it, it's very big for me."
College versus professional route
"There are definitely pros and cons to both situations," Jackson says. "I'm definitely open to both options, but I have to find out more information about the G-League just to know how everything runs. But as of right now, I'm leaning towards college. I feel like I would thrive in a college atmosphere and I would do well there. I'm definitely not turning down G-League or OTE, I'm just leaning towards college right now, but I'm definitely open to both situations."
Will NIL play a role in Jackson's decision?
NIL has been the hottest topic in recruiting, now that players can legally make money playing college basketball. How will it play a role in Jackson's decision, if at all?
"NIL is definitely an important thing, but I don't think I would factor in the money part of it into where I want to go. It's big, most people would do it, but my decision will be more so on where I can play my game, actually thrive, be best at, and get to the NBA. I don't think NIL will persuade my opinion on anything."