5-star junior Mookie Cook trims list of schools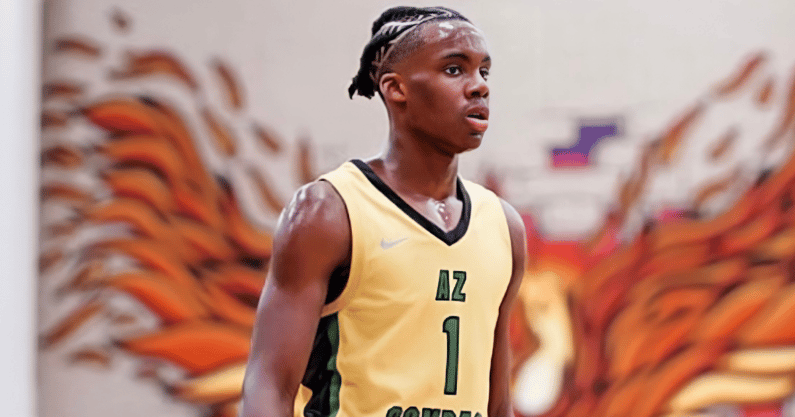 Five-star small forward Mookie Cook tells On3 he's down to nine schools – Arizona, Gonzaga, Kansas, Kentucky, Memphis, Michigan, Oregon, Texas Tech, and UCLA.
The 6-foot-7 junior out of Portland (Ore.) AZ Compass Prep also received offers from Arizona State, Auburn, Creighton, USC, Washington, among others.
Cook is the No. 6 prospect in the 2023 class, according to the On3 Consensus, a complete and equally weighted industry-generated average that utilizes all four major recruiting media companies.
Kentucky is Cook's only official visit up to this point, but he's planning to take a trip to his home state of Oregon for an official visit on February 10-12, where the Ducks will take on Stanford on that Thursday, and California on Saturday. He would also like to visit UCLA, Gonzaga, and possibly Kansas, Memphis, and Texas Tech.
Cook broke down the schools involved in his recruitment in a previous interview with On3.
Arizona: "You see they're playing man. They're playing the right way, unselfish, moving the ball, getting up and down, playing fast. That's one thing we love to do so it would be perfect."
Gonzaga: "Man, they play up and down. That's just a great coach- Mark Few…Brian Michaelson. They've just always shown love from the beginning. I was the first they offered in the 2023 class so that stands out to me."
Kansas: "Bill Self and Kurtis Townsend, they've been showing love too. They've been to pretty much every single one of my games. Their names kind of speak for themselves too, it's Bill Self man."
Kentucky: "If you want to go to the NBA, that's definitely the place to be. It speaks for itself. It's just if you want to do it or not."
Memphis: "They're just trying to mold, just like us," Cook said of Memphis in relation to his high school team, AZ Compass. "They have some young players that reclassed up and Penny is letting them ball. He's letting Emoni (Bates) do what he does. That's one thing that he said to me, that he would like me do what I do. Just be able to play my game as a tall guard so I can't complain."
Oregon: "It would be great to be home. My family would be able to be there at my games. I have a good connection with Coach (Dana) Altman and Coach (Chris) Crutchfield. That's a great place to be."
Texas Tech: "Man, (Barret) Peery, he came from Portland so I have a great connection with him. That's my dog, I can't complain. He's going to let me rock out."
UCLA: "Mick Cronin kind of stands for himself. That's the man. That's the man on the west coast. So UCLA would be a great place to be, California."
Mookie Cook does not have a timetable for a decision.
For more information on Cook's recruitment, click here.