5-star Kiyaunta Goodwin looks like a giant in photos with Nick Saban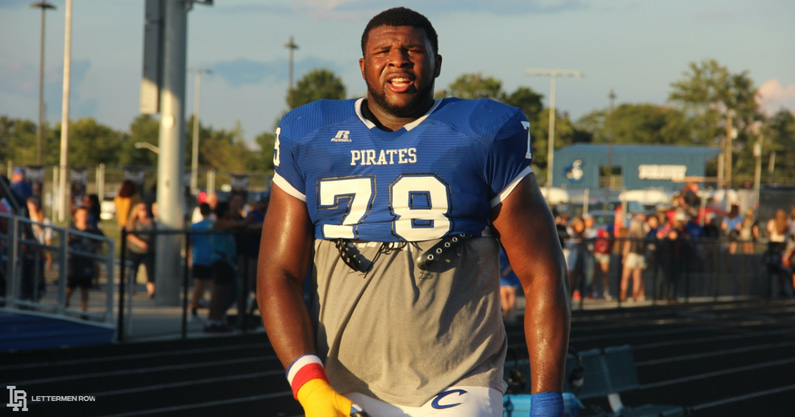 Kiyaunta Goodwin has always been a big dude.
A doctor told Goodwin's mother when he was 4 years old he had the potential to grow 7-foot-10.
He didn't reach that mind-boggling height but he was still 6-foot-7 by the time he was 13 years old and received an offer from Alabama.
Goodwin has continued to develop as a player over that time, turning himself in a five-star offensive line prospect in great shape.
After his visit to the Crimson Tide this weekend, Goodwin posted photos with coach Nick Saban from when he was first offered and from the trip.
It's a fascinating glimpse of seeing how much can change in a few years — and how much Goodwin towers over the 5-foot-6 Saban.
Kiyaunta Goodwin posted more content from his visit to Alabama
Goodwin seemed to have a blast during his trip to Alabama. The Charlestown (Ind.) High player posted multiple times on his Twitter account, including a video of him entering his hotel room and a photo with Crimson Tide offensive line coach Doug Marrone.
Despite the visit, Goodwin is currently committed to Kentucky, and has been since April. The visit, along with forthcoming ones to Michigan, Michigan State and Ohio State, are not surprising to the Wildcats.
They are fully understanding and supportive of Goodwin figuring out what he wants and needs during this process.
"The whole thing with Alabama is to make sure he is doing his due diligence and making sure he fits the right fit for him and the four-year decision he's making," Kiyaunta Goodwin's personal trainer Chris Vaughn told YourSportsEdge. "He needs to make he explores all possibilities and keeps open all his options."
Goodwin caught up with On3's Chad Simmons
Kiyaunta Goodwin talked with On3's Chad Simmons after the game about his experience, what he did and who he talked with in Tuscaloosa.
He said that he really enjoyed his visit but that the Wildcats are still the No. 1 team on his board.
"Alabama was everything I thought it would be and I had a great visit," Goodwin said. "Everything is nice there and I had a great time."