5-star Matas Buzelis talks Duke, Kentucky, pro options, and more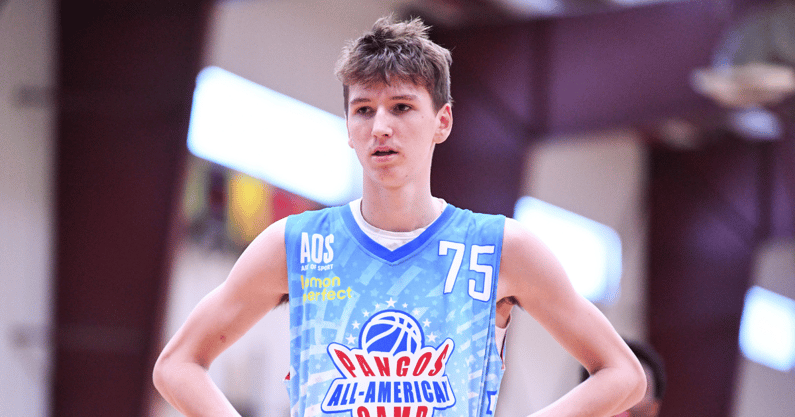 What a year 2021 was for Matas Buzelis. The 6-foot-10 wing pulled in offers from the nation's best – Duke, Kentucky, North Carolina, Kansas, Arizona, UCLA, Michigan, Michigan State, and 16 others.
Born in Chicago, and raised by Lithuanian parents, Buzelis made the move to Brewster Academy (N.H.) last year. Donovan Mitchell, Jalen Lecque, Devonte Graham, and the late Terrence Clarke are all graduates of the seven-time national prep champions.
I went in-depth with Matas Buzelis, arguably the nation's best long-term prospect, to learn more about him and the recruiting process journey.
Q: How is Brewster Academy treating you? How is it different than most schools?
A: It's awesome. We have everything over here. It's a great environment and Coach (Jason) Smith is a really good coach. Over here, we're playing college rules and it's pretty much like playing in college. There is a 30-second shot clock, we play college three, 20 minutes a quarter, and we play against the best players so it makes me better. 
Q: Your Brewster teammate, Taylor Bowen, what's your relationship like? Have you both talked about possibly teaming up in college, considering y'all have similar schools?
A: My relationship with him is amazing. Every time I need something or he needs something from me, I'm always going to help him and he always helps me with anything. I think recruiting-wise, we've definitely talked about it (teaming up), but I think at the end of the day, it's whatever fits both of us. He's going to go wherever he thinks he will perform well and where he will be included as a family. I'm going to do the same and then if we end up in the same spot, then that'll be amazing. 
Buzelis and Bowen have Duke, Kansas, UConn, and several other schools in common.
Q: With the recruiting process being somewhat hectic and time-consuming, do you ever wish you could push pause on it all?
A: I'm so thankful that these coaches and people are calling me. It's amazing. I never thought I would be in this position. I actually love talking to them. Just asking questions, asking about what I could do to improve. But I really don't have a problem with them calling. I always have some time to talk to them. 
Q: What do college coaches like about your game?
A: They like how versatile I am and how I can make everyone around me better. Also, I have a lot of skill and I can do pretty much everything on the court. But I think that love how even when I'm down and I'm not playing well, I'm still always picking my team up and encouraging everyone. They always talk about that. That's the one thing that stands out when they see me play. 
Q: You're listed as a small forward, but ideally, what position would you like to play at the next level?
A: I want to play the one spot. I think I play the best when I play the one because I can get everyone involved really well. 
Q: In December you took an official visit to Kentucky. How did that go?
A:  First of all, the fans are amazing. The atmosphere is incredible. It's only love over there and everyone is supportive and when I was there, people were welcoming, saying 'welcome to Kentucky'. It's just a great atmosphere and especially with Coach Cal too. He's a great coach overall and has had a lot of success. 
Buzelis watched Kentucky take on Western Kentucky, with the Wildcats grabbing the win, 95 to 60.
Q: Who's your head recruiter at Kentucky?
A: Chin Coleman but I also hear a lot from Coach Cal, too.
Q: You also picked up a Duke offer recently, what was it like to get an offer from the Blue Devils?
A: It was really nice and I was so thankful. Me and Taylor (Bowen) got it at the same time. He got it first, and then I got it. They saw us play and I think they came to two open gyms they watched us play. It's Duke so…it's one of the best. 
Q: Will you take an official visit to Duke?
A: Yeah, I think so. I haven't talked to my family about it yet, but we are definitely going to figure out a time to go. 
Q: What do you like about Duke?
A: Of course the coaching staff, they're great. You know, they're number one, like the best college team when people think of Duke. I would just say the coaching staff for right now since I haven't taken a visit yet. 
Q: How often do you hear from Duke?
A: I would say often. I think they text me two times a week and I answer of course and sometimes they call. 
Q: What other schools do you hear from on a weekly basis?
A: I hear from Michigan, Florida State, Kansas, Duke, North Carolina, Kentucky, Wake Forest.
Q: What other schools would you like to visit?
A: I'm not really sure, to be honest. I'm going to have to talk it over with my family and we will go from there. 
Q: Do you have any timeline for a decision?
A: Right now, I think I'm going to focus on being a pro. I already know I'm going to have those options in college but I'm focused on getting better every day and I'm not really worried about it. If my family wants me to decide early or decide late…whatever is going to be the best choice. I'm really not worried about the recruitment right now. 
Q: Did you watch a lot of college basketball growing up?
A: To be honest, I never really watched basketball. I never watched college basketball. I sometimes would watch the NBA. I started taking basketball seriously in 8th grade, so like 13-14 years old. That's when I really started to love basketball. So I didn't really grow up watching it. I'm starting to watch it a lot more now. 
Q: Which colleges do you like to watch now?
A: I like watching everybody, to be honest. Just seeing everyone's playstyle so I can see if maybe I like one of them and go there. But I like to watch everybody. 
Q: When did you start playing basketball?
A: I started playing at a really young age but I never really liked it. I always hated it. I used to be a swimmer and I loved swimming but then I changed and I didn't like swimming anymore. I was a top-ranked swimmer in the country like number one in the midwest for like 12, 13, and under. So after I didn't like swimming anymore I started to like basketball so I changed to basketball. 
Q: There are plenty of options now with G League, Overtime Elite League, the NBL, etc. Have any professional leagues shown interest in you?
A: The G League hasn't reached out yet but hopefully, I have that option to look into it more. Overtime offered but I didn't think that was the best choice for me. But if I have the option to go to the G League, I'd look into it for sure. Or overseas. 
Buzelis is the No. 11 prospect in the 2023 class, according to the On3 Consensus, a complete and equally weighted industry-generated average that utilizes all four major recruiting media companies.
Matas has taken official visits to Kentucky, Florida State, and Wake Forest. He's made unofficial trips to Purdue, DePaul, and Kansas.