WATCH: 5-star offensive tackle Kiyaunta Goodwin shows super-human strength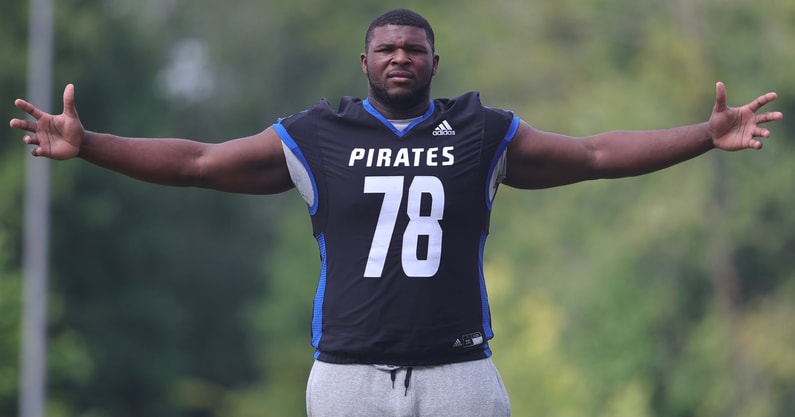 Senior five-star offensive tackle Kiyaunta Goodwin of Charlestown (Ind.) High is one of the most dominating run blockers in the country. A big reason why he destroys people on the field comes from his work in the weight room.
Goodwin – a Kentucky commit that continues to be heavily recruited by Alabama and other top schools – posted a video on Twitter Monday morning showing him putting up a new personal best 495 pounds in the bench press.
What's impressive about Goodwin's lift is that he made it look easy and 500 pounds could be right around the corner.
Kiyaunta Goodwin's recruitment
Kiyaunta Goodwin is a five-star offensive tackle and the No. 16-ranked player in the On300. The 6-foot-6, 320-pound senior has been committed to Kentucky since April 17. He was offered first by Kentucky when he was just in the seventh grade, so he has quite the connection with that staff.
"That connection and commitment are not going to stop other schools from recruiting Goodwin, though," On3 National Analyst Chad Simmons wrote earlier in August. "Alabama is one that is making a push and he visited Tuscaloosa, Ala., over the summer.
But Kiyaunta Goodwin said he's still locked win with the Wildcats.
"I am really strong with my commitment to Kentucky," Goodwin said. "I believe in the program, in the coaches and I like what they are building. It is more than football with me and Kentucky. It is beyond the game, it is bigger than a sport, and the connection we have is real."
Vince Marrow has been Goodwin's primary recruiter for Kentucky. Since taking over as the offensive line coach, Eric Wolford has worked to bond with the top UK commit too. Of course, Stoops has been involved as well.
"The whole staff has gotten to know me," Goodwin told Simmons. "They all treat me like family. I know the coaches, the trainers, and pretty much everyone that works in the program. My connection with the Kentucky program is strong and that is what's different about them."