5-star PG Kylan Boswell discusses final schools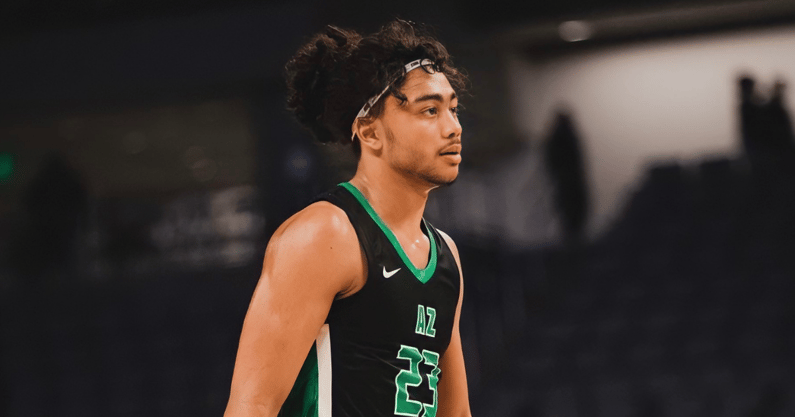 Five-star point guard Kylan Boswell tells On3 he's down to eight schools – Arizona, Illinois, Kansas, Michigan, Oregon, Texas Tech, UNLV, and USC.
The 6-foot-2 junior out of AZ Compass Prep also received offers from UCLA, Texas, Auburn, Louisville, Florida, Stanford, Arizona State, Creighton, among others.
Boswell has yet to take an official visit but has taken unofficial trips to Illinois, Arizona, and USC. He broke down each of his finalists.
Illinois
The Illinois Fighting Illini has an advantage in this recruitment. You see, Kylan Boswell is a Champaign native and lived there until he was 14 years old. To my knowledge, he hasn't publicly stated whether or not he grew up a fan of the program, but he's obviously watched a lot of Illinois basketball.
In December, Illinois head coach Brad Underwood watched Boswell play at the City of Palms Classic in Florida. Boswell discussed their relationship and the Illinois program.
"Coach (Brad) Underwood is my guy," Boswell said. "I always text him and Coach (Geoff) Alexander. I definitely like their program a lot. They've done a great job in past years at building the program. I'm definitely going to take an official, I think in February. So I'll go check it out and see how they're running again. Other than that, it's home. So of course they're going to have a different level of engagement."
Arizona
Boswell now lives in Chandler, Arizona as he attends AZ Compass Prep. Tuscon and the University of Arizona campus are just an hour and a half away.
"I like their fast-paced offense," Boswell said. "Tommy (Lloyd) is kind of the mastermind behind the Gonzaga offense. They can score the basketball. Tommy is my guy. I really like Tommy a lot and the entire Arizona staff. I like the school a lot."
Kansas
"That's a top blue blood, I always take them into high consideration," Boswell said." Coach (Bill) Self and coach (Kurtis) Townsend are trying to see what they can do for me to come down there."
Michigan
"Coach Juwan (Howard), he calls me all of the time, our conversations aren't always about basketball which I really like about him. I love the program and I love what he's doing."
Oregon
"Me and Mookie (Cook) have been talking about that one. That's where he is from. I'm trying to see if we can get a visit down there together. I love Oregon and I love the color green too. That's why I came to Compass."
Texas Tech
"Me and MarMar (Lamar Washington) talked about that and he was hyped that I put them in the top eight. Coach Barret (Peery) sends me a text every morning. I love Texas Tech."
UNLV
"Coach (Brandon) Chappell and coach (Kevin) Kruger…coach Kruger is from Champaign too and I have been talking to him recently trying to set up a visit to come down there too.
USC
Boswell lived in California his first two years of high school so it makes sense the Trojans made their way into the mix.
USC was actually Boswell's first high-major D1 offer.
"I like Coach (Andy) Enfield a lot. I think he's a great coach. I like how USC communicates with me, how they talk to me like I'm one of the guys almost."
Boswell says a decision might come sooner than later
Considering Boswell has only visited three schools within his top eight, he says the next step is "trying to set up visits." He doesn't have any trips scheduled and is currently unsure which schools he will visit before making a decision.
Side note: Boswell mentioned in mid-December that Michigan, UNLV, and Texas Tech were all possible visits.
Regardless, Boswell says "I feel like I'm coming to a decision soon than later, but I'm not positive yet."
What's Boswell looking for in a school?
"I only need a great relationship with the head coach," Boswell said. "Like if me and the coach click, not even basketball-wise, just click as a friendship, that's all I need. And then of course, if my style of play fits how the coach is going to run the offense."