5-star Ron Holland announces top list of schools, includes G-League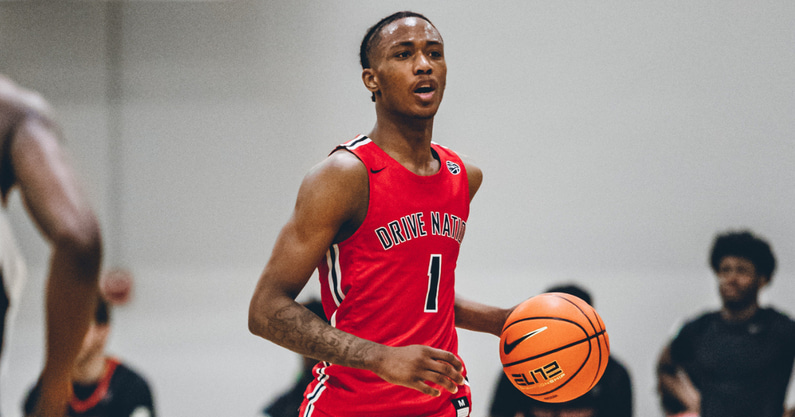 Five-star Ron Holland has decided to trim down his list of choices and will move forward with eight different options. In no order, Holland tells On3 he's down to Arkansas, UCLA, Kentucky, Houston, Auburn, Texas, Memphis, and the G-League.
The 6-foot-8 power forward out of Duncanville (Texas) High also received offers from Kansas, Oklahoma State, Oregon, SMU, TCU, Texas Tech, and others.
Holland is ranked as the No. 8 overall prospect in the 2023 class, according to the On3 Consensus, a complete and equally weighted industry-generated average that utilizes all four major recruiting media companies. He's also ranked as the No. 3 power forward, and the No. 1 recruit in the state of Texas.
Holland has only taken one official visit, to Memphis back in October. This upcoming week, UCLA will host him for an official visit. My guess is the Arkansas Razorbacks are next. He recently told KSR he'd also like to take trips to Auburn, Kentucky, and Texas.
I should also note… each of the programs on Holland's list has offered, besides Kentucky. The Wildcats have shown a high amount of interest, with John Calipari and staff on hand for plenty of his games so far this summer.
The Texas native discussed a handful of the schools involved in his recruitment in previous interviews with On3.
Holland talks schools
Arkansas: "Arkansas has one of the best coaching staffs. What I like about them is how they play, and how hard they coach. Coach Musselman has an NBA background. I like that.
"Muss does a great job recruiting. He has one of my teammates, Anthony Black. He told me they like him and it's a really good program to go to. Anthony is trying to get me to come there. I know Muss told me that when I get there, they're going to help me reach my goal. I'm guessing they're going to let me rock out and push me to be the best me. That's what I need."
UCLA: "Offense is a bonus for them. They care about defense heavily, but they also get out in transition. I like the fact that offense is just a bonus for them. They put in the work. I feel like UCLA fits my playstyle well.
"They don't only care about basketball and I really like that. For all the recruiters out there, I feel like if you're really trying to get them, you should talk to them about how their family is doing and stuff like that. Showing them that you care about them and the family. Because it's not just you that commits, the family is committed too."
Kentucky: "I have a great relationship with one of their players, Damion Collins. They just know what they are doing with their guys. They have a lot of NBA talent over there, and they let them rock out.
"I've always liked Kentucky growing up. It was one of the schools I really looked out for. Their level of communication, they text me before games, tell me what I'm getting better at and ask me what I'm working on, which I like because he wants to know how I am as a person."
Houston:  "The coaches, Coach Sampson, I really think they coach how I play. I've got to go see them and experience it. They let their guys get going. They are tough and they rebound."
Auburn:  "They have one of the best players, and a top three draft pick in Jabari Smith. I can see myself playing like him. And they let their guys get going."
Texas: "The vibe is crazy, I know that. I know I can build my brand there because I'm from Texas. Coach Beard tells me that. He wants me to get better everyday. Even when I don't feel like doing anything. He tells me everyday to get better."
Memphis: "I decided to make an official visit to Memphis because Memphis is a school that I could see myself going to. Memphis has the answers to the test. They have the coaching staff. The staff is crazy great. They have top players in college basketball this year too. Campus wise, it was great. The vibe there was different. I felt like I was at home when I was there. I know that was their goal when I visit there, and that is how I felt. They did a great job doing that."
To read more about Holland from KSR's Jack Pilgrim, click here.
Holland looking for the right fit and a pathway to the pros, while leaning on relationships
Holland recently told KSR what he's looking for in a program.
"What I'm looking for in a school is somewhere I can go play right away — well, not necessarily right away, but just somewhere I can fit in with the program. I'm looking to build those relationships with coaches so I can trust them to help me get to where I'm trying to go, get to my destination. I want to be a one-and-done and get to the league. Building a relationship with the coaches, that helps a lot because I can trust them, they can trust me. I can help them win, they can help me reach my goals."
Holland focused on improvement
"I'm working on consistency with my shot, and really a whole lot of ball-handling," he said to KSR. "Everything else, my offense and defense is going to come. As much as coaches like me, as I get to their programs, I want to be able to give them the option to put me at whatever position they need me to do."
Holland says doing the little things is what separates him from the rest of the class.
"What separates me from the rest of the class is that I can get it done on both ends of the floor for a very long time. I play at a high pace, make plays no one else likes to make. I dive on the floor for loose balls, get any rebound, can hit shots, facilitate."
Scouting Report
"Considered one of the best energy players, defenders and transition players at the power forward position, Holland has shown an expanded offensive game as a junior. The 6-foot-8 prospects out of the Dallas area has a high-end motor, with similar agility, leaping ability and arm length. Holland impacts the game defensively with his length and ability to switch and defend guards in the ball screen game. He's also continued to be a player that impacts the game as a rebounder, and that includes outside his area. Holland has greatly expanded his offensive game as a junior. He has become a threat to knock down the perimeter jumper, and has become a much more confident player putting the ball on the floor against pressure defense. He has gone from a player with NBA upside as a freshman and sophomore, to one that is a lock to be an NBA Draft pick if he continues to expand his offensive game. Another area On3 has seen improvement is Holland's maturity on the floor. He's responding to adversity much quicker from play to play." – Gerry Hamilton, On3 Senior National Recruiting Analyst