5-star Tre Johnson says he's hearing most from Kentucky, Duke, LSU, etc.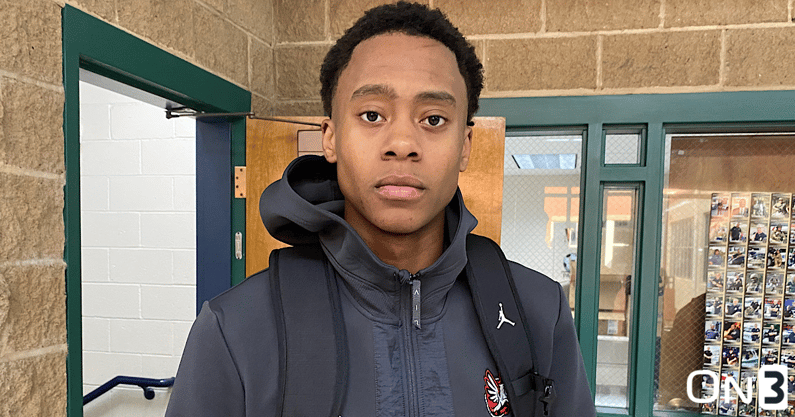 Tre Johnson is the No. 1 player in On3's 2024 rankings. The 6-foot-5 guard played up on Nike's 17u EYBL circuit with Team Griffin this summer. He averaged close to 15-points, shooting 35-percent from three through his 25 games.
"I'm a scorer," Johnson told On3. "My mid-range and my footwork have gotten better, and I've mostly improved my ball handling and my consistency and my finishing a little bit."
With the No. 1 ranking and successful summer, the Dallas (TX) Lake Highland High guard has several schools showing him love. On3 sat down with Tre Johnson at Peach Jam to discuss which schools prioritize him.
"I would say I'm hearing the most from Gonzaga, Kentucky, Duke, LSU, and Arkansas," Johnson said. "I don't have any visits set yet, but I am looking to set them with Gonzaga, Duke, and Kentucky."
Johnson talks recruitment
Gonzaga: "They are a program of winners. They always make it to like the Elite Eight. They don't always get the results that they want, but they're always there. Coach Gentry talks to me from there."
Kentucky: "That was my dream school when Tyrese Maxey went there. The offer felt good and exciting. I was shocked when I got it, but I think they're a program of winners too. They always send people to the league and have lottery picks. I talk to Coach KT (Turner) from there. It's still a great program. But I don't have a dream school to be exact.
Duke: "That offer kind of gave me the same shock as Kentucky. They were just saying that I could be a good piece and that they could help me like fulfill my skills that I haven't tapped into yet."
Arkansas: "They're telling me that if I went to Arkansas, I could become a better player, good player development and that we could win there. Like we could be good and like make another run like they did last year."
LSU: "I see that I can come in and still develop as a player. They were the same coaching staff at Murray State when Ja Morant was there. They were able to take him from a school nobody knew about, get his name out there and help him become where he is now."
"Gonzaga and Nebraska are the main two schools I'm hearing from that haven't offered yet," Johnson said.
G-League and Overtime Elite
"It's something I'm open to," Johnson said. "The G-League head coach just reached out to me, and we just started developing a relationship. Both G-League and OTE will make me have a pro mindset. I would already be a pro, and I would have to work as a pro."
Johnson's take
I don't have a time frame for my recruitment," Johnson said.
"I want to go to a school with a good coaching staff, where I got a relationship. Player development will be big for me. I want to get ready for the next level. I'll look at the culture of the program and just the winning culture of the school."