5-star WR Evan Stewart will forgo rest of his senior season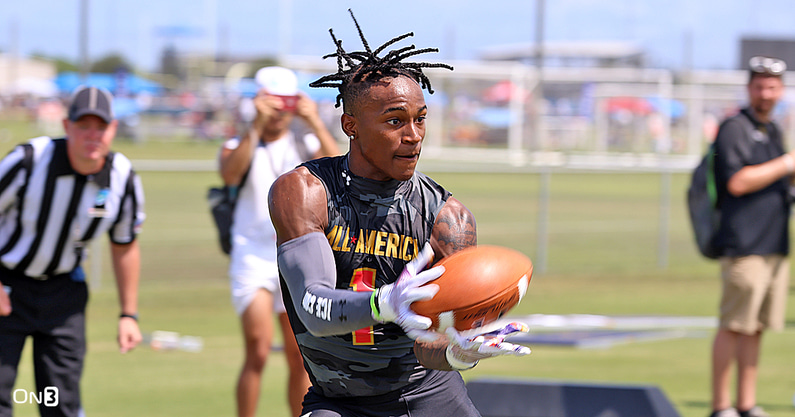 Five-star wide receiver Evan Stewart is going to sit out the rest of his season at Frisco (Texas) Liberty, he announced Tuesday afternoon.
Stewart, the nation's No. 4 overall player, said he put the decision in "God's hands." He thanked his Liberty High coaches and teammates in the post. He said he hopes they understand his decision.
"I have enjoyed playing the game of football for a very long time," Stewart said. "I will never lose the love and energy rush of taking the field with my guys and teammates. . . . I will be foregoing the rest of my senior season and mentally and physically preparing myself for the next level of my football career and a huge step in life."
Evan Stewart was having dominating season
Stewart had moved to the No. 4 spot in the On300. On3 Director of Scouting and Rankings Charles Power said Stewart had performed like the best wide receiver prospect in the nation this fall, making jaw-dropping plays at a regular rate.
In three games this season, Stewart had 414 yards receiving and three touchdowns. He also rushed for 70 yards and a touchdown.
Power said Stewart is among the better receiver prospects he's seen in several cycles.
"With anything like this, we want to make sure we have the full details and understand the context and reasoning," Power said. "There are no questions about Evan Stewart on the field. He's continued to improve over the past calendar year and continued that ascent as a senior. He's a complete receiver with top-flight athleticism to go with route-running and the ability to win in contested situations at the catch point.
"Does this open the door for some other five-stars to ultimately jump him with continued strong senior seasons? It's possible. We try to approach all of this with an open mind and let things play out. I'm also not sure if we'll see Stewart in the all-star setting. Those practices and games are a significant factor in the ultimate rankings. So we'll have to see what he and others do there, as well."
Latest on Stewart's recruitment
Stewart lists Florida, Texas, Alabama, LSU and Texas A&M as his top teams. But On3 National Analyst Chad Simmons says the Gators are the leader.
"Billy Gonzales (wide receivers coach) and Dan Mullen are doing a great job recruiting Stewart," Simmons said. "Then he has the connection with Florida quarterback commit Nick Evers. Those two are close. They play 7-on-7 together, they train together, and that connection could stay together in Gainesville."
Stewart, who was committed at one point to Texas, has an official visit to Alabama scheduled for Nov. 6.