5-star Xavier Booker announces top 10 schools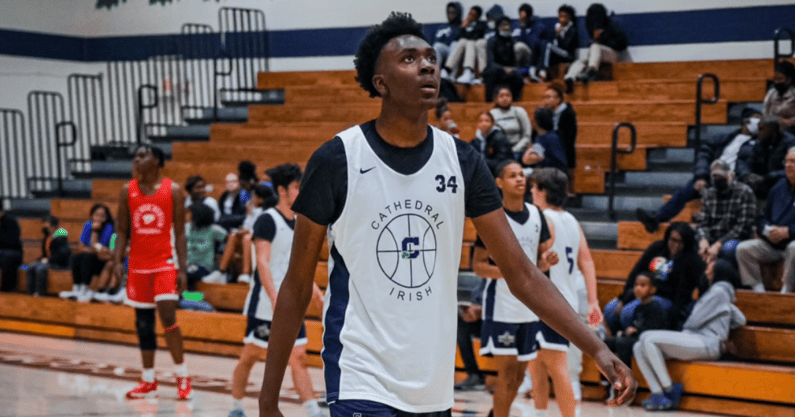 After receiving 30+ scholarship offers, five-star Xavier Booker has decided to trim down his long list of schools and will move forward with ten different programs. In no order, Booker tells On3 he's down to Michigan State, Michigan, Auburn, Ohio State, Gonzaga, Purdue, Notre Dame, Indiana, Cincinnati, and Oregon.
The 6-foot-10 power forward out of Indianapolis (Ind.) Cathedral also received offers from Duke, Memphis, USC, Texas, Louisville, Kansas, Miami, and others.
Booker is ranked as the No. 20 overall prospect in the 2023 class, according to the On3 Consensus, a complete and equally weighted industry-generated average that utilizes all four major recruiting media companies. On3's evaluators are much higher on Booker, ranking him 8th nationally in the class.
Michigan State, Indiana, Purdue, and Notre Dame have all hosted Booker for official visits. Ohio State and Cincinnati have hosted him unofficially. As of this writing, Booker has an official visit scheduled with Ohio State on September 3rd.
Xavier Booker broke down each of his final 10 schools with On3.
Booker on Michigan State
"Obviously, I have a really good relationship with coach (Tom) Izzo, coach (Mark) Montgomery, and the rest of the staff. They've been with me for about a year now. They were there for my worst games and my best games, but one thing they never stopped doing was recruiting me. They've always been by my side, and gave me feedback in a constructive criticism type of way. They always just stuck with me and checked in on me."
Booker on Michigan
"I have a really good relationship with coach Juwan Howard and (Phil) Martelli and really like what they're doing with their program. I really like what they're doing with their bigs. Hunter Dickinson, they compare me to him. Obviously I won't be playing the five and I won't be as big as him, but just the things he's been able to do for the program."
Booker on Auburn
"I've grown a good relationship with head coach Bruce Pearl and Steven Pearl. I talk to them pretty much every day. I really like their program and was on a Zoom call with them recently to learn more about their program. Hopefully I can get in on a visit soon. I really like their playstyle. Their guys are dogs and I love their mentality. I've seen a couple videos of them working hard. I love the whole team's work ethic. They compare me to Jabari Smith and I feel like that's a really accurate comparison, in terms of how I'm developing into a player right now. Jabari can shoot the ball really well and I think I do too. Jabari was able to bring multiple things to the table and I feel like that's exactly what I could do."
Ohio State
"Same thing. I've had a really good relationship with coach (Chris) Holtmann and coach (Jake) Diebler. I've been talking with them for about a year now. So I have a really good relationship with them. I've been on campus a few times and I'm going back for an official visit on September 3rd. I really like what they're doing with the program. They compare me to EJ Liddell and I can definitely see the resemblance in the way we move and how we're both fours that provide many things when it comes to winning games and versatility."
Gonzaga
"I've grown to develop a really good relationship with coach (Mark) Few, coach (Stephen) Gentry, coach (Roger) Powell and the whole coaching staff. They're all really good dudes, down to heart for sure. I really like the conference they're in. They compare me to Chet (Holmgren) and I see the similarities. We have a similar frame, almost the same height, and pretty much the same skillset. We are obviously different in our own ways but I definitely see the resemblance there. I really like what they're doing with their program. They've had a lot of guys similar to me come out of there in one or two years (and go to the NBA) so I definitely think it's somewhere I could strive in."
Purdue
"They've been recruiting me for over a year now. Purdue was actually the first official visit I ever went on. They're a really good school with a really good program. I love the coaches there. They have a really good track record of bringing out bigger guys, almost similar to me. I would definately be something Purdue hasn't seen too much of, in terms of my skillset. But I definitely see the fit there for sure. They compare me to Trevion Williams with how he was able to create for himself and his teammates and just provide everything to help Purdue win games."
Notre Dame
"Coach (Mike) Brey and coach (Anthony) Solomon, I've grown to have a good relationship with them. They've also been recruiting me for over a year ago. I took an official visit there a few weeks ago and it was a great visit and I learned a lot about the program, and school in general. They've shown me a lot about their bigs and how they let them bring the ball up the floor off a rebound and not limit them. They encourage their bigs to do other things besides just being around the paint and shooting around the rim."
Indiana
"I have a really good relationship with coach (Mike) Woodson. Obviously, he's coming from the NBA and this is going to be his second season at Indiana. I really like his NBA playing style. I can really see myself playing into his playstyle and striving there."
Cincinnati
"With coach (Wes) Miller, I really like his coaching style and playing style too. I like how he lets his bigs bring the ball up the court and just let them rock out and shoot the ball. They're free to put the ball on the ground, make moves and just create for themselves and your teammates."
Oregon
"I've grown to develop a really good relationship with coach (Dana) Altman and (Chuck) Martin. They're really good dudes. Coach Martin checks in on me every day and is always positive, but he also gives me things I need to work on as well. I really like their program and they have a nice school academically. I love the school, really. They compare me to guys like Bol Bol. I'm obviously not as tall as him, but the things he was able to provide to Oregon are some of the same things I could see myself doing."
Xavier Booker Scouting Summary
Xavier Booker is a lengthy lefty who just moves in a way most his size does not. He has a lot of pop in his step and fluidity in his movements. While he is a more perimeter-based big right now, you see the ability to alter shots and the rim and rebound in traffic. He will need to get stronger and maybe pay more attention to the rebounding, but there is upside as a switchable type defender. Xavier Booker is a good spot shooter with consistent three-point range. He can push the break and has counters when he gets cut off, but he will need to work on not getting too deep with the ball. He runs the floor well. Strength will be a bit thing, will help with his stamina. There is immense upside here. – On3's Jamie Shaw, National Recruiting Analyst