7 non-Power 5 defensive players with strong NFL draft grades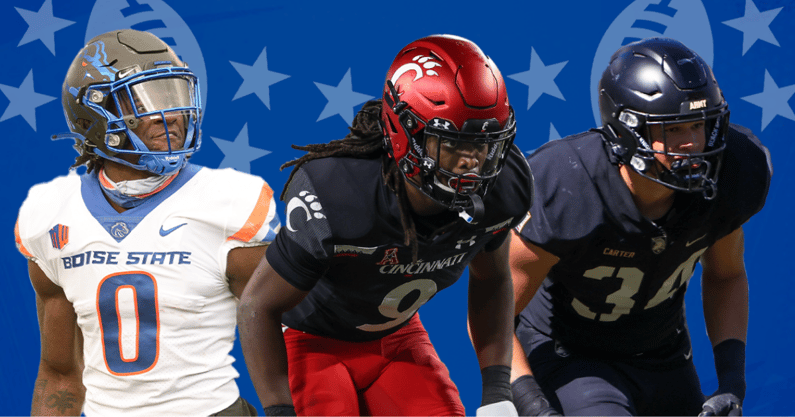 Over the past two weeks, On3 has identified lesser-hyped prospects with strong NFL draft grades from each of the Power 5 conferences. (We detailed six players from the SEC, five from the Big 12, six from the Big Ten, five from the ACC and five from the Pac-12.) Now, let's continue our look outside the Power 5.
Here are seven non-Power 5 defensive players with strong NFL draft grades. Tuesday, we looked at 10 non-P5 offensive players. The players are listed alphabetically.
UT-Martin LB Eyabi Anoma
The buzz: Eyabi Anoma, the No. 3 player nationally in the On3 Consensus rankings of the 2018 recruiting class, resurfaced at FCS member UT-Martin after off-field issues led to dismissals from Alabama and Houston. In his first game action since 2018 with the Crimson Tide, Anoma (6 feet 6, 270 pounds) had 36 tackles and six sacks for the Skyhawks last season. Anoma enters the season as a Day 3 prospect.
Cincinnati CB Arquon Bush
The buzz: Two Cincinnati cornerbacks were drafted this year, New York Jets first-round pick Ahmad "Sauce" Gardner and Seattle Seahawks fourth-round selection Coby Bryant. The Bearcats should have another corner drafted next year. A three-year starter at nickelback, Arquon Bush (6-0, 190) had 42 tackles and three interceptions last season. He also tied for first nationally with two blocked kicks. At least some scouts view Bush as a potential Day 2 draft pick.
Army LB Andre Carter II
The buzz: No Army player has been drafted since safety Caleb Campbell in 2008. In addition, the Black Knights haven't had a player taken before the seventh round of the NFL draft since 1947. Both are set to change next year. Andre Carter II is viewed in NFL scouting circles as someone with the talent to go in the first two rounds of the draft. After not seeing any game action in 2019 and making only two starts in 2020, Carter (6-7, 260) broke out last season by ranking second nationally with 15.5 sacks in 13 games. Only Alabama star Will Anderson had more (17.5 sacks in 15 games).
Appalachian State LB Nick Hampton
The buzz: Carter isn't the only Group of 5 edge defender with a shot at going in the first three rounds of the draft. Nick Hampton does, too. He was one of just five players nationally last season with more than 65 tackles, 15 tackles for loss and 10 sacks; he had 68 tackles, 17.5 tackles for loss and 11 sacks.
San Diego State S Patrick McMorris
The buzz: After serving as a backup in his first two seasons at San Diego State, Patrick McMorris was a 2021 first-team All-Mountain West selection in his first year as a starter. McMorris (6-0, 210) led the Aztecs' No. 12-ranked defense with 90 tackles and four interceptions. Feedback gathered by On3 on McMorris has been in the mid-Day 3 range.
Houston S Gervarrius Owens
The buzz: Houston has had four defensive players selected in the first four rounds of the past two NFL drafts. Gervarrius Owens may give the Cougars another one next year. Some scouts view Owens (6-0, 200) as a potential Day 2 pick. Owens had 52 tackles and two interceptions for the Cougars' sixth-ranked defense last season.
Boise State S J.L. Skinner
The buzz: Former Notre Dame star and current Baltimore Ravens rookie Kyle Hamilton was the first 6-4 safety to enter the NFL since 2017. Now, there's another with that same kind of size. J.L. Skinner (6-4, 220) had 92 tackles, seven tackles for loss and two interceptions for Boise last season. Some scouts believe Skinner could end up being drafted in the first two rounds.