A look at the ten biggest risers in On3s updated 2023 rankings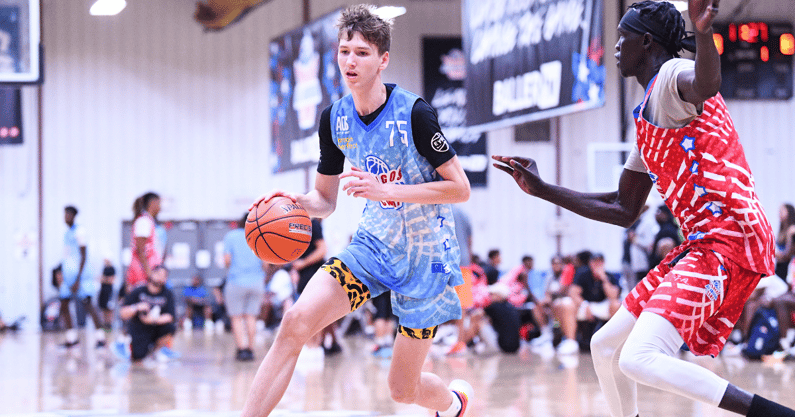 On3 takes a look at the recent 2023 basketball rankings update to explore ten players who had the highest bumps. Let's go through who they are and the thought process behind the jump.
5-star C Ugonna Kingsley
Putnam (CT) Science Academy
New On3 Ranking: 5
Previous On3 Ranking: 25
Status: Uncommitted
Rim protection is one of the most valued pieces of playing winning basketball today. When you have an elite rim protector who can also slide his feet along the perimeter, that is basketball gold. Ugonna Kingsley is uniquely gifted as a defensive player. He can control from the basket out to about 15-feet on the defensive end of the floor at the high school level. There has not been a high school center who defends to Kingsley's caliber since Mo Bamba. His triple-double performance in the Prep School Championship game was the most dominating performance I saw all year. Switchable centers who are elite rim-protectors come at a premium, we are betting on Kingsley continuing down that path.
5-star F Matas Buzelis
Bel Aire (KS) Sunrise Christian
New On3 Ranking: 6
Previous On3 Ranking: 21
Status: Uncommitted
With Matas Buzelis, you are betting on his ceiling. He has the fluidity and athleticism, and flashes of a skill set could be a mismatch at any level. The thing with Buzelis is he is much more comfortable playing east > west instead of getting north > south. Buzelis is an excellent passer, and he can see over the top of defenses at his size. There are some unique abilities with Buzelis, and he still produces numbers when he is on the floor. In this class, that catches the eye.
5-star C Xavier Booker
Indianapolis (IN) Cathedral
New On3 Ranking: 8
Previous On3 Ranking: 52
Status: Uncommitted
Xavier Booker is still a flashes guy, but his flashes are impressive. The long-armed, 6-foot-10 post player simply moves in a smooth yet explosive way most his size cannot. What do we mean by flashes? Take last week's Pangos All-American Camp, for example; in his first game, Booker had 26 points and made four threes. His very next game, Booker ended 5 of 13 from the field with two rebounds. In the 2023 class, the flashes and natural gifts are too hard to ignore. We are betting on the lottery pick type upside he could attain if he continues to progress and become more consistent.
5-star PG AJ Johnson
Woodland Hills (CA) Taft
New On3 Ranking: 9
Previous On3 Ranking: Unranked
Status: Uncommitted
AJ Johnson is the fastest player on the floor, end to end, in this class. The 6-foot-4 point guard gets to top-end speed with his first step and puts his defender immediately on his hip. Johnson has good length and positional size to pair well with the burst. He is quick and decisive with his dribble, getting to his spots quickly and taking the space acquired. Johnson is woefully thin and is a newer player on the scene. There is hesitation in taking a guy from unranked to five-star status; however, Johnson's natural physical tools are unlike any other player in this class. If he continues like we think he could, he may not be done climbing the rankings.
4-star PG London Johnson
Norcross (GA) High
New On3 Ranking: 14
Previous On3 Ranking: 31
Status: Uncommitted
London Johnson has produced since eighth grade, scoring just over 15 points per game on varsity. Last year, the 6-foot-4 point guard averaged 18.7 points, leading his Norcross (GA) High team to 26-6 record and a Georgia Class 7A State Championship. Johnson scored 27 points in the title game. However, Johnson's play the week of Nike Hoop Summit solidified his rise on this list. While there could be some explosion questions, his shooting touch, ability to create space, and competitiveness have kept him very productive at his highest levels.
4-star SG Jakobe Walter
Branson (MO) Link Academy
New On3 Ranking: 16
Previous On3 Ranking: 32
Status: Uncommitted
Jakobe Walter has always been able to shoot, but he has even taken that to a new level. The 6-foot-5 shooting guard leads the Adidas 3SSB circuit in scoring at 25.8 points per game. He is an entire three points ahead of the second person. Walter is knocking down three threes and attempting just over ten free throws (89-percent) per game. While he is just an average athlete who can take some questionable shots at times, his self-confidence just shines. His good positional size, smooth shooting touch, and swagger will translate.
4-star PF Sean Stewart
Windemere (FL) Prep
New On3 Ranking: 18
Previous On3 Ranking: 47
Status: Committed to Duke
There is a gritty aesthetic to Sean Stewart's game. But no matter how he gets there, Stewart is as productive a player as there is in the 2023 class. The 6-foot-8 forward's motor runs hot from start to finish, and the double-double machine is tied for first on the EYBL, averaging 10.5 rebounds per game. Sure, you would like to see him tighten the handle and extend the range, but his blue-collar nature lends to production and winning. Despite being undersized, his fit on any team, with any style, in any era is what has Stewart jumping to this spot in the rankings.
4-star C JP Estrella
Wolfeboro (NH) Brewster Academy
New On3 Ranking: 21
Previous On3 Ranking: Unranked
Status: Uncommitted
It is hard not to watch JP Estrella and simply fawn over the bright, bright future ahead. The 6-foot-11 center has long arms and moves very well vertically and laterally. Estrella has a toughness about him, too. The late-bloomer is still physically growing into his body; he is not afraid to mix it up at the rim. Estrella is a strong rebounder and a natural shot-blocker. He also has touch that extends beyond the three-point arc as a trail big or pick and pop threat. Twelve months ago, Estrella was like a baby deer; now, he is quickly turning into a majestical animal.
4-star F Devin Royal
Pickerington (OH) Central High
New On3 Ranking: 26
Previous On3 Ranking: 55
Status: Uncommitted
Devin Royal is an advanced bucket-getter. His feel at each level of the floor is not something you can teach. The 6-foot-6 forward has touch that extends beyond the arc. He can handle the ball and get to his spots and has a crafty nature around the basket. During the last EYBL stop, Louisville, Royal averaged 23.8 points through the five games. He is a tweener-forward who may be a touch small or a little less athletic than those he lines up against. However, Royal draws comparisons to Grant Williams, who is finding success in the NBA Finals with those same questions.
4-star SG Andrej Stojakovic
Carmichael (CA) Jesuit
New On3 Ranking: 35
Previous On3 Ranking: 97
Status: Uncommitted
The last name stands out to most basketball fans. Andrej Stojakvoic is the son of former NBA All-Star and Champion Peja Stojakovic. The younger Stojakovic is a 6-foot-5 shooting guard who has progressed at his own pace. His game and confidence seem to be taking off at the right time. He averaged 25.3 points on 40-percent from three this high school season. So far this summer, Stojakovic has spent his time on the Adidas 3SSB Circuit, going from a mid-tier high major recruit to a bonafide blue blood.