Report: ACC, Big Ten, Pac-12 in discussions about forming alliance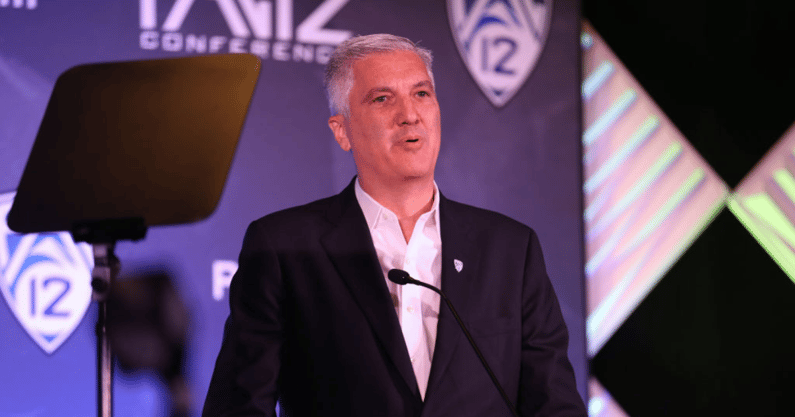 The ACC, Big Ten and Pac-12 are engaged in "high-level" discussions about a scheduling alliance, per The Athletic's Max Olson. The Power Five programs have discussed a wide-spreading alliance in the aftermath of the SEC adding Texas and Oklahoma to its conference. While plans are still in the early stages, the Big 12 is not expected to be part of the alliance.
Pac-12 commissioner George Kliavkoff and Big Ten commissioner met early this week as part of a Rose-Bowl meeting and have reportedly been in contact with ACC commissioner Jim Phillips for several weeks.
"I've been in frequent and regular contact with all of the other A5 commissioners the last few weeks about the complex issues that are facing the industry," Kliavkoff said, adding that there's "nothing to report on this specific matter at this time."
An ACC, Big Ten, PAC-12 alliance
How the potential scheduling alliance would work remains unclear at this time, but the early discussions have expanded beyond football. The three conference commissioners are looking to add value to their programs across the board with this move, but The Athletic indicates that the move could be more about alignment.
"This is their shot right back at the SEC," one athletic director told The Athletic.
An alliance among the three conferences would give them bargaining power on big-picture decisions related to the NCAA and College Football Playoff, most notably upcoming expansion.
There is no timeline currently in place for the alliance as the conferences focus on other issues like the future of their rivals in the Big 12.
Realignment questions
Texas and Oklahoma will leave the Big 12 for the SEC in 2025, per their current contract, but several experts have speculated about an exit as early as 2022. Despite these reports, Big 12 commissioner Bob Bowlsby remains steadfast that he will not break the contract early.
The move, which became official in late July, has set off a number of developments in the infrastructure of college football as rival conferences look to remain competitive with the SEC. The Big 12 and Pac-12 commissioners met last week to discuss how the two conferences could benefit from working together in college football's next wave of realignment.
One wildcard in this process has been the American, who has fought in recent years for the "Power 6" moniker and were at the center of ESPN tampering allegations by Bowlsby.
According to Max Olson, none of the three conferences have expressed serious interest in taking in the remaining Big 12 schools, who have been linked to various moves over the past month.