ACC Commissioner Jim Phillips shares latest on conference expansion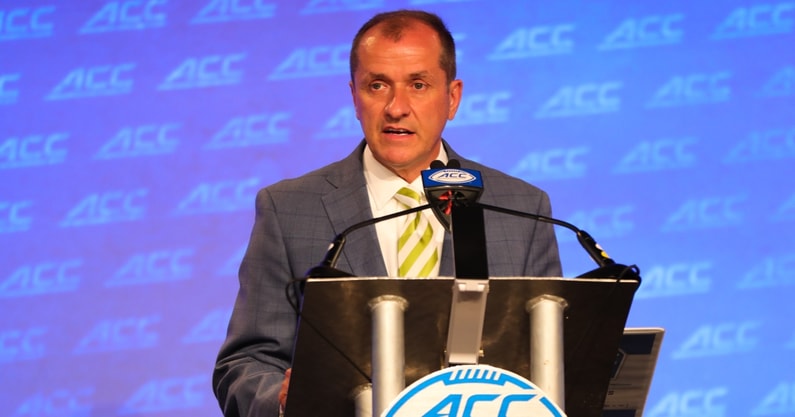 While speaking at ACC Basketball Media Day, conference commissioner Jim Phillips spoke about conference realignment. In particular, he wanted to present a unified front and project stability moving forward for the ACC.
"The intensity doesn't stop," Jim Phillips said. "Maybe out in the public world. You continue to monitor what's happening. You continue to try to make the very best decisions. You continue to look at all options. I feel really good about where we're at. We met – we meaning the ACC board – and myself and our executive staff, met in Durham three weeks ago or so for our normal two days of fall meetings. That's a unified group. It really is.
"It's a collaborative an unified group that's working together that feels good about not only where we're at right now but where we're headed."
CLICK HERE to subscribe for FREE to the On3 YouTube channel
Along with pointing out that he and the rest of the ACC are happy with the conference's current membership, Jim Phillips also wanted to emphasize the importance of stability. That includes stability within the conference and college athletics as a whole.
"Some of those things have settled down some, and we need it to. You can't always be in a state of chaos, whether it's expansion, whether it's the NCAA restructuring, whether it's the college football playoff. I mean, you put the situation in there. You have to have some stability and you have to start moving forward in a clear way," Jim Phillips explained.
One major problem Jim Phillips is still facing is the ACC's current media deal. The deal runs through the 2035-36 academic year. The Grant of Rights attached to that deal could keep the conference together through that time, but it's such a long contract that other Power 5 conferences are going to be able to negotiate multiple new deals in that time. Frustration from this could lead to issues down the line for conference members.
"But feel good about where we're at and feel good about where we're going," Jim Phillips concluded.