AFCA Convention: College coaches, assistants and recruiting personnel offer varied opinions on the early signing period and the transfer portal windows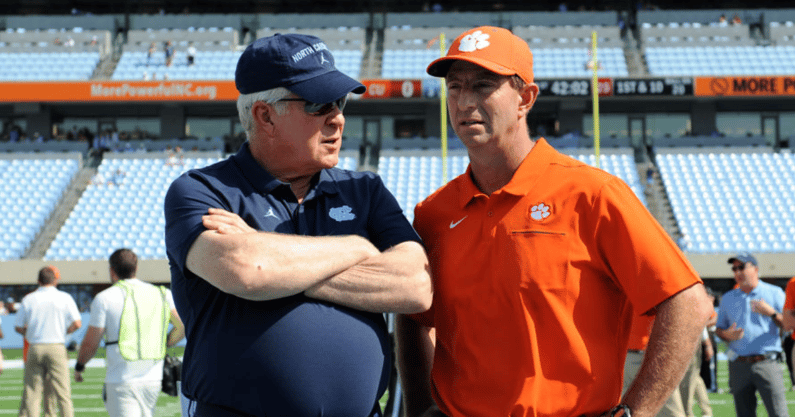 CHARLOTTE — Clemson head coach Dabo Swinney walked up to Maryland's Mike Locksley and gave him a big bro-hug before making small talk about roster management and recruiting. 
At the same time, West Virginia head coach Neal Brown and Buffalo's Mo Linguist were on the phone calling prospects and making sure affairs were in order for upcoming Junior Days. 
A short while later, Swinney, Locksley and around 40 other FBS head coaches entered a closed-door meeting to wrap up the 2023 American Football Coaches Association, discussing a litany of potential rules changes for the sport — including what to do about the Early Signing Period. 
College football's bloated December calendar was among the hot-button issues in Charlotte last week, as it is the only sport in America that stuffs its draft (the early signing period), free agency (the transfer portal window), the coaching carousel, bowl games and the playoffs all in the same four-week window. 
Oh, and toss in two of the biggest national holidays of the year at the same time, too. And don't forget about the looming 12-team playoff, when staffs will have to juggle hosting official visitors while preparing for a Round 1 or Round 2 playoff game. 
"It's killing coaches," said Walt Wells, the head coach at FCS Eastern Kentucky who literally almost died this fall after suffering a heart attack in his office.
"I'm still recovering from December," a Group of 5 Director of Recruiting told me.
"These coaches are overworked and exhausted," one agent said. "But they're so competitive. They can't stop. They can't say no because they don't have a choice. If they don't, someone else will."
In the words of Clive Owen in Inside Man, "Therein lies the rub."
While conference commissioners, college coaches, player personnel directors, recruiting coordinators, agents and assistants all have opinions on what they'd do with the transfer portal or the early signing period, there's little consensus on how to fix college football's crammed calendar.
Everybody admits everyone is overwhelmed right now, but naturally, everybody only wants to act in their own self-interest, too.  
Some 2,400 miles away in Los Angeles last week, TCU's Sonny Dykes admitted as much when he was asked about his thoughts on the current recruiting calendar, saying, "You talk to 10 different coaches and you get 10 different opinions."
What's best for the prospects might not be ideal for some coaches. And visa versa. What's clear though is that what's best for college football is something has to change.
VARIED OPINIONS ON THE EARLY SIGNING PERIOD
SEC commissioner Greg Sankey wants the December signing period, which was first instituted back in 2017, scrapped. 
"We're crushing coaches in December," Sankey told The Athletic. 
"We're going to add Playoff games (in December). We have to change early signing. … People have to acknowledge the reality, and we need to not be trying to protect some notion that existed five or 10 years ago. We have to acknowledge reality, and we have to pivot."
Sankey wants to go back to the old-school days of a single signing period in February. 
That's not a popular option with most other coaches though, especially those outside of the SEC.  
AFCA Director Todd Berry, a former FBS head coach at Army and Louisiana Monroe, advocated moving up the early signing period to the Monday after Thanksgiving or the first week of December — before the transfer portal window opens. 
"It's so chaotic right now," he said. "Everyone's pulling their hair out."
At this rate, everyone might end up bald then, as there are plenty of coaches and college staffers who, despite so much gripping, actually want no part in eliminating the December signing period. 
At the AFCA convention, I polled more than 50 coaches, personnel directors and assistants on their thoughts on the early signing period and the transfer portal windows, and a couple of noteworthy themes emerged:
There's little momentum within the industry for a summer early signing period (say late July or early August), and an even smaller fraction of coaches are in favor of NC State's Dave Doeren's idea for an open signing period — as in 365 days of the year prospects can sign whenever so long as the school stays under the 85 scholarship limit. 
However, a large swath of coaches, assistants and personnel directors — especially those not at blue-blood programs — want to keep the December signing period, no matter how crazy the calendar is right now. 
"Yea, it's total chaos right now, but I would keep it," said Bryan Carrington, now Arizona State's cornerbacks coach but formerly TCU's recruiting coordinator who helped the Horned Frogs sign their best class in school history in December. 
"I'm trying to strike when the iron is hot."
"I want to lock my guys down," an ACC defensive coordinator told me. "I don't want to have to babysit kids all the way through January. Those kids are shopping. I'm good with not sleeping in December. But not in January."
"Heck no we don't want to get rid of (the early signing period)," one Big 12 defensive assistant said.  "The SEC just wants to get rid of it so they have an extra month to steal all the best kids from us and the PAC-12."
Another Big 12 general manager, responsible for recruiting and transfer portal personnel, concurred, adding, "We found'em first. They  just want more time to poach from us."
True or not, under the current system, nearly every staff in America is pushing to sign the bulk of their class before Christmas. Some 97 percent of the Top 300 prospects in the On3 Consensus Rankings signed in December, with just four Top 100 prospects still on the board. 
Marshall head coach Charles Huff wants to keep the early signing period, but instead of a three-day window, he believes the period should run the majority of the month. 
His proposal is to open the Early Signing Period on Dec. 1, and allow prospects to sign anytime until a few days before Christmas. The transfer portal window would open concurrently, but transfers would only be allowed to sign the last week of the early signing period. 
"We need more flexibility with the windowing," Huff said, who noted that the Thundering Herd had to hold their signing day ceremony at their bowl site this year. 
"The boundaries limit parody in my opinion. If they can fix the calendar at least you'd have more parody: Whether you're at Marshall or Alabama." 
Huff's idea, while interesting, wasn't overly popular among coaches I polled, most of whom aren't crazy about the current length of the transfer portal window. 
Huff was among the head coaches in attendance for Tuesday's rules meeting to close the AFCA conference, and notably, while the SEC is viewed as the conference most loudly advocating for changing the current signing period, Arkansas' Sam Pittman was the lone head coach in the room from the SEC. 
Meanwhile, the Big Ten had sparse representation (I spotted Matt Rhule and Pat Fitzgerald), too, but most of the ACC head coaches were present. 
Throughout the conference, there was a minimal presence from on-field coaches from most of the teams in the Top 10 of On3's Recruiting Rankings — the programs that others believe are in favor of eliminating the early signing period. 
"It's been beneficial for us. Very beneficial, especially this year," first-year Louisiana head coach Michael Desormeaux said of the December signing period.
"But if I was at a bigger school I'd totally understand not wanting it."
Among those who agreed: Billy Napier's army of recruiting staffers from Florida, several of whom mentioned that the Gators missed out on a key recruiting weekend because they were in Las Vegas for their bowl game. 
The December signing period was initially introduced because coaches and prospects alike wanted to end the process earlier. But in the years since, the consequences of that decision have proven costly, as the coaching carousel has churned earlier and earlier with schools wanting to get out in front of the December signing period. Only now, with the transfer portal window open during the same time, many new coaches have essentially punted on recruiting prep prospects in December, loading up on transfers instead. 
"We're squeezing high school kids out," said an ACC Director of Scouting. 
"We need just one signing day. The (early signing period) isn't helping nobody."
"THE PORTAL WINDOW IS TOO LONG"
While more coaches were in favor of keeping the early signing period than expected, there was nearly unanimous support for changing the current transfer portal windows.
Coaches and staffers from Oregon State to South Carolina — two totally different programs in terms of how they approach recruiting and the portal — sounded off on various aspects of the transfer portal, but one consensus is that the windows are too long. 
Back in August, the NCAA approved a pair of dates when players could enter and exit the portal. This season, the first window opened on Dec. 5 and closes on Jan. 18. Within 24 hours of the initial window opening last month, more than 1,000 prospects entered the portal.
After spring practices, there is another 15-day window in May from the 1st-15th. 
It's too much to juggle, per multiple head coaches, assistants and player personnel staffers. 
"It's not sustainable. They have to change the calendar," said a former SEC East assistant. 
"We're preparing for a national championship game and we had six transfers on campus on an official visit," Dykes said last week. "And you're just kind of like, 'Really? I mean, are we really doing this?'"
Because of the wild calendar this year, the AFCA conference's attendance was even impacted for the first time ever, as many staffs couldn't come to the convention because they were hosting mid-year transfers on official visits the week of the conference. 
Many of those who did attend had to fly in late Sunday night or Monday morning, with one Big 12 running backs coach rolling into the convention on his phone pronouncing, "I'm here, but I'm mostly still recruiting."
College football coaches have never pretended to seek some ideal work-life balance. Many admit that's what the money is for. They're overworked, but they're being well-compensated. 
But what about the low-level staffers? There are 22-year-old kids at SEC schools working 65 hours a week writing scouting reports on prospects in the transfer portal for a marginal salary. What about assistants in the Group of 5 or FCS?
Collectively, they've reached a breaking point having to recruit their own roster, high school players and guys in the transfer portal all at the same time. 
"It's running young coaches out of the business. Old coaches, too. Because many are looking at it like I can go to so-and-so high school and make 100,000 and just coach ball," Wells said, noting that most FCS assistants make far less than six figures annually. 
"(College football) has become minor league football. So let's do it right. Have a draft period. Have a free agency period. Something's got to change." 
But as is typically the case in college football, change rarely happens as quickly as it should.