After a two-year dip, is James Franklin and Penn State primed for a springboard 2022 season?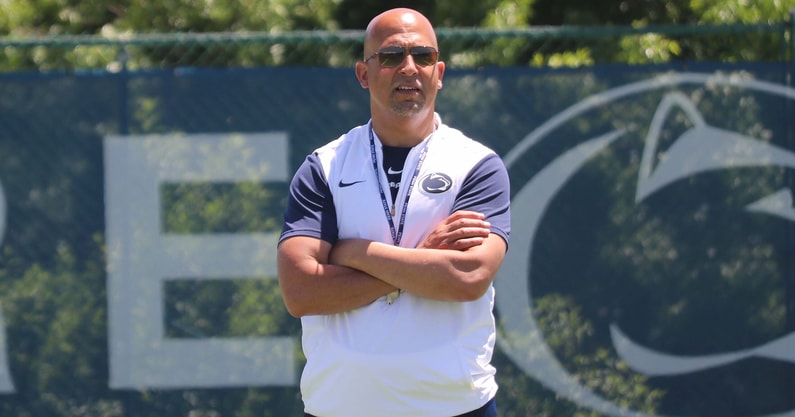 Ask a casual college football fan what they think of James Franklin and Penn State, and the likely response is, "Good coach. One of the better Big Ten teams along with Ohio State and Michigan, right?"
Fair enough. 
But how true is that statement still in 2022?
Franklin is certainly a proven football coach. In eight years in Happy Valley, he expertly navigated Penn State out of its NCAA sanctions over the child abuse sex scandal, winning the Big Ten title in Year 3. He returned the Nittany Lions to national prominence with a trio of New Year's Six bowl appearances. 
But that 2019 season — 11-2 with Top 25 wins over Iowa and Michigan and a competitive loss to No. 2 Ohio State — feels like a long time ago. 
The Nittany Lions' Big Ten title in 2016 was a long time ago.
After two straight subpar seasons going a combined 11-11, Penn State's national standing — both for its veteran head and the program writ large — is suddenly in question. 
Are the Nittany Lions an actual Big Ten heavyweight and an every-couple-of-years darkhorse College Football Playoff contender? Or has James Franklin's program become solidly unspectacular?
This fall should shed plenty of light on the future direction of Penn State — starting Thursday night with a tricky opener at Purdue. 
"The biggest (difference) is that we're back to a similar role in terms of depth. We have much more depth than the previous two years," Franklin said Monday on why he believes the Nittany Lions can be a Big Ten contender again. 
A year ago, Penn State started the season 5-0 and rose to No. 4 in the polls, but the roster had a house of cards feel to it, with the team cratering after injuries to quarterback Sean Clifford, star defensive tackle PJ Mustipher and others.
Both are back this fall, and Franklin believes the Nittany Lions are deeper behind their two veteran leaders, too, specifically mentioning 5-star freshman quarterback Drew Allar and a pair of blue-chip tailbacks (5-star freshman Nick Singleton and Kaytron Allen).
"We're deeper, but again, we got to go out and do it."
ARE JAMES FRANKLIN, PENN STATE PRIMED FOR A SPRINGBOARD 2022 SEASON?
After down seasons, Michigan and Michigan State leveled up last year. Ohio State is already its own tier and continues to further widen the divide between them and the Nittany Lions. In two years, Lincoln Riley and Southern Cal is set to join the Big Ten. So with another so-so season, Penn State is in danger of fully receding to the middle of the Big Ten.
I don't think that'll happen, and neither does James Franklin or his team. With Allar's time coming, 2023 may be the true "leap year" for Penn State, but this fall has all the makings of a springboard season. 
Throughout the offseason, Franklin has exhibited a quiet confidence, per folks in Happy Valley. While some questioned Franklin's 10-year, $85 million contract extension he received last November in the midst of a 2-6 finish to end the 2021 season, the two sides finally committed to one another long-term after Franklin flirted with other programs behind the scenes in recent years. He's pushed a new school president and AD for greater football investments, finding more common ground than with their predecessors. Franklin inked a Top 10 recruiting class in 2022 and is on his way to signing another impressive set of prospects for 2023. 
So what's next for Penn State now?
The Nittany Lions open the year unranked for the first time since 2016. They have a new defensive coordinator in former Miami coach Manny Diaz, who replaces Franklin's longtime lieutenant Brent Pry, now the head coach at Virginia Tech. They're talented, but slightly inexperienced. And Thursday night, they're set to walk into a hornets nest to open the season, as Boilermakers, among the Big Ten West favorites, are blacking out a sold-out Ross-Ade Stadium. Then two weeks later, Penn State travels to Auburn to face a desperate Tigers team. 
It's a tough first month for a program without a clear identity looking to return to the upper tier of the Big Ten. But it's also an opportunity. 
Franklin has routinely teased reporters during training camp that "you guys will tell me" what they think of Penn State after Week 1. 
Inquiring minds are certainly curious if the offense, which ranked No. 90 in scoring, 96th in yards per play and didn't have a 100-yard rusher in 2021, is better with a healthy Clifford and a couple of stud freshman tailbacks in Nick Singleton and Kaytron Allen? Is a bad offensive line improved? Can the Nittany Lions rush the passer?
I don't know, but James Franklin and his veteran quarterback have a self-assurance that leaves me to believe they like the answers to those questions for 2022.
"We know where we're at. We're not happy with where we're at. We're ready to go for the season to prove ourselves and to get going," Sean Clifford told the local media last week.
"Everyone is super humble. That's what I love about this team right now. We're silent but we're moving toward that Week 1 to start to get our name back out there."