AJ Johnson sets first official visit date; talks USC, Louisville, LSU, etc.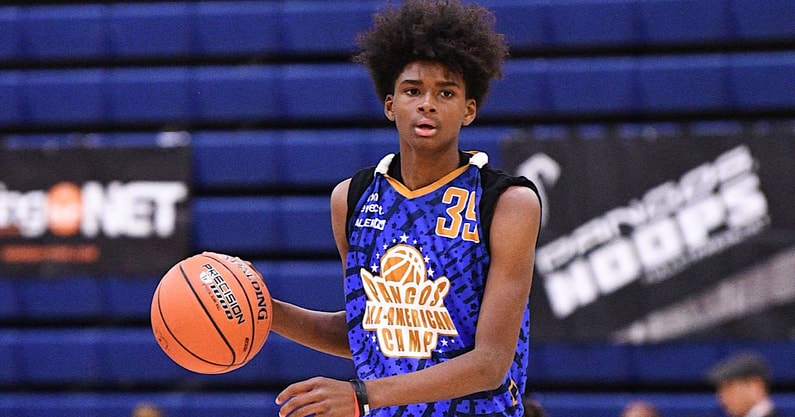 AJ Johnson was one of the biggest stock-risers coming out of the Pangos All-American Camp. The 6-foot-4 point guard used his blazing speed to average 16.3 points, 2.7 assists, and 1.0 steals per game on 74.1-percent shooting from the field and 42.8-percent from three.
"I make plays for others," Johnson told On3. "I can make plays for myself; getting in the paint whenever I want. I have fun and play free. I watch a lot of Ja Morant because of his leadership and Lamelo Ball with his freedom."
The point guard at Woodland Hills (CA) Taft High plays for Jalen Green Elite on the Adidas 3SSB Circuit. On3 talked with AJ Johnson at the Pangos All-American Camp to talk about recruitment and visits.
"I've not taken any visits yet," Johnson said. "But I plan on taking them soon. I have visits set with LSU, Southern Cal, and Louisville. I'll take my first official visit to Arizona State while I'm there for Section seven (June 16-18)."
Johnson talks recruitment
Louisville: "I like the new coach, Coach Kenny Payne, a lot. Every time I talk to him, he keeps it real, keeps it one-hundred. I can tell he will coach me hard and push me to be the best I can be. I respect that. The ACC is a tough conference, one of the best out there.'
Southern Cal: "It's the hometown team. I'm cool with the coach and love how they play. I have been to a lot of games there. They play really fast, like how I like to play. They move the ball around quickly, putting their guards in pick and roll situations and able to make plays."
LSU: "I want to go visit them during football season. The new coach, Matt McMahon, is really sticking out to me. I feel like he has my best interest out of all the coaches recruiting me. I always talk to him, and it's nothing but love from him. He coached and developed Ja Morant, so that stands out."
Arizona State: "I like the way coach Bobby Hurley lets his guards go."
What is Johnson looking for?
"I want to play for a coach who will coach me hard," Johnson said. "Someone who has my best interest at heart. A coach who lets his guards play free will be big for me. Especially being a big guard, that lets me make more plays for the team."