AJ Johnson sets three official visits; says great relationship with LSU, Louisville staff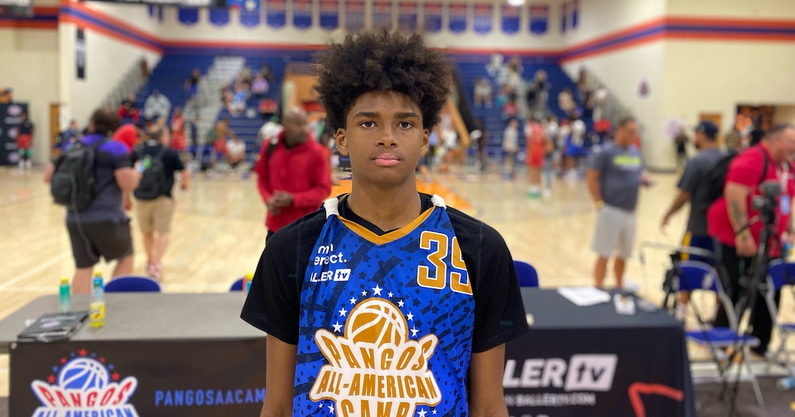 On3 was bold with AJ Johnson in the recent rankings update, making him a five-star. The No. 9 player in the 2023 class has continued to show why he is becoming an NBA prospect. 
Also, a part of his rise has been his recruitment. The 6-foot-4 point guard has set two official visit dates with a third coming soon.
"I am going to visit LSU on September 10 and then Texas on September 17," Johnson told On3. "I am also going to visit Southern Cal too. These were the schools who first started recruiting me."
Relationships play a significant role for AJ Johnson and his recruitment, "I would say I have the best relationship with LSU and Louisville. I love talking with them, and they keep in touch with my family."
In Johnson's words
**On3 caught up with Johnson at the Pangos All-American Camp to talk about each school.
Louisville: "I like the new coach, Coach Kenny Payne, a lot. Every time I talk to him, he keeps it real, keeps it one-hundred. I can tell he will coach me hard and push me to be the best I can be, I respect that. He always sends me stuff to watch. The ACC is a tough conference, one of the best out there."
Southern Cal: "It's the hometown team. I'm cool with the coach and love how they play. I have been to a lot of games there. They play really fast, like how I like to play. They move the ball around quickly, putting their guards in pick and roll situations and able to make plays."
LSU: "I want to go visit them during football season. The new coach, Matt McMahon, is really sticking out to me. I feel like he has my best interest out of all the coaches recruiting me. I always talk to him, and it's nothing but love from him. He coached and developed Ja Morant, so that stands out."
Texas: "They want me to come in be the face of the program, like a Kevin Durant or some of the other guys that have been there. I loved it there. The arena is crazy. The coaching staff was great too."