All-American Bowl: Rankings battles to watch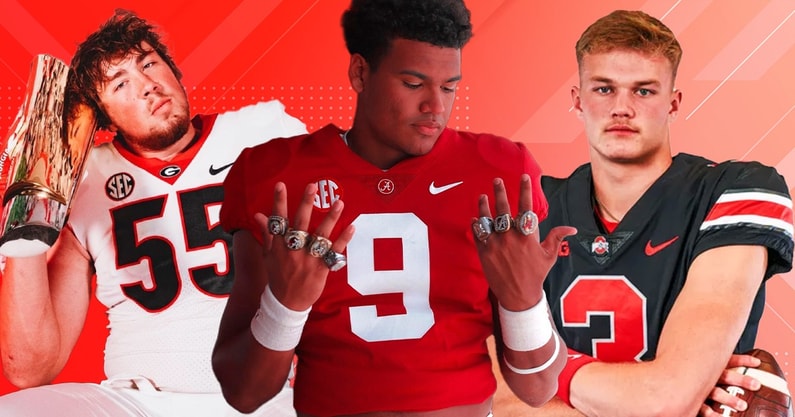 SAN ANTONIO, Texas – Practices for the All-American Bowl kick off in Texas on Tuesday morning. The long-running, prestigious event annually brings in around 100 of the nation's top senior prospects. The two teams are geographically split into East and West. The game is set to be played on Saturday, January 7 at 12 P.M. in the Alamodome and televised on NBC.
As usual, the roster is loaded with top prospects. The week of practice should provide a great opportunity to further evaluate the bevy of blue-chippers one last time before they head to college.
FULL 2023 ALL-AMERICAN BOWL GAME ROSTER
These national all-star games historically prove to be a critical evaluation point for participating prospects. The controlled environment allows us to compare dozens and dozens of top prospects head to head. Between the All-American Bowl and the Under Armour All-America Game (played on Tuesday), we should have a pretty good grasp on top 2023 prospects as we move towards the final rankings release in January.
Can Keon Keeley make a run at 1?
We've seen some dominant EDGE performances at All-American games in the past foreshadow future college stardom – Myles Garrett (2014), Will Anderson (2020) and Georgia true freshman Mykel Williams (2022) are a few that come to mind. Keon Keeley (No. 3) could add his name to that list. The Tampa (Fla.) Berkeley Prep product enters All-American Bowl week as the highest ranked non-quarterback in the On300 behind Texas signee Arch Manning (No. 1) and Tennessee signee Nico Iamaleava (No. 2).
Could Keeley make a run at the No. 1 overall spot with a dominant showing in San Antonio? The Alabama EDGE signee turned in a very strong senior season, totaling 17 sacks in 11 games. Keeley brings a high-end package of size (6-foot-6, 250 pounds), explosion and strength. Keeley will face a stiff test from what should be a stellar group of offensive linemen. If he puts on a show against the top talent on hand, the conversation around the No. 1 prospect in the 2023 cycle could get interesting.
Battle in the trenches
We feel that the offensive line is one of, if not the strongest position group in the 2023 cycle. Many of the top trenchmen in the nation are set to be in the All-American Bowl. That group will face off against several top EDGE and defensive line prospects. It's entirely possible that close to double-digit five-star prospects could be battling in the trenches this week. We'll be watching that action very closely.
Penn State signee Jven Williams (No. 6) is a headliner on the offensive line. A physically-gifted, versatile player, Williams has some of the best functional movement skills we've seen from an offensive lineman in recent cycles. His high school offense is very run-based, so it will be interesting to see how he holds up in pass protection.
Georgia offensive tackle signee Monroe Freeling (No. 27) enters the week on the cusp of five-star status. Freeling has one of the best frames among offensive linemen nationally at around 6-foot-7, 285 pounds. He's also highly flexible with outstanding movement skills.
Ohio State signee Luke Montgomery (No. 30) has some of the best senior film we've seen from an offensive line prospect in 2023. This will also be our first chance to see Alabama offensive tackle signee Kadyn Proctor (No. 44), one of the more powerful offensive linemen in the cycle. Notre Dame signee Sullivan Absher (No. 56), Miami signee Samson Okunlola (No. 73) and Utah signee Caleb Lomu (No. 96) are other notables in the absolutely loaded offensive line group.
Opportunity for EDGE and DL to make an impression
Several elite prospects on the defensive front will compete with the deep offensive line group Keon Keeley is joined by fellow Florida native and Georgia signee Damon Wilson (No. 4) as a top five overall prospect on the front in San Antonio. We're anticipating watching the pair of five-stars compete and seeing how they stack up with other touted EDGE prospects like Alabama signee Yhonzae Pierre (No. 34) and Ohio State signee Joshua Mickens (No. 57).
The defensive line group is headlined by five-star Tennessee signee Daevin Hobbs (No. 20). Hobbs is a top athlete who excels as a two-way player and two-sport star at the high school level. He may be a bit more underdeveloped relative to some of his peers, but this week will be telling as to where Hobbs is from a development perspective. Georgia signee Jordan Hall (No. 29) is another on the cusp of five-star status. The Jacksonville native has one of the best first steps in the 2023 cycle.
We're also anticipating watching Florida signee Kamran James (No. 39) and Oregon signee Matayo Uiagalelei (No. 76) in-person. Uiagalelei spent much of his time in high school as a tight end, so we'll get a close look at him on defense.
How do late-rising QB's stack up with national names?
At quarterback, we're interested to see how a few late risers – Ohio State signee Lincoln Kienholz (No. 116) and Oregon State signee Aidan Chiles (No. 185) stack up with some of the more well-known names at the position. We've seen the rest of the quarterback group – UCLA signee Dante Moore (No. 55), Clemson signee Christopher Vizzina (No. 60), Alabama signee Eli Holstein (No. 121) and Oregon signee Austin Novosad (No. 170) – throw hundreds of passes in person at national events over the course of the cycle.
Kienholz is one of the biggest risers in the 2023 quarterback cycle – one that has seen an inordinate number of great senior seasons from signal callers who were not on the national radar prior to the fall. The 6-foot-3, 190-pounder has arguably the best production and multi-sport profile in the cycle. He averaged 5.8 touchdowns per game and 404 yards per contest – the best among all On300 quarterbacks – in leading his team to a state title. He's also an all-state athlete in basketball and baseball. Coming from South Dakota, there are obvious unknowns as to how well Kienholz's skills will translate with the uptick in competition. He was not on the camp circuit and there's little source material of him playing outside the context of his high school. The Buckeye signee could further his ascent if he looks like one of the best quarterbacks at the All-American Bowl.
The same can be said for Chiles. The Oregon State signee is younger for the cycle, and should technically be a 2024 prospect. Chiles turned in one of the better senior seasons among On300 quarterbacks, with the highest quarterback rating of the group. The 6-foot-4, 195-pounder was not an Elite 11 Finalist, so we're looking forward to comparing him within the group.
While we've seen Moore, Vizzina, Holstein and Novosad much more than Kienholz and Chiles, All-American Bowl week will provide an opportunity to make a final impression.
Can Simpson-Hunt or Cordale Russell push for a 5th star?
The cornerback group in the 2023 cycle could be best described as murky. Unlike most cycles, there is not a clear elite talent at the premium position – at least this late in the process. Ohio State signee Calvin Simpson-Hunt (No. 37) could be primed to make a run at a fifth star and potentially the CB1 distinction with a great week in San Antonio. Simpson-Hunt has some of the best man cover film of we've seen in the cycle. He's locked down top 100 receivers on Friday nights, has good size and is fast on the track. How will his coverage chops and ball skills stack up at the All-American Bowl?
The headliner at defensive back is Alabama signee Caleb Downs (No. 11). The five-star safety is perhaps the most well-known commodity in the 2023 cycle. He has a case as the best high school football player in the nation. Being honest, there's little we need to see from Downs at this stage. But it should be fun to see Downs match up with some top skill players. Texas A&M safety signee Dalton Brooks (No. 64) is another defensive back we're looking forward to watching compete in person for the first time.
On paper, the receiver group at the Under Armour All-America Game was a deeper group than what is expected in San Antonio. With that said, the late addition of TCU signee Cordale Russell (No. 36) is very welcome from an evaluation perspective. Russell could be the most physically-gifted receiver in the 2023 cycle. The 6-foot-2.5, 210-pounder has outstanding size, length and twitch. The physical tools are readily apparent and Russell could make a move into five-star range with a great week.
Ohio State signees Carnell Tate (No. 65) and Brandon Inniss (No. 94) along with LSU signee Jalen Brown (No. 152) are three receivers who are well-known national names we're looking forward to seeing compete. The same can be said for Florida State Hykeem Willliams (No. 85) – it will be our first time seeing the South Florida product in action.
Many more of the wide receivers are gifted athletes who play multiple positions at the high school level – Texas signee Ryan Niblett (No. 95), Nebraska signee Malachi Coleman (No. 184), Tennessee Cameron Seldon (No. 210) and TCU signee Mikal Harrison-Pilot (No. 251). We'll be watching to see how that group's ball skills and route-running stacks up.
Can Justice Haynes or Rueben Owens push for RB1?
Texas running back signee Cedric Baxter (No. 24) has been the top running back for On3 for the majority of the cycle. The Orlando (Fla.) Edgewater rusher earned his fifth star from On3 early into his senior season. The next two running back prospects Alabama signee Justice Haynes (No. 43) and Texas A&M signee Rueben Owens (No. 50) are set to be in San Antonio. All-star practices don't always provide the best context for evaluating running back as contact is limited. Still, we should have some more clarity on the running back pecking order after the week.
Haynes and Owens will match up against a trio of Lone Star state linebacker prospects – Texas signee Anthony Hill (No. 62), Jelani McDonald (No. 82) and Oklahoma signee Samuel Omosigho (No. 100). McDonald could play safety this week, but currently projects at linebacker longterm.