All-American Bowl live: Day 3 practice updates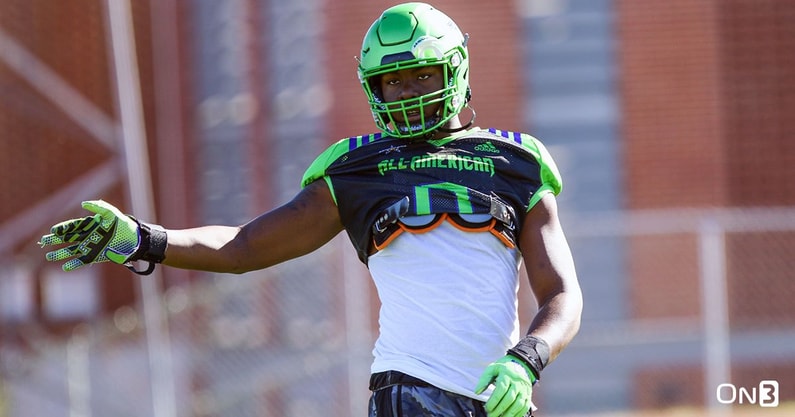 SAN ANTONIO, Texas – The All-American Bowl is at noon CT Saturday at the Alamodome. Around 100 of the nation's top recruits are in attendance and are divided into two teams.
On3's Jeremy Crabtree, Joseph Hastings, Gerry Hamilton, Jeremy Johnson, Charles Power and other On3 writers are on location at the Alamodome and Trinity University for the third day of practice and will have updates, observations, and recruiting notes throughout the session. Practice runs from 10 a.m. to 12:30 p.m. CT Thursday.
While a majority of the players in the All-American Bowl are already signed, there still will be plenty of recruiting headlines leading up to Saturday's game at the Alamodome.
Unlike the Under Armour All-America Game, where only three players announced commitments, there's a long list of players set to announce at the All-American Bowl. Crabtree has the latest recruiting intel on players set to announce, including new intel on Cyrus Moss and Kevin Coleman.
Hamilton and Powers reviewed the top performers from the second day of practice, including East MVP DL Mykel Williams (Georgia) and West LB Lander Barton (Utah). Hamilton also ranked the All-American Bowl quarterbacks through the first two practices with Penn State-bound five-star passer Drew Allar on top of the list.
Day 3 All-American Bowl practice updates
9:51 a.m. – West: West players have started to arrive for the third day of practices at the All-American Bowl. Special teams and quarterbacks are on the field already. – Jeremy Crabtree
10:11 a.m. – East: Oscar Delp is dressed. Not participating in warmups though. Missed the second session yesterday. – Jeremy Johnson
10:19 a.m. – West: The West continues to go through warm up drills. They've broken up into positions. The quarterbacks are throwing on air to receivers and defensive players are working on change of direction drills. – Jeremy Crabtree
10:24 a.m. – West: We've reached that point in the week. The West offense is working on the kneel-down victory formation play. – Jeremy Crabtree
10:26 a.m. – East: RB's going through pass catching drills. QB's throwing swing passes. Jordan James showing soft hands. Notre Dame now recruiting the On3 Consensus four-star. – Gerry Hamilton
10:29 a.m. – West: Ohio State-bound quarterback Devin Brown continues to take the first-team reps for the West squad. Brown has been one of the top performers of the week, according to On3's Charles Power. You can read about Brown's week so far here in this story. – Jeremy Crbatree
10:34 a.m. – West: Light working going on right now with the West Team's practice. The offense is working on snapping the ball and blocking assignments. Not much going on so far. – Joseph Hastings
10:35 a.m. – West: The low-key approach is continuing on the West side practice. Still working on a lot of install and play perfection on offense. That's what happens when you have so many new faces have to bring in because of the COVID protocols. – Jeremy Crabtree
10:38 a.m. – East: OT Aamil Wagner is back on the practice field today. He was out with ice on the left shoulder Day 2. Was on Charles Power's OL standouts Day 1 along with Elijah Pritchett. – Gerry Hamilton
10:40 a.m. – West: West: Earnest Greene is going to be special at the next level. West was working on a pull block that required him to go down the field, and he showcased incredible speed and mobility at his 6-foot-4, 330-pound frame. The biggest o-lineman out here, yet he moved just as well as anyone in his group. – Joseph Hastings
10:42 a.m. – East: Sebastian Cheeks hasn't been talked about a lot this week, as practices are not conducive for LB's but the North Carolina signee has a tremendous LB frame/body type. Moves with initial quickness in drills. Will carry 235-pounds perfectly proportioned in time. – Gerry Hamilton
10:42 a.m. – West: Kentucky OT signee Nikolas Hall is a late addition for the West team. The Austin product is ranked as a top 100 prospect for us at On3 after putting together a strong off-season camp circuit and senior season. Looking forward to seeing how he looks in this setting. He's got very good size at around 6'6" 310 pounds with a 7-foot wing-span. – Charles Power
10:43 a.m. – West: If today's practice is any indication, the West offense will have some tricks up their sleeves for the game. – Jeremy Crabtree
10:47 a.m. – West: Nice over the shoulder grab on a high point drill from Texas CB signee Jaylon Guilbeau. His ball skills and tracking ability have been good this week. – Charles Power
10:47 a.m. – West: Ohio State-bound WR Kyion Grayes is having some fun out here. After catching passes, he's sprinting toward the end zone and then doing a little dance right before he crosses into the end zone. – Jeremy Crabtree
10:48 a.m. – East: Trevor Etienne showing off his hands in individual drills. Snags a one handed catch on his finger tips to end rep. – Jeremy Johnson
10:50 a.m. – East: Notre Dame signee Aiden Gobaira showing the quickest feet running the arc in drills.
Mykel Williams continues for all out on drills. Extremely impressed with how Williams is attacking each practice. – Gerry Hamilton
10:54 a.m. – West: Ohio State QB signee Devin Brown continues to spin it the best of the West quarterbacks in routes on air. He's had some really pretty throws early on in this practice. Of course, it matters much more when DB's are added to the equation. But Brown is letting it rip again today. – Charles Power
10:56 a.m. – West: Finally getting to some 11-on-11 reps for the West practice. Doesn't look like they're going full speed, though. – Jeremy Crabtree
10:57 a.m. – West OL:
LT Hunter Erb
LG George Fitzpatrick
OC Billy Schrauth
RG Carson Hinzman
RT Josh Conerly Jr.
The West is currently going through team drills at half to 75% speed. Ohio State signee Caden Curry makes a stop on a run play. – Charles Power
10:58 a.m. – West: Notre Dame signee Tyson Ford with some impressive speed in running to the boundary to pursue a quick swing pass. – Charles Power
11:01 a.m. – East: 1st OL in team today:
LT – Kiyaunta Goodwin (Kentucky)
LG – Tegra Tshabola (Ohio State)
C – Griffin Scroggs (Georgia)
RG – Elijah Pritchett (Alabama)
RT – Julian Armella (FSU) – Gerry Hamilton
11:05 a.m. – West: Looks like we might be getting some 7-on-7 action for the WR/DBs and one-on-one action for OL/DL. – Jeremy Crabtree
11:08 a.m. – East: Inside run has begun. First sound of pads cracking on day 3. Nick Singleton shows backside vision and jump cuts to daylight on first play. – Gerry Hamilton
11:09 a.m. – East: DL in inside run line action. Notre Dame signee Aiden Gobaira quickest off the snap of the DE's – Gerry Hamilton
11:10 a.m. – East: Kojo Antwi makes a diving catch against Daniel Martin. – Jeremy Johnson
11:11 a.m. – East: Devin Moore terrific job staying on the hip of Isaiah Bond on out and up. Best safety on East Team all week. – Gerry Hamilton
11:11 a.m. – West: Purdue signee Nic Caraway just had a great inside move on new Ohio State commit Carson Hinzman during 1-v-1s. – Joseph Hastings
11:13 a.m. – East: Joshua Burnham the quickest to read of the LB's on team inside run. – Gerry Hamilton
11:15 a.m. – East: East coach just informed Deyon Bouie that he's going to work both in one-on-ones.
Oscar Delp is also now involved in one on ones. – Jeremy Johnson
11:16 a.m. – East: Arkansas signee Isaiah Sategna turns Georgia signee Julian Humphrey around on outside/in shallow in route. – Gerry Hamilton
11:18 a.m. – East: Georgia signee Julian Humphrey bounces back with attached coverage on back right pylon red zone timing throw. Humphrey at his best in running on vertical routes. Sudden change of direction in intermediate game gives him most trouble. – Gerry Hamilton
11:18 a.m. – West: Some notes from West 7-on-7:
– TCU signee Kyron Chambers with a nice PBU on C.J. Williams. The pass was from Cade Klubnik.
– Devin Brown hits Rayshon Luke on a short check-down.
– Justyn Martin with a deep ball to Notre Dame signee Tobias Merriweather. The play was moving at a slow speed on that one.
– Oregon LB signee Devon Jackson very good downfield coverage on Oklahoma signee Gavin Sawchuk for PBU. Jackson easily ran with Sawchuck 30-40 yards downfield.
– Clemson signee Cade Klubnik with a nice deep out to Ohio State Kyion Grayes against zone coverage.
– Ohio State signee Devin Brown rips an out to C.J. Williams.
– Vanderbilt signee Trudell Berry with a PBU while playing outside corner. – Charles Power
11:20 a.m. – East: Joshua Burnham easily the most active inside backer in team inside run. Quick and reactive. No wasted motion. Reading "the triangle" very well. – Gerry Hamilton
11:20 a.m. – East: Daniel Martin beaten early by Barion Brown but he recovers for PBU. – Jeremy Johnson
11:21 a.m. – East: Deyon Bouie with an acrobatic catch over a DB. – Jeremy Johnson
11:21 a.m. – East: Georgia TE signee Oscar Delp showing very quick feet and COD in red zone 1v1s. Movement skills ahead of hands. – Gerry Hamilton
11:22 a.m. – East: LSU signee DeMario Tolan has more of a safety build than LB build. With that said, he has high-end reactive quickness in team inside run. Has flashed the ability to stay attached on RB's in coverage this week as well. – Gerry Hamilton
11:25 a.m. – West: In terms of players who have made a case to see a significant rankings bump, C.J. Williams is near or at the top of that last. Has created separation on a regular basis this week and is a regular in the end zone on deep routes. Great combination of size, speed, reliable hands and an ability to run the route tree. – Joseph Hastings
11:29 p.m. – Trends that emerged through the first two days of West practices are continuing during Thursday's one-on-one battles on the offensive and defensive line.
+Uncommitted OL Earnest Greene had a really great first rep against Ohio State-bound DL Caden Curry. He then repeated the effort with a couple of other victories against other defenders.
+After the loss to Greene, Curry rebounded with three straight one-on-one wins. He beat newcomer and Kentucky OL signee Nikolas Hall  on back-to-back reps. He won with a spin move on the first battle and then beat Hall again with a deadly swim move. Curry then got A&M OL signee Hunter Erb with a bull rush.
+Notre Dame OL signee Billy Schrauth had a very good day with the one-on-one battles. He beat Purdue-bound Nic Caraway and then handled Notre Dame-bound DL Tyson Ford two different times.
+Despite the loss against Schrauth, Caraway continues to have a very good week. He beat Ohio State-bound OL Carson Hinzman on back-to-back reps with quick inside move and then another with a bull rush. He then took care of Hall on the final rep of the session. – Jeremy Crabtree
11:31 a.m. – East: Georgia signee Griffin Scroggs has pads off. Walking to get some attention from trainers. – Jeremy Johnson
11:31 a.m. – East: Gunner Stockton drops a dime to east Barion Brown for a score in 7-on-7. Perfectly placed ball down the left sideline. – Mike Singer
11:32 a.m. – East: Notre Dame LB signee Joshua Burnham taking control of defense in 7v7. Making calls, and getting teammates aligned. – Gerry Hamilton
11:35 p.m. – East: Jayden Denegal probably would've been sacked in a real contest because he waited a bit but threw a nice crossed route to Deyon Bouie for a 20 yard pickup in 7v7. – Mike Singer
11:38 a.m – East: Gunner Stockton connects with Barion Brown for a score down the right sideline, beating Trevell Mullen on the play. – Mike Singer
11:42 a.m. – East: FSU IOL signee Jaylen Early out of contact today. Knee brace on right knee. Show off of left foot. – Gerry Hamilton
11:54 a.m. – West: We're back doing 11-on-11 team drills on the West side. Not full speed for the OL and DL, but the QBs, RBs, WR and DBs are going all out. – Jeremy Crabtree
11:58 a.m. – West: Chris McClellan is lined up at defensive end in 11-on-11 and is having his way with Josh Conerly Jr. on the edge. The Florida commit was in the backfield and flushed Clemson quarterback commit Cade Klubnik out of the pocket. – Charles Power
12:02 p.m. – West: Ohio State-bound DL Caden Curry continues to have a strong day for the West squad. During 11-on-11 team drills, Curry beat two offensive linemen with a stunt to the inside. He used speed to then get in the face of quarterback Devin Brown. It would have easily been a sack for a loss of about 10 yards. – Jeremy Crabtree
12:04 p.m. – West: Notre Dame DL signee Tyson Ford showed great awareness during 11-on-11 team drills when he burst through the line on a screen pass. He realized it was going to be a screen and quickly got to the running back. Ford then timed the pass up from Cade Klubnik and made the tackle for a big loss. – Jeremy Crabtree
12:06 p.m. – West: Looks like the West wrapping up. – Charles Power